Rice President David Leebron regaled a crowd of local business and education leaders at a luncheon hosted by the Greater Houston Partnership — the region's premier business advocacy organization — with a fireside chat on the future of higher education, the COVID-19 response and more.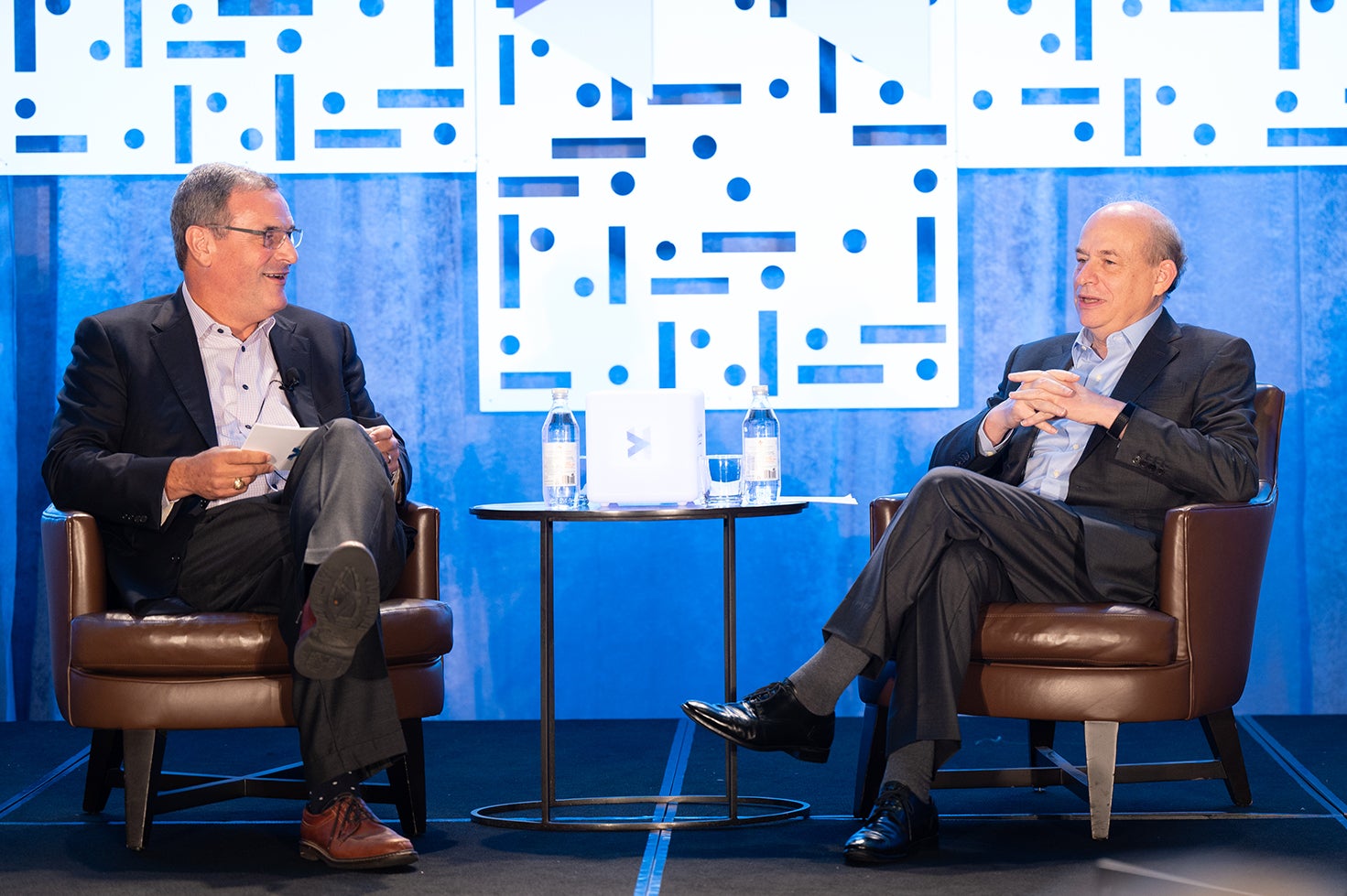 During a nearly hourlong conversation moderated by GHP's President and CEO Bob Harvey on Oct. 12 at the group's third annual State of Education event, Leebron was loose, relaxed and happy to chat.
He touched on his initial reluctance to accept the job he'll have held for 18 years come his retirement next year, the university's response to the coronavirus pandemic and how developments like the new advanced materials institute, the Ion and the Rice Investment will advance the profiles of both the university and Houston long after his departure. Leebron also heaped praise on the Bayou City, his adopted hometown.
"Rice brought me to Houston and to the university, but one of the important things that has kept us here for at least what will be 18 years was the city of Houston, and the way the city works, and the opportunities of the city and the ambition of the city," Leebron said. "Those, along with Rice, are what really kept us in the city."
Harvey asked what drew Leebron and his wife, University Representative Y. Ping Sun, to leave Columbia University for Houston. He admitted it started out as a hard sell.
"I have to confess: When I was first called by the search firm and they asked if I would be interested, I said, 'Well, probably not.'"
Ever the academic, Leebron dutifully read all of the materials Rice's Board of Trustees sent his way. Sure enough, the more Leebron learned about Rice's storied history, the more he grew intrigued about heading down to the Gulf Coast.
"The breadth of the university excited me. And the opportunity involved with all that is just fantastic, I will say. So that's really what brought me to Houston," Leebron said, though he credits Sun's encouragement with finally getting him to accept Rice's offer.
"Of course, at the end of the day, I didn't really know what to do, so I asked my wife what I should do," he said. "And she said it was time for another adventure, and coming from New York, Houston seemed like quite an adventure."
Harvey said that when the presidential search committee chair was trying to sell Houston leaders on why Leebron was the right man for the job, he bragged about Sun's credentials even more than Leebron's.
"It was made very clear to me, in academic parlance, that I was the trailing spouse," Leebron said, sending a ripple of chuckles through the crowd.
Harvey repeatedly emphasized Rice's response to the pandemic, noting how the university's early investment in widespread COVID-19 testing likely played a key role in keeping positivity rates minuscule compared to other universities and the Houston area at large.
Rice brought me to Houston and to the university, but one of the important things that has kept us here for at least what will be 18 years was the city of Houston, and the way the city works, and the opportunities of the city and the ambition of the city.
Leebron touted the campus's collective adherence to university policies and public health best practices — like proper mask use and vaccination — for allowing Rice to return to the in-person instruction students and professors craved.
"In the last week, we tested about 7,000 people on our campus, and we got one positive (test result) out of that," Leebron said. "And so we see our students have really been fantastic in terms of their compliance."
Even when this pandemic is far behind us, Leebron said, the university's success in delivering classes digitally will serve it well and likely afford Rice students more options.
"I think we'll see students say, 'I'm going to take three courses in person, two courses online this semester, and I'm going to use the flexibility to volunteer in the city with community organizations,' for example," he said. "So I think we're going to see our education become much more complex in that way."
That flexibility will also allow Rice to extend its reach far beyond the hedges, which Leebron sees as the logical next step in his mission to shed the university's old reputation as an insular community.
Leebron argued that providing new digitally delivered curriculum options and online programs won't just help add more Owls to the Rice family, it may also allow a much more diverse group of students to benefit from all that the university has to offer.
"Our ability to reach different audiences, to reach different segments of the educational community, to reach people who have jobs and can't come to campus, to reach people around the world, to reach people who have small children at home, to reach people who can't afford to commute, all of these segments can now access a Rice education," Leebron said, "and that's going to change in some ways how we think about our mission and what we can contribute to all around the city, and also all around the world."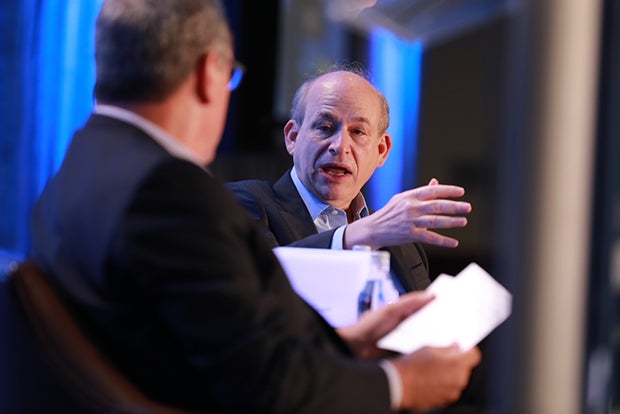 Rice's efforts to attract an increasingly diverse group of students has been helped by the Rice Investment, Leebron said, touting the university's ambitious financial aid expansion. The plan offers grants for full tuition to students from families with household incomes between $65,000 and $130,000 and tuition, fees, room and board to those with household incomes below $65,000.
Leebron insisted the region's community colleges, along with elite research universities such as Rice, have important roles to play in the local educational landscape. He highlighted how Rice's OpenStax initiative is providing high-quality, free digital textbooks to community college students across the Houston area and beyond, but he stressed that those schools need more investment to meet the community's needs.
"If we're going to solve workforce problems at scale, we need to invest more in our community colleges, where we're blessed with great community college systems led by visionary and ambitious folks," Leebron said, an opinion greeted with applause from many of the education advocates in the audience.
Harvey celebrated Rice's focus on the future, specifically highlighting the new Midtown innovation district helmed by the Ion, which aims to accelerate and bolster Houston's burgeoning tech and startup scene.
Leebron also touched on the school's blossoming partnership with the Welch Foundation to create the Welch Institute for Advanced Materials. The new institute will weave together machine learning, artificial intelligence, materials science and cutting-edge chemistry to discover and create the next generation of materials that could play a pivotal role in cementing Houston's status as the energy capital of the world for generations to come.
"We're going to continue to invent that future," Leebron said.
Harvey wrapped up with the question on the minds of many people in the Rice community: What does Leebron plan to do once he steps down from his presidency?

Leebron didn't give any concrete answers besides divulging that his friend and confidant Larry Faulkner — the University of Texas at Austin's former president who left his post in 2006 — advised him to "take at least some time before you decide what to do next." He stressed that what he and Sun "would both like to do is find opportunities to contribute. Being at Rice has been a privilege. Being in Houston has been a privilege. We may stay in Houston. It's a great city, but I think mostly what we want to do is find a way we can contribute.
"We are also in a moment of incredible challenge for our society," Leebron said, "(full of) so many things that I think we should hold dear, whether it's issues of equity, fighting racism in our society, to being open to immigrants, and how our democracy functions."
Leebron said he and Sun haven't ruled out remaining in Houston.
"If we can find a way, we'd love to stay in Houston," he said. "Houston is a remarkable city in so many respects. I've never lived in a city that collectively, all segments of our society, has such ambition. Not just for itself as a city, but for all of its people."