President David Leebron committed Rice University to "doing all we do at the highest level … regardless of the challenges we face" in his annual State of the University address to faculty.
That commitment has never been better illustrated than over the past 18 months, as the COVID-19 pandemic forced the university to nimbly navigate the tasks of educating students, carrying out its research and engaging in community initiatives.
Leebron's talk to the Faculty Senate on Oct. 21 covered recent successes, including the university's pandemic response, while looking ahead to what will be achieved under the continuing Vision for the Second Century, Second Decade (V2C2) strategic plan.
The president delivered a report on Rice's recent progress in enrollment, diversity, recruitment of faculty, investment in facilities and outreach to Houston. He expressed gratitude and pride in how the university community came together during the pandemic, adjusting to challenges and changes quickly.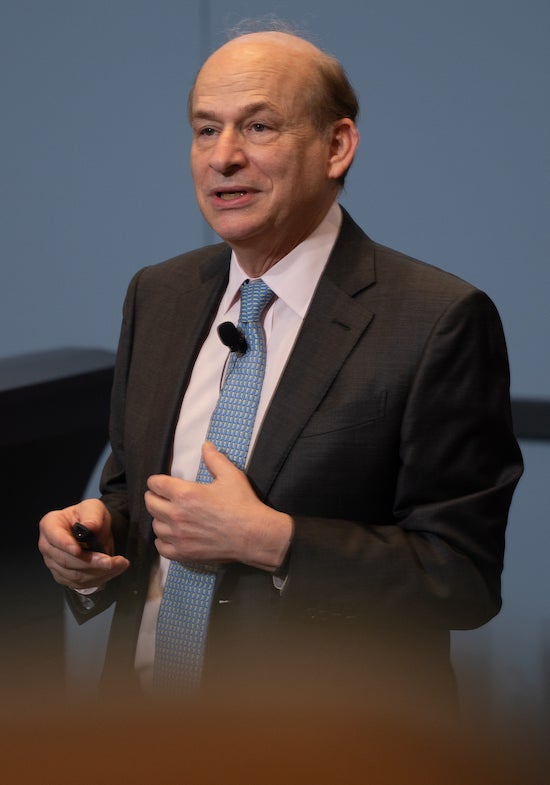 "We are clearly on the downward curve" of the pandemic, Leebron said. "So is Houston, and that gives us optimism for the year ahead." He recognized that we still might face another surge and need to be prepared, adding that vaccination of the community remains an essential element in keeping the campus community safe and the university open.
"I want to really commend our students," he said. "If you ask me, in some ways, the biggest difference between us and other universities … is the attitude our students took, the level of compliance by our students and their willingness — not happiness — to wear masks, with the fact that over 90% of our community is vaccinated." Leebron singled out the crisis management team, Vice President for Administration Kevin Kirby and Vice Provost for Research Yousif Shamoo for their steady guidance.
The increasing reach of Rice's national and global reputation was reflected in the growing and diverse pool of student applicants. "The more we look at and touch different communities geographically, ethnically, racially, globally, the more we can build an excellent community here at Rice," Leebron said. He noted that undergraduate applications are up across the board, including among international students. As a result, Rice has become more selective, with an admission rate of about 9%. The Rice Investment has been a factor in providing clear information on financial aid, and helped the university achieve an average net cost of attendance well below most of its peers.
In addition, doctoral applications have risen 44% between 2016 and this semester, with even more substantial growth in master's program enrollment, resulting in a rough balance between undergraduate and graduate enrollments. While the out-of-state portion of the undergraduate population has grown dramatically over the last decade, there has been no reduction in the enrollment of Texas students.
Steady increases in diversity among students and faculty are on the rise as well, he said. "We've now also seen increased effort and success in building more diversity into our graduate student population, particularly in the last couple of years," Leebron said. "I really want to thank all the departments which have worked hard, especially (Dean of Graduate and Postdoctoral Studies) Seiichi Matsuda for his leadership. This has been vitally important to our community. I think it's fair to say that, a little bit unlike the undergraduate student body, we're just getting started here. And we have to double down on this commitment."
He mentioned a number of impactful research projects that caught the public imagination, including a host of significant COVID-19 initiatives that included development of a simple test for the disease, a model of the SARS-CoV-2 virus that could lead to new vaccines, contributions to a spray version of a vaccine and a wastewater testing protocol adopted by the City of Houston.
He also noted ongoing exploration by Kirsten Siebach in Earth, Environmental and Planetary Sciences, whose portfolio includes driving NASA's Perseverance rover around the surface of Mars. "I'm sort of jealous of anybody who can work on something on Mars," Leebron said.
Rice's steady growth in research funding (as well as faculty awards) is a reflection of the faculty's excellence and commitment, he said. He noted the university might pass the $200 million mark in new research funding this year. That includes "a vitally important, significant expansion of federally funded research."
Leebron also noted the large number of new institutes and centers as well as new majors, minors and degree programs. He spoke to the importance of a wide range of efforts on the campus to support innovation both in the application of discoveries at Rice and in courses and programs for students. A search is underway for a vice provost for innovation "who can coordinate these efforts and make sure we're hearing everything the faculty needs," he said.
On the physical side, Leebron noted that about $1.9 billion in projects had been undertaken since 2004, including those completed and in construction or planning, with most of that in academic facilities. Major projects underway include the new science and engineering building, the Sarofim Hall for the visual and dramatic arts and the recently announced Moody Center for Student Life and Opportunity.
Leebron reported that the financial position of the university was strong and said successful management of the university's endowment, balancing risk and return, has helped keep Rice's position strong through the COVID era. He said last fiscal year's 36% return on investment should provide significant resources to further implement and accelerate the university's strategic goals. Fundraising has increased, and the university's alumni participation rate is in the top 10 of national universities.
Wage raises for faculty and staff are expected to be larger than in recent years, Leebron said. He added that the university would also complete its move to a $15 minimum wage, a process which has been underway for several years.
Leebron noted that the university is making further investment in video capabilities for every classroom, which will not only expand Rice's ability to quickly shift to multiple modes of delivery during crises, but also increase educational flexibility for the benefit of all students year-round. "(That) also enables us to think completely differently about what our mission is, who should we be trying to reach both here in Houston for people who can't come to campus and around the world," he said.
The past year's experience with flexibility on educational modes and work arrangements informed the administration's thinking, he said. "We know that the pandemic, as awful as it was, gave people more flexibility in terms of how to define when they would be, in some ways, most productive," he said. "And now that's what people want to do … and we will have to respond to that."
Leebron concluded his remarks by noting some broader issues and their impact on higher education.
"We are going to see increasing competitive challenges, not only from institutions of higher education but also companies like Google and Microsoft and Amazon that are getting into the higher education space," he said. He noted the importance of sustaining the university's commitment and progress in diversity and inclusion efforts. He also noted the importance of international engagement, saying that "[w]e need to grow and deepen our international engagements and keep the flow of students and faculty ideas going across the world, despite the fact that we're operating in a world of increasing conflict."
Regarding issues affecting the U.S. more broadly, he said, "I'm deeply concerned about the spread of anti-science attitudes across our society, and what could be our role in trying to counter those issues." Leebron also expressed concern about the challenges to free speech and inquiry in many contexts, including on university campuses.