Rice's links to slavery and racial injustice as well as the future of a memorial to the university's founder were among the topics discussed during "Juneteenth and Emancipations to Come," a panel discussion held June 17 via Zoom.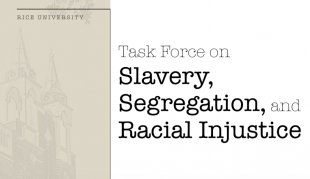 A panel including members of Rice's Task Force on Slavery, Segregation and Racial Injustice discussed the work it's doing to better understand Rice's history, how that history shapes life at the university today and what can be done to support diversity and inclusion.
"What happens when we know a fuller truth about ourselves, and what can and should we do about it?" said Alex Byrd, vice provost for diversity, equity and inclusion and co-chair of the task force. "This is not a new question in American history and it's one that's being tended to more and more. And that's the question for all of us moving forward."
One of the major topics discussed during the webinar was the task force's suggestion for a redesign of the Academic Quad "in a way that clearly and visibly rebukes the institution's segregationist founding and decades of racial exclusion." In an interim report issued on the eve of the webinar, the task force proposed a competition to commission the redesign, a process that would include a decision on the future of the Founder's Memorial statue of William Marsh Rice.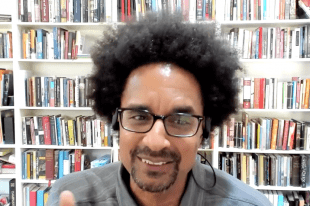 The task force's interim report offered newly discovered details about William Marsh Rice's ownership of enslaved people. It also pointed out that five of the seven trustees named in the Rice Institute's first charter had either personally owned or had been born into households with enslaved people.
"These findings demonstrate, in greater detail than ever before, significant connections between slavery in Texas and Rice University's earliest founding figures," wrote Byrd and his co-chair, Caleb McDaniel, the chair of Rice's Department of History. "Together, these connections illuminate the larger significance of slavery in the history of Houston and Texas, forming a crucial context for understanding why Rice began as a 'whites only' institution."
Adrienne Rooney, a Ph.D. candidate in art and art history and chair of the panel's discussion, said it had been previously been suggested that Rice enslaved very few people compared to other slave owners in that era. But the task force's research indicates the enslaved people Rice actually saw or held title to were only a small portion of those on which his bottom line was dependent.
The interim report will be submitted to the Rice Board of Trustees, which will begin the process of evaluating its findings and recommendation this summer.
The webinar was the second annual event commemorating Juneteenth, which celebrates the emancipation of enslaved African Americans in the United States. It was established as a federal holiday on the same day as Rice's webinar.
In a panel titled "Engineering for Black Lives," participants shared their experiences during a Q&A session hosted by Fay Yarbrough, associate dean of Humanities, professor of history and affiliated faculty with Rice's Center for African and African American Studies (CAAAS). Illya Hicks, professor and chair of the Department of Computational and Applied Mathematics, discussed how his field can improve Black lives. Fred Higgs, vice provost for academic affairs, director of the Rice Center for Engineering Leadership and the John and Ann Doerr Professor of Mechanical Engineering, talked about his journey to becoming a tenured professor.
Alumna Dani Perdue, winner of Rice's Sallyport Award and a recent graduate with a Ph.D. in mechanical engineering, offered a poignant account of growing up with low self-esteem and feeling pressure to assimilate and abandon her Blackness "to make white people feel comfortable." But after a series of life experiences and well into her graduate education at Rice, something shifted.
"Due to centuries of slavery and an uphill battle to emancipation after years of unsuccessful assimilation, I have found a new motivation," she said. "My motivation is to be 100% me all of the time."
Byrd moderated a Q&A session during another panel titled "On Blackness and Future Freedoms." Jacqueline Couti, the Laurence H. Favrot Professor of French Studies and affiliated faculty with CAAAS, discussed the connection between love for and fear of Black culture in the French Atlantic. Brielle Bryan, an assistant professor of sociology, talked about what drives the racial wealth gap and how policy responses to it have been limited.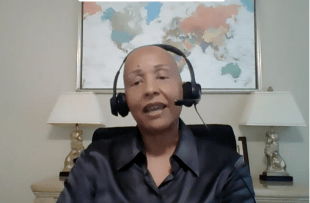 Constance Porter, associate dean for diversity, equity and inclusion and assistant professor of marketing, discussed entrepreneurship in the Black community and what she calls the "racial entrepreneurial gap" — the comparatively small number of African American business owners. She said the road to success for Black entrepreneurs is fraught with hurdles that include limited access to financial capital, social networks, mentors, customers and education-based resources. She said companies, organizations and investors must be devoted to elevating equity and inclusion.
"Emancipation is a process," she said. "And we can each do our own part to help move that process forward."
More information on Rice's Task Force on Slavery, Segregation and Racial Injustice is available online at https://taskforce.rice.edu/. A link to the webinar is online at https://www.youtube.com/playlist?list=PLdyZjWkoCPVufWOOEd4y_grzEWU9i1hkD.