Part graduation, part reunion, the Rice Class of 2020's long-awaited commencement on May 15 was unprecedented in every way.
Halfway through its final spring semester, the senior class was sent home as pandemic lockdowns began worldwide. Rice issued the official notice March 12, 2020; students rallied the same day to organize impromptu Sallyport ceremonies as the realization set in that the traditional graduation ceremony wasn't going to happen.
Yes, diplomas would be mailed and a virtual commencement video would be livestreamed, but many graduating Rice seniors assumed that spring afternoon would be their last chance to celebrate on campus.
So when Rice organized a "make-up" ceremony for the day after the Class of 2021 commencement this year, over 500 alumni — and their families — leapt at the chance to return and celebrate once more. They traveled from out of town, out of state and out of the country to attend both the ritual marches through the Sallyport and commencement itself, held in historic Rice Stadium.
Even for those who've moved on to graduate schools, careers and full-fledged adulthood, the day brought a feeling of resolution and much-needed wholeness.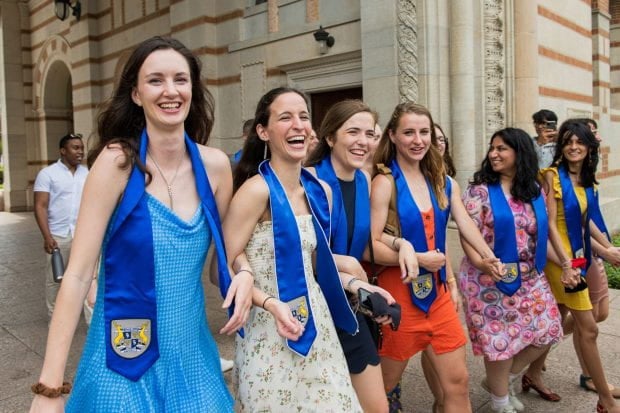 "I really appreciate that Rice brought them back and that they have this sense of closure," said Lisa Koenig, who threw an at-home graduation party for her daughter, Emma Reford '20, but acknowledged it wasn't the same — especially as Reford didn't join in last year's Sallyport ceremonies.
"She would never walk through it — didn't want to get jinxed — so it's a big deal," Koenig said.
Reford, who received dual degrees in cognitive science and philosophy, is now finishing her first year of medical school in New York City. She hadn't been back to campus since March and flew in for the occasion.
"It's just really surreal, honestly, it's like a very out-of-body experience," she said of finally marching through. "Like, I've moved on with my life in a lot of ways … but it's still really nice to have this closure."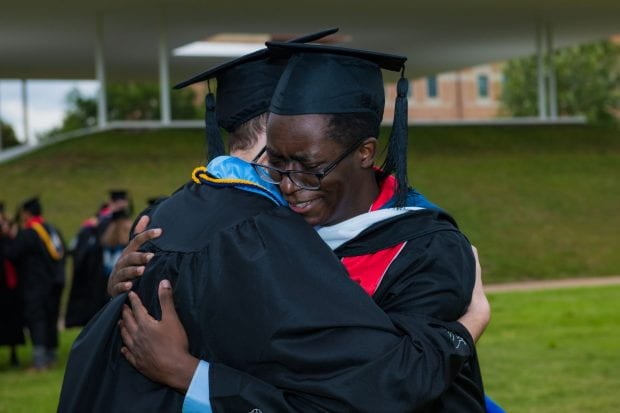 Smeet Madhani '20 hadn't made it to last year's Sallyport marches either. Madhani made many close friends during his time at Rice as an Alternative Spring Break site leader and Rice Splash volunteer, but he didn't know he'd be able to return and celebrate with his Will Rice College classmates over a year later.
"When they announced it, we were all really surprised and happy — and then especially when they said parents could come, it really was super special," he said, hugging mom Harsha Madhani at his side.
"It is a celebration, and we are so happy that we could see this day," she said.
Alyson Riley '20 is now teaching English at her alma mater, Lufkin High School, and drove in from East Texas to walk through the Sallyport with her fellow Hanszenites.
"I left work yesterday with my senior students for the last time, and now I'm coming to graduate," said Riley, who double majored in English and Spanish and Portuguese studies. "And it's like, we're sort of going through this experience together, albeit on different levels."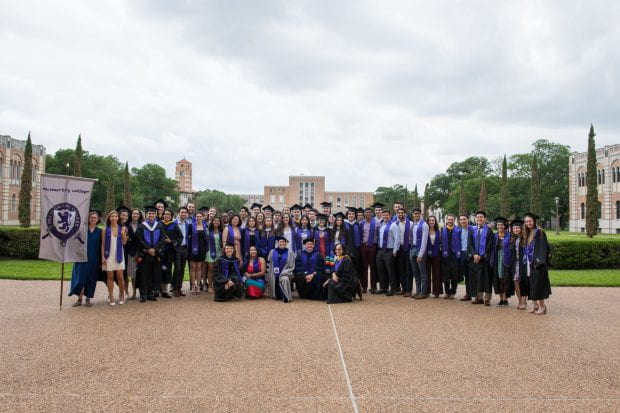 Students weren't the only familiar faces who made a comeback for commencement.
Former magisters Caleb and Brandy McDaniel returned in full regalia to lead what had been their final class of Duncaroos from behind the dark green Duncan College banner, joined by current magisters Eden King and Winston Liaw. And their next-door neighbors Jenifer Bratter and Noe Perez — the current magisters of McMurtry College — welcomed former magisters Margaret Beier and Chris Stickney, who also served the last year of their five-year term in 2020, as they escorted one big happy Murt family.
The official Sallyport marches began at 1:30 p.m. with Baker College and wrapped up with Duncan College at 4. In between, members of the Class of 2020 caught up on all of the hugs and all of the stories they'd missed during their time apart, posed for group photos and greeted favorite faculty and staff who'd come to wish them well.
Fully arrayed in their caps and gowns, the alumni met at James Turrell's "Twilight Epiphany" Skyspace at 6 p.m. and made their final walk to Rice Stadium for commencement.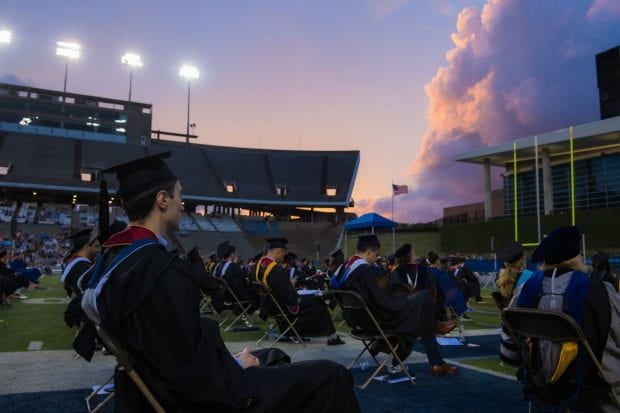 The procession of alumni settled into long columns of seats on the field while towering Texas clouds turned a warm pink against the setting sun. Dean of Undergraduates Bridget Gorman was first on the dais to welcome them home again. The evening, she said, served to both reunite and commemorate a class that went through so much together before a premature departure separated them last year.
"Tonight also provides a moment to gather together as we say goodbye to your class, and a final moment of recognition and celebration of your collective undergraduate experience," she said. "As much as commencement ceremonies are always joyous events, coming together and seeing each of you is all the more lovely because of the time apart."
Rice President David Leebron appeared emotional as he began addressing the Class of 2020.
"It is a true, true joy to welcome all of you here today and we are so grateful that you have returned," he said, before taking out his phone to snap a quick picture of the graduates from the podium to capture the unique moment.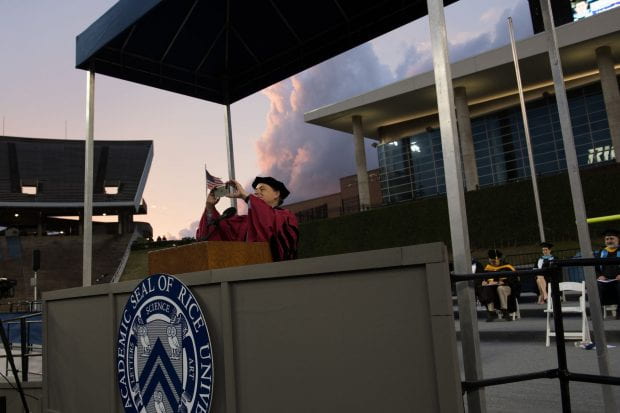 During his virtual commencement remarks last year, Leebron sympathized with the graduates, telling them he understood it hadn't been the senior year they'd expected. This year, he said, he hoped Rice's in-person commencement for the class would provide them something else beyond a sense of closure.
"We very much hope that today will serve as a kind of magic portal for you — not only perhaps taking you back to an ending more like the one you envisioned, but indeed as an energized step forward, a new beginning, a timely sense of renewal," Leebron said.
Emma Hanan '20, who majored in history and economics, was chosen as the Student Association speaker. She took time to thank the Rice faculty and staff who tirelessly supported the students during their entire undergraduate careers, especially as the entire school pivoted to online learning for the last few crucial weeks of the seniors' final semester in 2020.
"Thank you for your support and encouragement both before we entered the Sallyport and now," she said. "The lessons you taught us and the love you gave helped us get to where we are today, and our success is shared with you."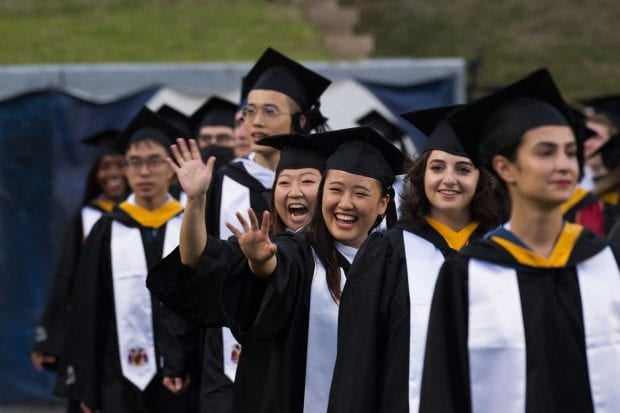 Hanan also congratulated her classmates on their own character in the face of immense challenges: The way they came together to provide resources for international students who lacked documentation after the White House announced plans to end the Deferred Action for Childhood Arrivals program in 2017. The way they helped muck out, rebuild and raise money for fellow Houstonians' flooded homes following Hurricane Harvey.
"I remember your patience as professors adapted to virtual learning, and your resilience as you celebrated major milestones many miles apart," she said. "History will remember these events, but I will remember how you responded to them, and I consider myself extremely lucky to call myself a member of the Rice Class of 2020."
Former Student Association president Grace Wickerson '20 returned to Houston from Chicago, where the National Science Foundation graduate fellow is pursuing a Ph.D. at Northwestern University. A cheer erupted from the Brown College section as their former classmate took the podium.
"I grappled with the message that I wanted to share," Wickerson said. "The traditional graduation speech seemed insincere, as we've already started navigating the waters of adulthood, and the precarity of being young in the professional world."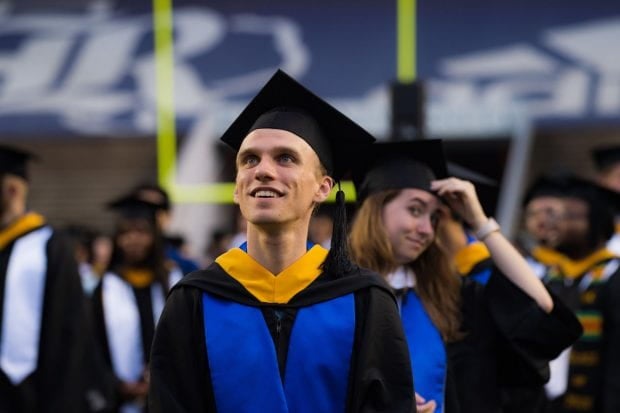 Instead, Wickerson shared personal experiences in hopes of conveying some of the wisdom already gleaned beyond the hedges.
"Taking a look at the person who left Rice last March, I see someone cared so much about the world around them, that they left little care for themselves," Wickerson said. "I was terrified of pausing, resting — feeling like if I wasn't actively doing something productive, I was wasting my time."
The forced standstill of the pandemic made Wickerson realize that previous pace had, in fact, been unsustainable. And in the unexpected quietude, more awareness bloomed. Wickerson began to newly appreciate things like flexibility and joy and found time to sort through things that really mattered, from relationships to career aspirations.
Check in with yourself, Wickerson advised, and ask yourself questions like, "What are you good at? What work needs doing? And what brings you joy? At the nexus of these, I believe, is a renewed sense of purpose, and with that purpose we are prepared to connect to others who refuse to settle for the status quo."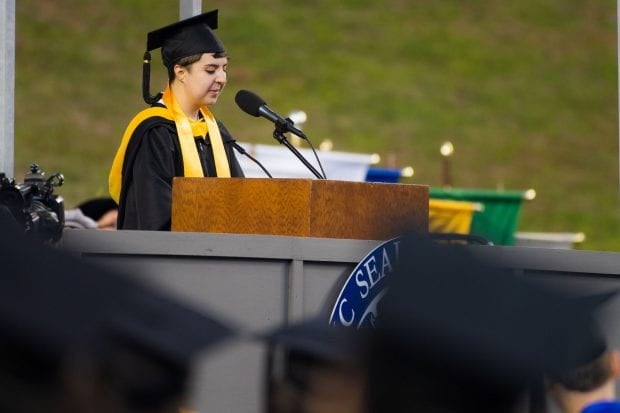 Following each college's long-awaited march across the stage, the sky above the stadium was lit up with Rice's signature post-commencement fireworks.
Two torn anterior cruciate ligaments hadn't stopped Kendall Brice '20 from running on Rice's Division I track and field team, and nothing had stopped the kinesiology major from returning for her much-anticipated graduation.
"This is just one more chapter Kendall has had that she's closed successfully — and on to the next," said mom Gabriella Brice.
"I'm glad there were fireworks," Kendall said. "That's what I missed last year. I just wanted fireworks."