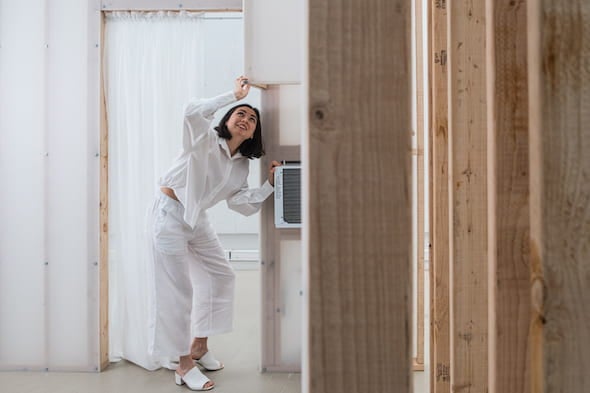 An exhibition opening June 15 at Rice Architecture's Anderson Hall reveals what's behind the walls in a typical home, thanks to an award-winning design by visiting critic Liz Gálvez, above. The exhibit, "Of Envelopes and Air," explains the variety of paths air takes as it enters and leaves buildings and highlights the importance of managing the flow.
In May, Gálvez won one of six annual prizes given by the Architectural League of New York to young architects. The winners traditionally present their work in New York, but the pandemic forced them to seek other avenues. This year, that is to Rice's benefit.
The exhibition, which closes June 24, was assembled by Gálvez and Rice Architecture master's students Anna Cook, Yun Koo and Michelle Schneider. Photos by Jeff Fitlow/Liz Gálvez.