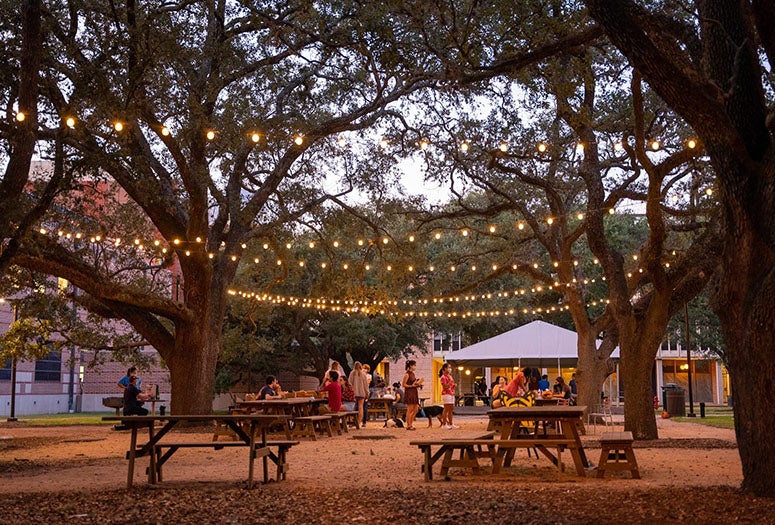 After a year spent studying remotely, Rice's Graduate Student Association (GSA) knows the importance of reestablishing connections on campus — and creating a community for those first-year students just arriving.
That's why the GSA is hosting three upcoming events for Owls both new and returning, starting with a Sept. 23 scavenger hunt that begins at Valhalla at 5 p.m. Following the cross-campus adventure that same evening, new students will convene in the commons outside Valhalla for an orientation picnic from 6-9 p.m.
"Both of them are for first-year graduate students, to help them bond with each other and quickly join the Rice community," said Siqi Du, the GSA's vice president of engagement and a fourth-year biosciences doctoral student.
In addition to free food, drinks and T-shirts, the Sept. 23 orientation picnic will feature club leaders and more senior grad students on hand to help new arrivals learn about Rice and Houston in a fun, casual setting.
The following night, Sept. 24, the GSA will welcome the entire grad student community with its annual fall party. Festivities will run from 7-10 p.m. in the Ray Courtyard outside the Rice Memorial Center.
Du said she hopes the fall party will "help students take a break from busy research life and heavy thought, with music, dancing and enjoying the fall season weather outdoors." Beer and snacks will also be provided, making this an event no grad student will want to miss.
All events are free to Rice grad students, though registration is required through Owlnest.