The Korean Graduate Student Association was giving out seaweed-wrapped kimbap and shots of a sweet yogurt drink from picnic tables outside Brockman Hall. Under a tent festooned with papel picado, the Latin American Graduate Student Association offered four types of tamales and three salsas (plus plenty of water). Outside Fondren Library, the Black Graduate Student Association boasted bowls of ruddy jollof rice with caramelized plantains.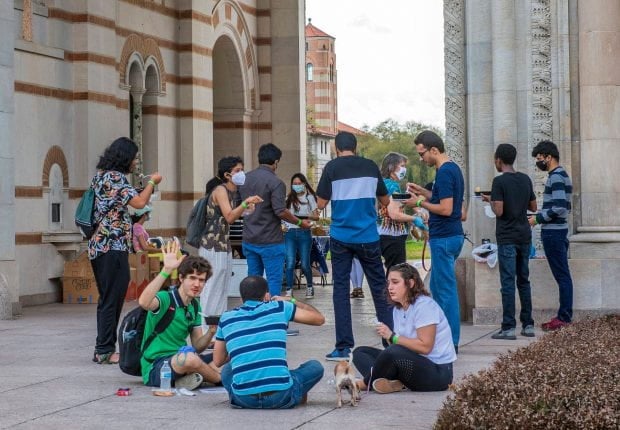 These were just a few of the foodstuffs featured at the Rice Graduate Student Association's annual Culture Night March 13, which took place on campus — albeit on a breezy spring day instead of an evening — and brought together Rice's grad student community for the GSA's first in-person event in a year. And because plenty of people still aren't able to attend events in person, the GSA offered a Facebook livestream, too.
Culture Night is one of the biggest events the GSA hosts each year, typically filling the graduate commons outside Valhalla with food, music and performances from Rice's diverse array of grad student affinity groups.
"Unfortunately in the past year, GSA had to either cancel or seek virtual alternatives for many popular events, such as Valhallaween and Bucky Ball," said Maggie Zhu, a mechanical engineering grad student who serves as the GSA's International Student Outreach director. Culture Night, Zhu said, was another casualty of COVID-19 in 2020.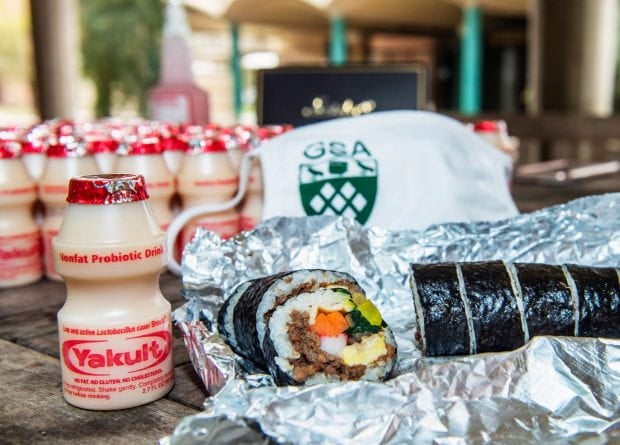 Knowing how important these events are to Rice's grad student community, the GSA partnered with the Office of International Students and Scholars to brainstorm a way to bring back Culture Night for 2021. Traditional dance or drum performances wouldn't be possible under continuing COVID-19 guidelines, but what about a food crawl?
Soon, plans were underway for six grad student affinity groups to offer single-serving, grab-and-go dishes attendees could enjoy while mingling with their fellow grad students. On the day of the event, the Black GSA, Indian Students at Rice, the Korean GSA, the Latin American GSA, the Rice Chinese Students and Scholars Association and the Rice Iranian Society posted up at their six stations across campus for a new take on an old favorite.
Culture Night attendees were assigned to small groups of no more than 20 people, which rotated to each of the six stations based on a schedule that gave them 30 minutes to enjoy each group's dishes. Masks were required, of course, and hand sanitizer was provided in abundance.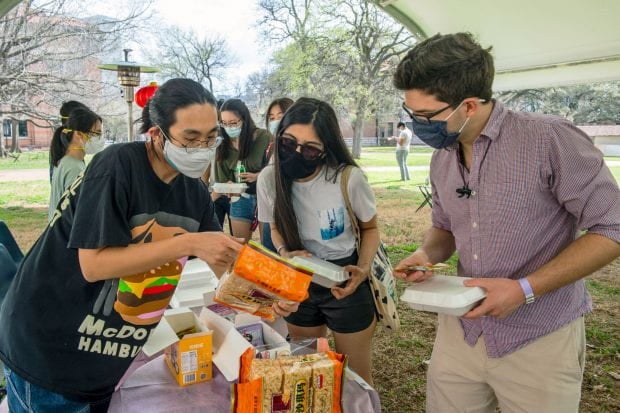 Well-attended, well-considered and its attendees well-fed, the GSA's daytime Culture Night was a success by any measure.
"By implementing these changes, I truly hope that all of our Culture Night attendees — virtual or in-person — could safely enjoy the diverse culture represented in our graduate community," Zhu said. "The event planning committee has worked tremendously hard in the past few weeks to make this a reality."
And while the GSA has also made a compelling case for future food crawls on campus, expect Culture Night — along with Bucky Ball, Valhallaween and others — to return in full force for 2022.