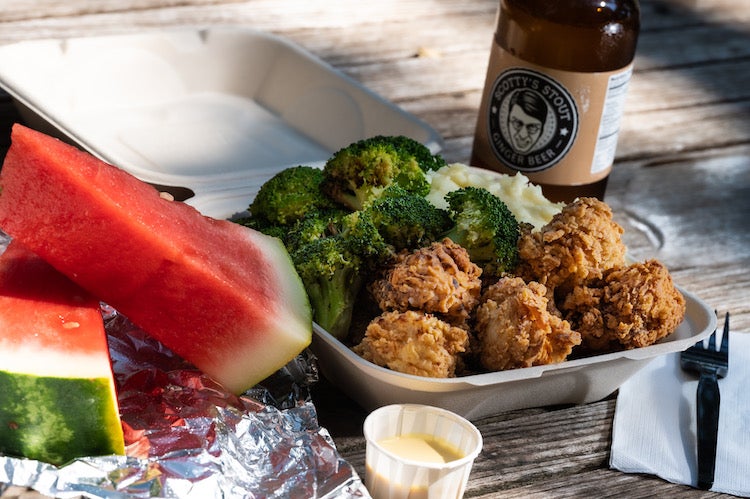 Jason Kerr's expression becomes animated when he's asked about the recipe for the chicken tenders served at Little Bird HTX, the new lunch spot inside Sammy's at the Rice Memorial Center. The recipe involves buttermilk, a simple flour dredge and never-frozen chicken — and it's one Kerr's excited to bring to Rice after years spent perfecting it.
But chicken tenders aren't the only craveable comfort food you'll find inside Little Bird HTX. Run by Kerr and his wife, Becca — the same pair behind Little Kitchen HTX in Brochstein Pavilion — their canteen also serves made-to-order burritos, tacos, flatbreads, burgers, fries and fresh-baked chocolate chip cookies.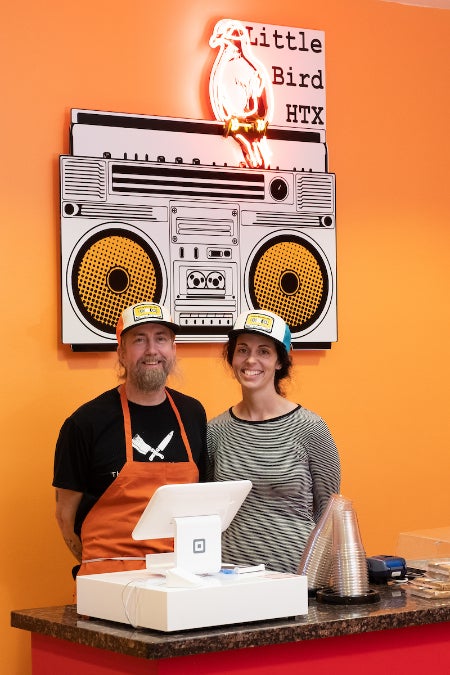 In addition to fountain drinks, a newly installed refrigerated case holds other options to go: Texas-crafted beverages ranging from ginger beer and old-fashioned cream soda to kombucha and sparkling water.
And then there's the all-you-can-eat hummus and "fixins" bar, where you'll find everything you'll need to boost your burger or burrito, much of it made in house by the Kerrs and their team: pickled red onions, dill pickles, kimchi, a rotation of sauces and salsas, salad stuff and, of course, hummus in a range of flavors.
"Hummus is a comfort food for everybody," said Jason, a longtime Houston chef whose menus here and at Little Kitchen HTX feature approachable favorites with creative twists.
Their black-eyed pea hummus was already a favorite at Brochstein Pavilion as well as Little Kitchen HTX's Jersey Village location, so they made sure to expand their selection at Little Bird HTX when they added a condiment station. The idea allows customers to customize their flatbreads endlessly or grab an extra side of charred scallion aioli or homemade honey mustard with their chicken tenders.
"The honey mustard will change your life, OK? You can't get the tenders without the honey mustard," Becca said.
"I've always liked those places where you'd get your food and then there was this huge condiment station where you could get as much as you want and mix it however you want," Kerr said. "We wanted to incorporate that into what we were doing here."
Because the Rice Memorial Center will be replaced in 2023 with the Moody Center for Student Life and Opportunity, only minor cosmetic changes were made to the interior design of Sammy's.
The walls have been painted orange, the signature color shared by Little Kitchen HTX at Brochstein and Little Bird HTX, and cassette tape-shaped wall signs identify each of the serving stations. The playful neon sign behind the cash register was installed the day before opening by the carpentry staff in Facilities, Engineering and Planning.
"It was such a great surprise," Becca said.
In addition to its output at Sammy's, Little Bird HTX is also catering dinners for the Jones Graduate School of Business across the street, with plans to keep dishing up creative cuisine on campus once the new student center is completed. The Kerrs have enjoyed developing a bond with Rice, they said, which all started when they were both vendors at the Rice Farmers Market many years ago and continues to be a fruitful relationship.
"I'm always inspired and very impressed whenever I go to one of the serveries and I see their operation," said Kerr of Rice's award-winning campus dining program. "We couldn't be happier to be here and be a part of all this."
For more about Little Bird HTX, visit dining.rice.edu/little-bird-htx-sammys.