Rice Cinema hosting in-person and virtual screenings through May 7
The all-analog Low-Fi film series from the Department of Visual and Dramatic Arts (VADA) will conclude its weekly screenings with a bang May 6, marking the end of an era.
Fittingly, the legendary Rice Cinema program will show an equally legendary flick at 7 that evening — the time Dennis Hopper came to campus in 1983 before blowing himself up in a "dynamite death chair" stunt filmed by Rice professor Brian Huberman — among other can't-miss student videos of explosions and fiery forms of destruction.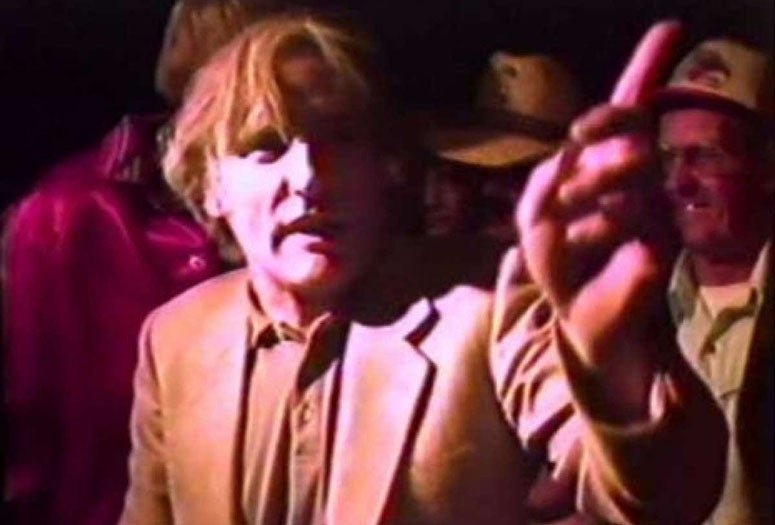 Call it a fond cinematic farewell to the building that's housed Rice's film program since its creation in 1969. The Rice Media Center is slated for demolition this summer to make way for a new VADA building, and only a few opportunities remain to attend a screening in the original silver-screened Rice Cinema.
Meanwhile, film program manager Tish Stringer and her team have finished digitizing 50 years' worth of Rice Cinema archives for preservation in Fondren Library's Woodson Research Center. It's a project that began when Stringer discovered a trove of unpreserved analog film and video made by Rice students from past classes. The preservation effort is concluding just in time.
"If we hadn't started it when we did, I don't think it would have been possible," said Stringer, who'd been working in earnest with graduate students Baird Campbell and Konstantin Georgiev on the archiving project since 2019. "It was a miracle, really."
Supported in part by the Fondren Fellows program, the project included digitizing films and videos from a variety of old, rapidly degrading media, then cataloging them and creating a finding aid with important metadata about the work. Now, Stringer said, people can view many of the films online as easily as they can access other Rice collections at the Woodson, though most will remain offline due to copyright restrictions — those you can see in person at Fondren.
"I think it's extremely fun for people to get to see that history — and it was something that wasn't available beforehand," Stringer said. "Preserving history feels good; sharing it feels even better."
With the archiving complete and the cinema preparing to move into Sewall Hall pending construction of that new VADA building, Stringer's team is embarking on new projects. Campbell is receiving his Ph.D. in sociocultural anthropology, and fellow anthropologist Georgiev is heading to Siberia to continue his own fieldwork.
Low-Fi became a weekly series based on the treasures Stringer and her team found as they went through the stacks of films. Each Thursday, they'd screen a new raft of interesting videos, usually with a theme (last week: Beer Bike). When the pandemic began, they began streaming Low-Fi for their audience online.
"I really feel like we provided an ongoing sense of community for our Rice Cinema family who tuned in from home," Stringer said.
The archiving project, too, provided much-needed human interaction. She, Campbell and Georgiev formed a COVID-19 "bubble" and continued the Low-Fi series, meeting in person every Thursday throughout the pandemic to screen films. With the closing of the Media Center and the close of their work, continuing the Low-Fi series without Campbell and Georgiev just didn't seem right.
"It's been a great series and we've had so much fun doing it, but the band is breaking up," Stringer said.
But before that happens, there are still films set to screen — beginning this weekend with a collaboration between Rice Cinema and the Menil Collection.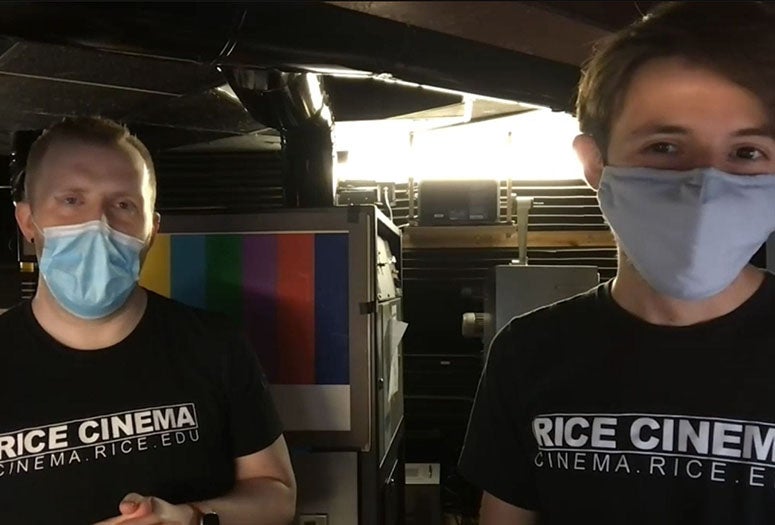 On April 10 at 7 p.m., Rice Cinema will show rare archival footage of Roberto Rossellini speaking at Rice Media Center. Registration is required for attendance, as limited seating is available. John and Dominique de Menil invited the famous Italian director to Houston in 1970 to help develop the film program at Rice.
"There are three hours of material that I cut down to one," Stringer said. "It's mostly Rossellini presenting in classes but it also includes a lot of famous people like James Blue and David MacDougall interacting with him and asking questions."
Additional programming will take place April 9 at 8 p.m., on the front lawn of the Menil Collection with an outdoor screening of "Paisan," Rossellini's award-winning 1946 neorealist war drama.
Look for another classic April 24 at 8 p.m. as Rice Cinema screens "Casablanca" for its final "BYOChair" movie night. This outdoor screening takes place in the grassy Brochstein Plaza bowl outside the Welcome Center at Sewall Hall. Registration is required.
"The Medium is the Message" is the theme for the April 15 Low-Fi series, which streams online starting at 7 p.m. Among the questions to be explored: How did the arrival of the portable video recorder change citizen journalism? And how did becoming citizen journalists change a group of friends into a media collective?
On April 22 at 7 p.m., the Low-Fi series spotlights Houston itself with "The BY YOU City," a collection of documentary films about beloved personalities — including two films about Robert "Papa Merlyn" Pagano, the well-known "wizard of Montrose," which will bookend the evening's screenings.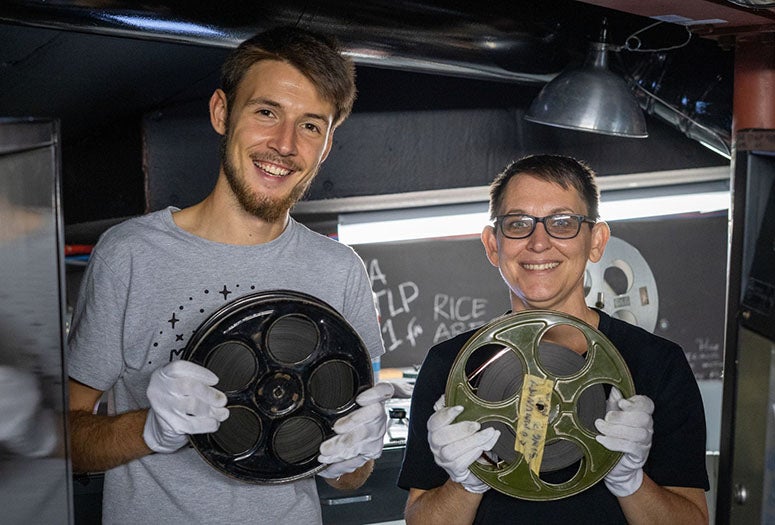 These "portrait films" are required assignments for students in Rice's documentary filmmaking classes, so they've captured a wealth of fascinating Houstonians over the last 50 years: rapper Devin the Dude, community organizer Jay Mays and blind drag queen Alexis Nicole Whitney are also among those who will be featured that night.
It was important to Stringer that Low-Fi dedicate an entire night to these intimate, deeply personal Rice-produced films as the series winds down.
"When I was trying to save the archive, I really pushed these portrait films," Stringer said. "There's literally hundreds of these portraits of people in Houston over the decades that are amazing and irreplaceable and which I think make up the heart of the archive."
VADA's 58th annual Student Awards Ceremony April 29 will be virtual this year, as are all of the Low-Fi screenings. But one final opportunity remains for those who want to visit the Rice Cinema: Flicks, the yearly student film showcase, which takes place May 7 at 7 p.m. Registration is required and seating is limited.
Perhaps in another decade this year's student films will be showcased as nostalgic treasures in a new ongoing series, taking place in a new Rice Cinema, as new generations of students discover the value of storytelling and documenting their world on film. And Stringer already has an idea for a possible 16 mm film series next semester. But for now, she's remaining in her seat until the credits have rolled.
"I'm enjoying this while it winds down," Stringer said.
For info on additional Rice Cinema programming, visit https://vada.rice.edu/rice-cinema. All Low-Fi screenings are streamed at vimeo.com/ricemediacenter.