The nation turned its attention to Texas Sept. 1 as Senate Bill 8, which bans abortions once cardiac activity is detected and delegates the responsibility of enforcement to its own citizens, went into effect.
In response, on Sept. 20 Rice University is hosting a teach-in on this new law to educate students and the broader community about the history and legal precedent and the impact it will have on Texans, Roe v. Wade and reproductive rights across America.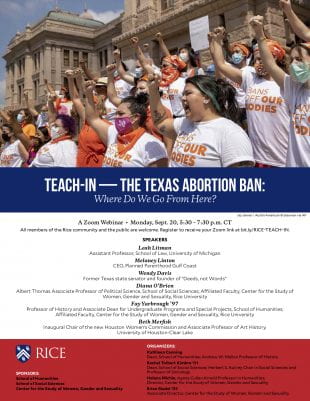 "The Texas Abortion Ban: Where Do We Go From Here?" teach-in will be held via Zoom beginning at 5:30 p.m., sponsored by the schools of Humanities and Social Sciences and Rice's Center for the Study of Women, Gender and Sexuality (CSWGS). A lineup of well-known reproductive rights experts and Rice professors will each speak for 5-7 minutes, with rounds of questions from the audience to follow.
Speakers will include, in order:
Leah Litman, assistant professor, University of Michigan School of Law
Melaney Linton, CEO of Planned Parenthood Gulf Coast
Wendy Davis, former Texas state senator and founder of Deeds Not Words
Diana O'Brien, Albert Thomas Associate Professor of Political Science; affiliated faculty, CSWGS
Fay Yarbrough '97, professor of history and associate dean for undergraduate programs and special projects, School of Humanities; affiliated faculty, CSWGS
Beth Merfish, inaugural chair of the Houston Women's Commission and associate professor of art history, University of Houston-Clear Lake
The most restrictive abortion law in the country, SB 8 is also vaguely written, causing confusion over its legality and panic over its implementation, which turns Texans into bounty hunters at the same time the state has enacted a new permitless carry law: As of Sept. 1, anyone can possess a handgun without a license.
SB 8, meanwhile, allows citizens to sue clinics and others who violate the law, awarding them $10,000 per "illegal abortion" if they are successful.
"We wanted to do something to allow students, faculty, staff and interested members of the community to come together and puzzle through things we don't yet understand, including the implications of the law and other big questions," said Dean of Humanities Kathleen Canning.
Canning co-organized the teach-in along with Dean of Social Sciences Rachel Kimbro '01, CSWGS Director Helena Michie and CSWGS Associate Director Brian Riedel '05.
"We felt it was important to respond to the law, and to our students' and colleagues' questions and concerns about it, as soon as we could," said Kimbro. "We are delighted that so many leading experts and activists wanted to join the event."
"A university like Rice gives us access to a range of expertise that will foster discussion of this new law in light of the longer history of struggles over reproductive rights in the U.S." Canning said. "We also want to bring together different generations to share questions, impressions and experiences and to highlight the ways we are all in this together."
SB 8, which was signed into law May 19 by Gov. Greg Abbott, has implications far beyond Texas' borders. On Sept. 2, a divided Supreme Court announced that it would not block the law. A week later, Sept. 9, the Department of Justice sued Texas, setting up a prolonged national battle over reproductive rights.
"It's very complex, because there are many parts to this law that will require different strategies to combat," said Michie, who is also the Agnes Cullen Arnold Professor in Humanities. "This is different from a lot of other very restrictive laws because there are so many components to talk about and there's so much to understand."
Among the Gordian knot of issues presented by SB 8 are the attempted dismantling of Roe v. Wade and the constitutional protection it affords a pregnant person seeking an abortion, the law's huge expansion of the legal notion of "standing" — who may sue whom and why — and the role of the Supreme Court.
"This is a deeply unpopular bill that Texans don't want," said Michie. "I think this is an issue that may backfire, nationally and locally."
Across the state, large employers such as Salesforce have already offered to relocate employees from Dallas in order to provide them access to reproductive care in other states while Texas' tech industry, which has grown almost 200% since 2010, is scrambling to retain talent and recruit new hires under such conditions. Colleges and universities, too, are worried about protecting their students.
"Many are asking whether the right answer is to leave Texas," Kimbro said. "To me, the right answer is to educate ourselves, dig in and work for future generations of Texans."
"The Texas Abortion Ban: Where Do We Go From Here?", Sept. 20, 5:30-7:30 p.m. Free and open to the public; register online for the Zoom webinar.