HOUSTON — (Oct. 1, 2021) – Ambassador Edward Djerejian, director of Rice University's Baker Institute for Public Policy, this week announced his retirement effective at the conclusion of his 28th year, on June 30, 2022.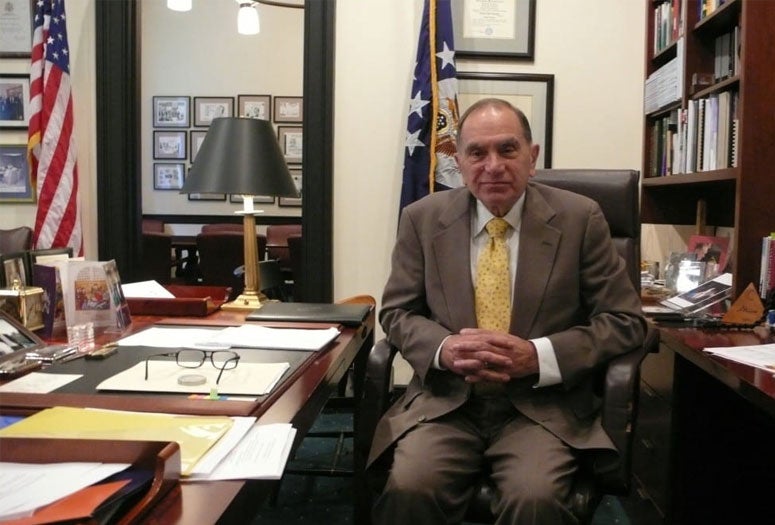 Ambassador Djerejian's statement:
"It was back in 1994, at the request of Secretary James A. Baker III, that my wife, Françoise, and I arrived to establish Rice University's Baker Institute for Public Policy," Djerejian said. "My enthusiasm to take on this challenge after a long and meaningful diplomatic career has been most rewarding. Indeed, in a short 27 years we have surpassed all our peers and have been ranked the No. 1 university-affiliated think tank in the world. To create a public policy institute on a university campus is no small feat. Beyond recruiting the best and the brightest fellows and scholars, an effective administrative staff and building Baker Hall, an important task was to reach out, first and foremost, to the Rice faculty who initially had strong reservations about our endeavor. My second priority was to involve students and, of course, the broader Houston community. We have become an integral part of the university's educational mission and almost all of our fellows teach courses at Rice. I am enormously gratified that the Baker Institute has succeeded in establishing collaborative and trusting relationships with all these important constituencies.
"Moreover, our outreach now extends well beyond our campus and local community to the nation and the world. In this respect, I wish to commend our stellar roster of fellows and scholars whose data-driven and non-partisan findings and policy recommendations impact the highest spheres of academia and the public and private sectors. Equally important, the institute's work could not have been possible without the dedication and performance of our excellent professional staff," said Djerejian.
"The Baker Institute has become a global forum for national and world leaders, including five former U.S. presidents from Gerald Ford to Barack Obama.
"Thus, having now reached this apex, I feel the institute could not be on more solid footing as it takes on new leadership. I shall remain enormously grateful to all my colleagues, Rice's administration, the institute's Board of Advisors and the generosity of our donors and supporters who have made this all possible," Djerejian said.
"Last, but not least, I wish to address my and Françoise's deep gratitude for the trust the institute's namesake, James A. Baker III, has always placed in us.
"As I look ahead to my retirement in June 2022, I take great comfort and satisfaction in all we have accomplished. In a quarter century, we have indeed made history. I am confident that all of you involved in the Baker Institute will continue to bring this institution to new heights."
Secretary James A. Baker III's statement:
"The institute is where it is today because of Ed Djerejian's tireless attention to detail, his consistent demand for excellence at every level and his keen insight about how to establish, improve and maintain a first-rate university-affiliated think tank," said James A. Baker III, honorary chair and namesake of the Baker Institute. "His focus and determination have guaranteed that the institute has indeed become that 'bridge between the world of ideas and the world of action' that I had hoped it would be when it opened in 1994.
"What Ed and his wife, Franҁoise, have accomplished more than justify the institute's current ranking as the very best university-affiliated think tank in the world."
Rice President David Leebron's statement:
"Ambassador Ed Djerejian's leadership and achievements at the Baker Institute over the last 27 years have been truly remarkable," said Rice President David Leebron. "There is probably no better example of building a great institute at a university anywhere. On every front, he has raised the visibility and reputation of the institute and sagely expanded the scope of its mission. Ed has built a strong relationship with participating faculty across the university and created opportunities for our students. He has truly made the Baker Institute a vital and globally renowned part of the university. We will forever be in Ambassador Djerejian's debt for nurturing to impact and excellence one of the foremost jewels of Rice."
Rice and the Baker Institute have launched a national and international search for Djerejian's successor.
- 30 -
Related materials:
Follow the Baker Institute via Twitter @BakerInstitute.
Follow Rice News and Media Relations via Twitter @RiceUNews.
Founded in 1993, Rice University's Baker Institute ranks as the No. 1 university-affiliated think tank in the world and the No. 1 energy think tank in the world. As a premier nonpartisan think tank, the institute conducts research on domestic and foreign policy issues with the goal of bridging the gap between the theory and practice of public policy. The institute's strong track record of achievement reflects the work of its endowed fellows, Rice University faculty scholars and staff, coupled with its outreach to the Rice student body through fellow-taught classes — including a public policy course — and student leadership and internship programs. Learn more about the institute at www.bakerinstitute.org or on the institute's blog, http://blog.bakerinstitute.org.