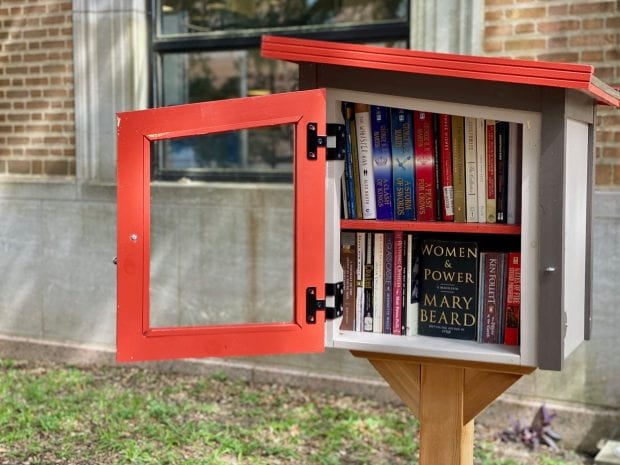 A trio of Little Free Libraries installed on campus just as COVID-19 lockdown measures went into effect in spring 2020 became popular community resources during the pandemic, especially as public libraries remained closed.
Even when many students were attending Rice remotely, the tiny libraries — brought here courtesy of the Faculty Fellows in the Center for Teaching Excellence (CTE) — drew steady streams of readers from the Rice community and the general public, said Lisa Balabanlilar, professor of history and chair of the Department of Transnational Asian studies and the CTE Faculty Fellows.
"They have been serving exactly the purpose they're intended for," Balabanlilar said. "And it's not just students, of course, but also community members; I know people who live near Rice who have told me they're using the libraries."
This semester, with most students back on campus, the CTE Faculty Fellows are looking to bring even more attention to the Little Free Libraries with a design competition open to all members of the Rice community.
Balabanlilar and the CTE Faculty Fellows will host an informational session Oct. 22 at 5 p.m. at Valhalla for everyone interested in learning more about the design competition. Proposals are due Jan. 19 at noon and winners will be announced Jan. 28. All creative work on the libraries must be completed by April 8.
We're hoping for structural innovation, not just decorative work. We want it to be reimagined.
Few limitations constrain the design competition, but teams must include at least one Rice student and their project should cost no more than $400, inclusive of all materials. Submissions must include a written description of the proposed modification to the Little Free Libraries and a sketch of the project.
The competition jury will choose three winning teams, each designing one of the libraries, which must maintain their essential function while also taking into account both Houston's weather and daily wear and tear from public use.
The competition features a panel of judges from across campus including University Architect George Ristow; Vice Provost and University Librarian Sara Lowman; Lisa Lapinski, associate professor of sculpture in the Department of Visual and Dramatic Arts; Joseph Campana, the William Shakespeare Professor of English and director of the Center for Environmental Studies; and Nonya Grenadier, professor in the practice of architecture
Currently, each of the three libraries — located outside Valhalla, in the hammock grove outside Fondren Library and in the central quad outside Brochstein Pavilion — have sloping roofs painted a cheery red color atop a gray box with a single shelf. But the judges will look for designs that involve more creativity than a simple paint job.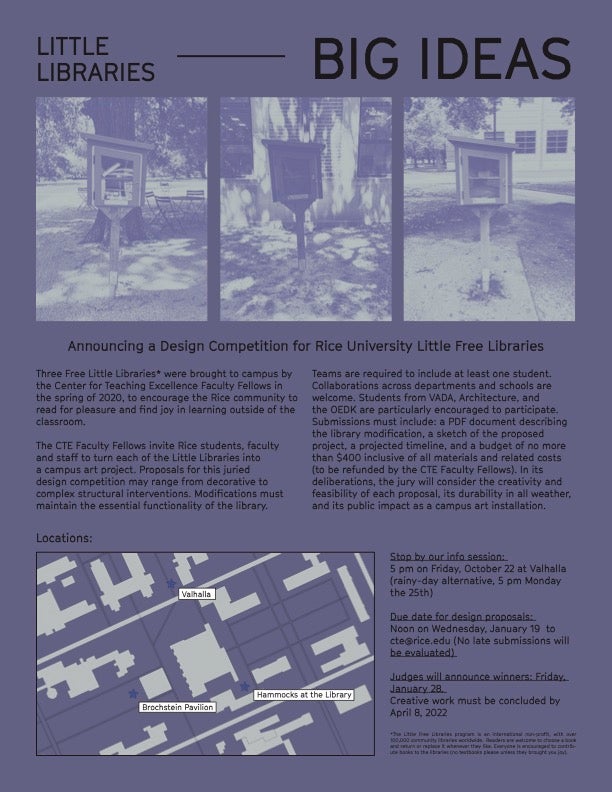 "We're hoping for structural innovation, not just decorative work," Balabanlilar said. We don't want to have somebody just say, 'Oh, I'm going to paint some pink flowers.' We want it to be reimagined."
More than anything, Balabanlilar said they hope the designs will consider the playful spirit of the Little Free Libraries: reading purely for pleasure.
"We don't want people putting textbooks in the libraries," said Balabanlilar, who's an advocate of the slow learning movement that encourages educators and students alike to take their time engaging with fewer — and deeper — projects. "I think it's so important for people to step back and just cogitate, so fundamentally that is what the Little Free Libraries are supporting — just like hammocks that the (architecture students) put up."
In addition to the new creative work taking place on the libraries next semester, Balabanlilar and the CTE Faculty Fellows will also host a faculty book drive to fill each one with freshly donated reads to match their fresh looks. Professors will be asked to personalize or inscribe books that are meaningful to them, Balabanlilar said.
"Again, not academic books," she said. "Not textbooks, but books that maybe caused them to think about the world differently, or about themselves differently, or just gave them a fun afternoon on a rainy day. Reading doesn't always have to be super meaningful; sometimes just relaxing is enough."
For more information on the Little Free Library design competition, email Lisa Balabanlilar at balabanlilar@rice.edu.