The "Texas Triangle" doesn't exactly appear on maps, but it's an all too real connection between Dallas-Fort Worth, Houston and San Antonio-Austin metropolitan areas — and it represents the 15th-largest economy in the world, making the region an international powerhouse for business and commerce.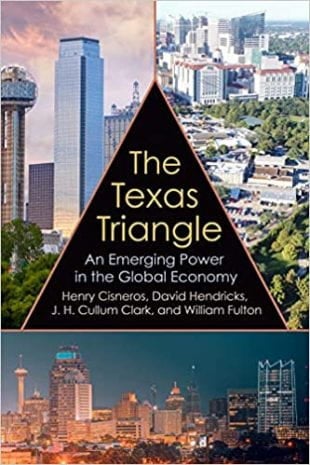 Now, for the first time, the Triangle's rise to prominence and its prospects for the future are explored in a new book by a group of experts on the region.
"The Texas Triangle: An Emerging Power in the Global Economy" is co-authored by Rice University's Bill Fulton, director of the Kinder Institute for Urban Research; Henry Cisneros, former San Antonio mayor and former secretary of the Department of Housing and Urban Development; David Hendricks, former business editor and columnist at the San Antonio Express-News; and J.H. Cullum Clark, director of the George W. Bush Institute-Southern Methodist University Economic Growth Initiative.
"This is the first book that really lays out the economic and demographic power of the Texas Triangle," Fulton said. "The region is every bit as powerful as, say, the Northeast or Southern California."
The authors developed a database specifically for this project to compare the Triangle – which is home to two-thirds of Texas' population -- with eight other "megaregions" in the country. Together, these areas comprise half of the U.S. population.
"More and more, America's megaregions are competing with one another — for talent, for business, and even for political and cultural influence throughout the nation," Clark wrote in an Urban Edge blog post.
But the Triangle is growing faster than any other megaregion. And unlike most others, its metro areas are all within the same state and they're all players in the same economy, which puts them in a good position to address priorities such as education, infrastructure, housing access and economic development.
The authors wrote that the book is intended to be a resource for anyone — but particularly elected officials — trying to better understand the Texas economy.
"As Texas leaders from every part of the state contemplate the measures needed to sustain the state's progress in the face of the new realities we document in this book, they should recognize that the growing size and economic might of the Texas Triangle are powerful assets for the state," according to the book. "The growth of the Triangle will raise the stature of Texas on the national and global stages, and it will make Texas an economic force in the world that no one can ignore."
More information on the book and a recording of a Kinder Institute Urban Reads discussion featuring the authors is available online at https://kinder.rice.edu/events/urban-reads-texas-triangle-emerging-power-global-economy.