Dashboard developed at Rice will help Texas schools open safely amid pandemic
HOUSTON – (May 5, 2021) – A new dashboard developed by public health researchers at Rice University's Texas Policy Lab (TPL) will help school districts in Texas and parents of school-age students make better and more informed decisions about COVID-19 mitigation amid the pandemic.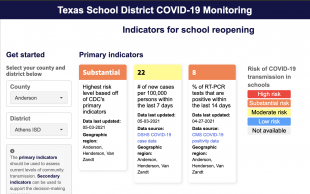 The Texas School District COVID-19 Monitoring dashboard tracks a number of different indicators for counties and school districts across the state, including COVID-19 case numbers, test positivity rates, hospital capacity and more. Based on this data, the dashboard identifies levels of risk for COVID-19 transmission in school districts.
The dashboard was developed based on guidance that the Centers for Disease Control (CDC) provided to all school districts.
The tool comes at a critical time during the pandemic, said Megan Rafferty, a health data analyst at the TPL. Although many adults are getting vaccinated, there is not yet a definite date for when children, especially young children, will be able to. Media reports have suggested it might not be until late 2021 or early 2022.
"As the demographic of cases shifts toward younger age groups while variants continue to circulate, access to timely and accurate information on the spread of COVID-19 in communities and school districts becomes increasingly important," Rafferty said. "This is especially critical while kids are unable to be vaccinated."
Joli Holmes, a data scientist at the TPL who led the development of the dashboard, said such tools are great for disseminating information, although there has been much variation in their quality and availability throughout the pandemic. She said the decentralized public health response has led individual school districts to develop their own monitoring systems, resulting in unequal access to crucial decision-making information. The dashboard aims to improve health equity by providing standardized metrics for all counties and school districts in Texas.
"It's important that all parents and school officials are able to access reliable information and understand the spread of COVID-19 in their community so they can make informed decisions," Holmes said. "Additionally, the dashboard is updated daily to support data-informed decision-making in a dynamic environment."
Holmes added that there are a number of data points that should factor into decision-making.
"Now, decision-makers will have all of the necessary information in one place, at their fingertips," she said. "Our hope is the user-friendly nature of this dashboard will be able to immediately give people a sense of the overall risk and enable them to make the best possible decisions to protect the health of school children, teachers and staff."
The dashboard was developed in collaboration with E. Susan Amirian, the head of the public health and health care program at the TPL, as well as staff and interns on the TPL health team, including Connor Rothschild, Idalina Sachango and Prayag Gordy. It will continue to be available to the public throughout the 2021-2022 school year and will be updated as needed based on evolving CDC guidelines.
-30-
This news release can be found online at news.rice.edu.
Follow Rice News and Media Relations on Twitter @RiceUNews.
Located on a 300-acre forested campus in Houston, Rice University is consistently ranked among the nation's top 20 universities by U.S. News & World Report. Rice has highly respected schools of Architecture, Business, Continuing Studies, Engineering, Humanities, Music, Natural Sciences and Social Sciences and is home to the Baker Institute for Public Policy. With 3,978 undergraduates and 3,192 graduate students, Rice's undergraduate student-to-faculty ratio is just under 6-to-1. Its residential college system builds close-knit communities and lifelong friendships, just one reason why Rice is ranked No. 1 for lots of race/class interaction and No. 1 for quality of life by the Princeton Review. Rice is also rated as a best value among private universities by Kiplinger's Personal Finance.