Cristina Rivera Garza is a writer and educator whose work transcends borders and boundaries. On Sept. 22 at 6 p.m., the Matamoros, Mexico-born fiction writer and winner of a 2020 MacArthur Foundation "Genius Grant" will give this semester's Innervations lecture on "Medicine, Language and the Body" that will — fittingly — include readings from her work in both Spanish and English.
A similarly bilingual Q&A will follow, moderated by Dr. Ricardo Nuila, associate professor of medicine, medical ethics and health policy and director of the Narrative Medicine Program at Baylor College of Medicine.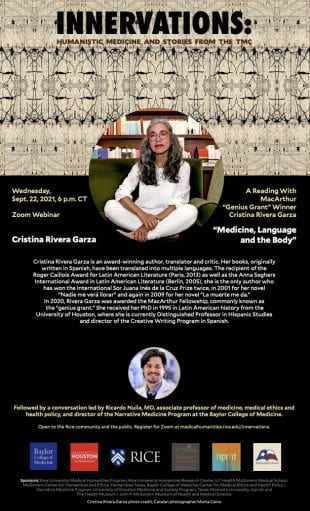 Crisscrossing national borders, Rivera Garza has taught history and creative writing at the National Autonomous University of Mexico and Tec de Monterrey as well as the University of California, San Diego, and the University of Houston, where she is currently the Distinguished Professor in Hispanic Studies and director of the Creative Writing Program in Spanish.
Her award-winning books, many of which focus on medical and mental health trauma at their core, are written in Spanish. (Many, but not all, have been translated to English.) It's a body of work that won Rivera Garza a coveted MacArthur Fellowship last year, for exploring culturally constructed notions of language, memory and gender from a transnational perspective.
Innervations is a collaboration between Rice's Medical Humanities Program and Humanities Research Center, the University of Texas Health Science Center at Houston's McGovern Medical School, the McGovern Center for Humanities and Ethics, Humanities Texas, the Baylor College of Medicine Center for Medical Ethics and Health Policy, the University of Houston Medicine and Society Program, Texas Woman's University, Inprint and The Health Museum.
The lecture series launched in fall 2019 with a lecture from writer and former nurse Christie Watson on "The Language of Kindiness." Spring 2020 brought a reading by Esmé Weijun Wang, author of the New York Times-bestselling essay collection "The Collected Schizophrenias," followed by an interview with Rice creative writing professor Lacy Johnson.
Innervations highlights the human element and experience within medical settings while engaging with people across the Texas Medical Center (TMC) and the entire Houston community to "expand and enrich the conversation," said Kirsten Ostherr, the Gladys Louise Fox Professor of English, chair of the Department of English, founding director of the Medical Humanities program and director of Rice's Medical Futures Lab.
Within such novels as "Nadie me verá llorar" ("No One Will See Me Cry") and "La cresta de Ilión" ("The Iliac Crest"), Rivera Garza tapped years of research on Mexican asylums to set her stories in and around sanitoriums and mental hospitals.
Her tales touch on overarching themes of trauma, Ostherr said, which is not something "that needs to be medicalized, but actually is a theme that the medical profession could learn a lot from if they could see it beyond the medicalized frame."
If physicians — indeed, if everyone — could think of trauma as something beyond just the immediate physical damage to a person's body, they might start to recognize the ways that trauma impacts everything from individual identity to cultures and society.
When planning the Innervations lectures, Ostherr said, the collaborators wanted to bring in lecturers who would discuss themes that are broadly relevant to the medical field but who could also — as Rivera Garza does with her work — expand the framework around what is generally thought of as "medicine."
Ostherr said they're also excited to bring a bilingual lecturer into the series as a way to expand the conversation across two of Houston's most-spoken languages.
"We live in this huge, multicultural city and there are so many communities that are interested in the issues we're interested in, but would be even more so if there was an angle that spoke to their particular community," Ostherr said. "It felt like a great opportunity to host someone who is multilingual and who writes in multiple languages like Cristina Rivera Garza."
"Medicine, Language and the Body" is free and open to the public via Zoom. Questions may be submitted in advance during registration or following Rivera Garza's talk during the Q&A. For more information or to register for the lecture, visit medicalhumanities.rice.edu/innervations.