BY CHUCK POOL
Courtney Hall, a renowned Rice athlete whose career in football took him to the Super Bowl and career in finance took him to Wall Street, has died unexpectedly at the age of 52.
Hall, a member of the Rice Athletics Hall of Fame who was recently appointed to the university's board of trustees, died of natural causes April 29.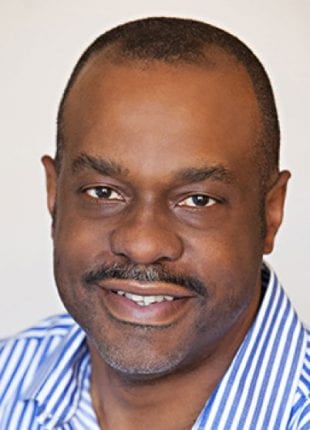 "Few people exemplified better than Courtney our aspirations for excellence in our student athletes on and off the field," wrote President David Leebron in a message breaking the news to Rice trustees. "Courtney was widely known and extremely well liked and respected. This is a great loss to our community, and I know all of us were very much looking forward to working with him on the board."
Hall reported to Rice for his first training camp in 1985, weeks shy of his 17th birthday. Despite measuring only 6 feet 1 inch and weighing a slight 220 pounds, he took over as the Owls starting center in a matter of weeks, making his debut against the University of Miami at Rice Stadium. He remained the starting center over the next four seasons, blossoming into a two-time, All-Southwest Conference (SWC) selection. He was the first Black center to earn that distinction.
Hall also won the 1988 American Spirit Award, which recognized the SWC senior football player who combined academic excellence, good sportsmanship and citizenship, high moral character and outstanding athletic ability.
Hall was drafted by the San Diego Chargers in the second round of the 1989 NFL Draft and was a fixture at center for the next eight seasons. He was a team captain as the Chargers won their first AFC title in 1995 and advanced to Super Bowl XXIX in Miami. He was inducted into the Rice Athletics Hall of Fame in 1995 and the SWC Hall of Fame in 2019.
After retiring from football, Hall earned a joint law degree and MBA from the University of Chicago in 2003 and embarked on a business career in New York City. He was a managing director and co-founder of Hillcrest Venture Partners, a venture capital firm where he focused on investments in enterprise applications, financial technology and wireless communication.
Hall also served as a board member of the Fabien Cousteau Ocean Learning Center and Randall's Island Park Alliance and as an advisory board member for venture debt firm Applied Real Intelligence. He was also a visiting fellow at the National Security Institute at George Mason University's Antonin Scalia Law School.
Hall was one of six Rice alumni who were appointed in January to four-year terms on the Rice Board of Regents. He was a volunteer for the Liu Idea Lab for Innovation and Entrepreneurship (Lilie) and a lifetime member of the R Association. He has previously served as a member of the Association of Rice Alumni board, a Rice Annual Fund volunteer, a regional volunteer leader and a member of Rice Alumni Volunteers for Admissions.
Hall is survived by his wife, Judge LaShann Moutique DeArcy Hall of the U.S. District Court for the Eastern District of New York, and his children, Rachael, Alexander, Terence and Jayden.
Memorial service arrangements are pending.