Noted writer Bruce Hainley is joining the faculty at Rice as the new chair of the Department of Visual and Dramatic Arts (VADA).
A long career within the arts as both critic and educator led Hainley to Houston, where he will join the department as the David and Caroline Minter Professor of Humanities on July 1. His appointment as department chair begins Jan. 1, 2022; he will succeed John Sparagana, the Grace Christian Vietti Chair in Visual Arts, who will continue his work at Rice as professor of visual and dramatic arts.
"I'm excited to build upon the great work already being done in VADA, led by its current chair and vibrant faculty and staff," Hainley said.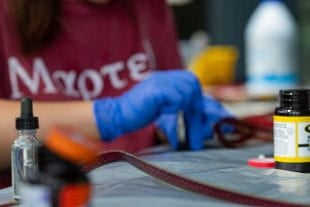 Hainley is currently Chair of Graduate Art at ArtCenter College of Design in Pasadena, California. He is also a contributing editor for Artforum magazine, and the editor of Gary Indiana's "Vile Days: The Village Voice Art Columns 1985-1988." His 2006 book of poetry, "Foul Mouth," was a finalist in the National Poetry Series, and in 2003 he co-wrote "Art — A Sex Book" with filmmaker John Waters.
"Bruce Hainley is an extraordinary individual whose expansive and incisive mind has illuminated the art world with his writing, art criticism, curation and teaching for the last three decades," Sparagana said. "It is not an exaggeration to say that Bruce's perceptions — his thinking, his writing — have shifted the existing paradigm, or generated new paradigms within the art field."
As new VADA chair, Hainley will oversee the department's move from various buildings across campus, including Sewall Hall, Hamman Hall and the soon-to-be-demolished Rice Media Center, into one brand-new, state-of-the-art VADA building at the entrance to the university's Arts Corridor. The yearslong process will culminate in fresh spaces for studio art, photography, printmaking, cinema screenings, graduate studios, faculty offices, student art space and much more, all under one roof.
Dean of Humanities Kathleen Canning notes that Hainley's international reputation will foster the advancement that the School of Humanities and VADA faculty seek for the department.
"Bruce Hainley is known for his voracious engagement with art production in several forms, for his highly productive collaborative undertakings and his inspired and innovative teaching and mentoring of students and young faculty in the arts," Canning said.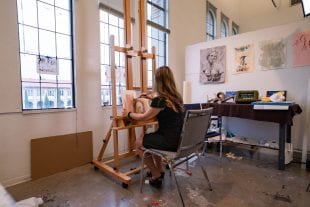 "With the planning of a new building as well as new and diverse hires, VADA will be poised not only to offer the arts as a complement to other kinds of innovative pursuits at Rice — from STEM to STEAM (science, technology, engineering, arts and mathematics), as I believe someone has already put it — but also to facilitate even further dialogue and collaboration with the dynamic community of artists, designers and cultural producers in Greater Houston and beyond," Hainley said.
VADA is one of Rice's most popular departments, serving some 800 students a year, and will undoubtedly serve many more as the university expands its undergraduate enrollment by 20% over the next four years. Roughly a quarter of all Rice undergrads take VADA courses each semester, and demand for classes continues to grow across all majors.
Sparagana said he expects Hainley's own diverse research interests to naturally lead to even more collaborations between VADA and departments across the School of Humanities.
"Bruce is that very rare individual who brings focus, commitment, energy and care to teaching, mentorship and administrative leadership, as well as to his own research and practice," Sparagana said. "To state this is cliché, but we expect great things from Bruce."