As Broadway's theaters come to life again after more than a year of darkness during the COVID-19 pandemic, one of Rice University's own young talents will be lighting up the stage.
Kanisha Feliciano, a Shepherd School Artist Diploma student of voice professor Nova Thomas, has won the role of Clare Boothe Luce's daughter Ann in the new musical, "Flying Over Sunset." She will make her joint Broadway and Lincoln Center debut at the Vivian Beaumont Theater Dec. 13.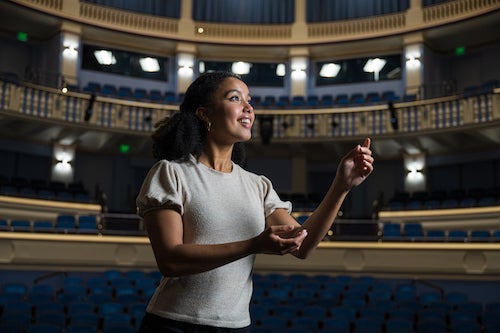 "The more I learn about the project and hear the music and read the script, I feel like I find something new to hold on to every single day," she said. The new musical comes from a renowned group of Broadway artists. Pulitzer Prize and Tony Award winner James Lapine wrote the show, with music from composer Tom Kitt — winner of a Pulitzer, Tony, Emmy and Grammy — and lyrics by Tony nominee Michael Korie. The setting is 1950s Hollywood at a beach house overlooking the Pacific, where Luce, Cary Grant and Aldous Huxley are on an acid trip. The production is described as "an exhilarating journey into the most colorful corners of the human psyche" that delves into the private desires, hopes and secrets of the three main characters.
Feliciano said her character forces Grant, Luce and Huxley to confront their pasts and the sides of themselves they don't love or want to acknowledge.
As an opera singer, Feliciano admitted she's new to the musical theater. A casting agency's invitation to audition for the role of Christine in "The Phantom of the Opera," Broadway's longest-running musical, ultimately led her to "Flying Over Sunset." Christine's role in "Phantom" is somewhat unique in the world of musical theater because it requires a singer with classical training. Feliciano called Rice "the perfect environment to be able to audition for something like this" thanks to the resources available in the new Brockman Hall for Opera. She says she was one of two finalists out of 4,000 people who auditioned, but the role went to an actress with more musical theater experience.
As that door closed, a window opened. Feliciano was contacted by an agent, Penny Luedtke, asking if she was interested in trying out for another Broadway role for a classically trained singer. Auditioning amid the ongoing pandemic was a unique process. "Instead of flying to New York and, you know, getting a hotel, making the trek and being in the room to audition with everyone, it was all online," she said. Not long after the audition, Lapine invited Feliciano to join the cast, which she described as a life-changing moment. "I've been walking on cloud nine ever since," she said.
Rice's Artist Diploma program provided Feliciano the opportunity to refine her craft while learning how to navigate a career in the performing arts.
"While they're training you for that next step in your career, and how to make the transition from a student to a working musician, they encourage you to get gigs," she said, grateful that her scholarship and her spot in the program will be waiting for her when she finishes her run in "Flying Over Sunset."
During the pandemic, she considered herself lucky to be at Rice as the performing arts world was shutting down. "In the early days of the pandemic, we were hearing that the arts might not come back for years. It was devastating," she said. "Rice and the Shepherd School were definitely a blessing, making it possible to have a safe space to come and sing and still learn and feel that the university was continuing our education while also valuing our health."
Thomas first taught Feliciano as an undergraduate student at Westminster Choir College. The planets aligned for her and her pupil to continue working together after Thomas accepted a teaching role at Rice in 2020 and Feliciano finished her graduate degree at the University of Houston and joined the Artist Diploma program at Rice.
"This is a destination school for gifted individuals," Thomas said. "Kanisha just has that 'something' beyond the technical facility — she has a gift for vocalism, and that extraordinary 'something' that we all look for in artists." Broadway roles are atypical for Shepherd School singers, but Thomas noted that extraordinary opportunities are not.
"Not many of these opportunities have landed our students in a Broadway production, but it was the right show at the right time," Thomas said. "Excellence and achievement are hallmarks of the students here, and Kanisha is emblematic of that."
For more information on the Broadway production of "Flying Over Sunset," visit https://www.lct.org/shows/flying-over-sunset.