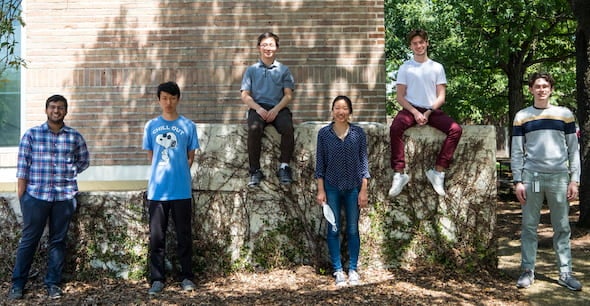 A student-designed implantable pump to help relieve pressure on the brains of patients with normal pressure hydrocephalus or idiopathic intracranial hypertension has won the top prize in this year's Brown School of Engineering Design Showcase.
The Brain Drain team, recently featured in Rice News, won the $5,000 Woods Leazar Innovation Award for Excellence in Engineering presented by sponsors Linda and John Leazar and Maria Oden, director of the Oshman Engineering Design Kitchen, a teaching professor of bioengineering and co-director of the Rice 360˚ Institute for Global Health.
The team of mechanical engineering major Samuel Brehm and bioengineering majors Cooper Lueck, Patrick Bi, Haafiz Hashim, Irene Kwon and Bill Wang prototyped a battery-operated piezoelectric membrane pump that can be wirelessly charged via an electromagnetic field and communicate with external devices via Bluetooth.
They were advised by Dr. Daniel Curry, a pediatric neurosurgeon at Texas Children's Hospital, and faculty adviser Sabia Abidi, a lecturer in bioengineering.
Yeah Buoy won this year's Willy Revolution Award for Outstanding Innovation, with its design of a buoyance control device for automated underwater vehicles. That prize is also for $3,000.
The showcase returned this year in a virtual format, with 59 teams competing for cash prizes. Instead of personal demonstrations filling the floor at Tudor Fieldhouse, each team produced a video demonstration and posted it to an online gallery for judges to view. (Click the team names to see the videos, and watch the virtual award ceremony here.)
Other winners:
Excellence in Capstone Engineering ($1,000): SmartAid.
Excellence in Capstone Engineering ($1,000): Cool Fluid Dudes.
Excellence in Underclassman, Multi-year or Club Engineering ($1,000) Coral REliEF.
Best Interdisciplinary Engineering Design Award ($750): AeroPuff.
Best Aerospace or Transportation Technology ($500): Rice Eclipse Rocketry Team - ARCA.
Best Conceptual or Computational Modeling Engineering ($500): iDoc.
Best Energy-Related Engineering ($500): Mystery Box.
Best Environment and Sustainability Engineering ($500): IPyAy.
Best Gaming, Creative or Innovative Technology ($500): Castaways II.
Best Medical Device Technology ($500): Smartdrain.
Best Technology for Low-Resource Settings ($500): Let's Get This Breath.