Black and white soldiers' death rates in Korean War were similar regardless of segregation, study finds
HOUSTON – (May 6, 2021) – The landmark Supreme Court case Plessy v. Ferguson upheld the doctrine of "separate but equal," but for many decades after that segregation was enforced in virtually all aspects of life, including the military.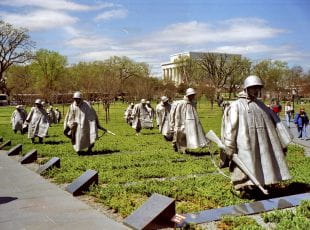 "Segregation, Integration, and Death: Evidence from the Korean War," a new study from Rice University and the University of Nebraska-Lincoln (UNL), examines whether segregation or integration led to unequal fatality rates on the battlefield.
Researchers Connor Huff, an assistant professor of political science at Rice, and Robert Schub, an assistant professor of political science at UNL, studied records of soldiers' deaths during the first half of the Korean War, when troops were segregated, versus the second half, when troops were integrated. They collected data on racial composition and size of military units, and the number of deaths of white and Black soldiers.
The study found that Black and white soldiers' fatality rates were similar, regardless of whether they were serving in segregated or integrated units. Historical details of the Korean War help explain the surprising lack of racial discrepancies.
"Throughout much of the Korean War, the U.S. military was underprepared and undermanned," Huff said. "Military commanders were putting soldiers where they were most necessary, and the need for battlefield contributions seems to have overridden any of the discriminatory behavior that could have led to different fatality rates between white and Black soldiers."
Huff said he and Schub "did notice more variation in deaths by race over a given time period. For example, one month there might be higher fatality rates among white soldiers, because white troops went into battle and sustained heavy losses, and the next month the same thing might happen to Black soldiers. However, this variability disappeared once troops were integrated."
The study will appear in an upcoming edition of the journal International Organization and is available online at https://bit.ly/2R76uBr.
-30-
This news release can be found online at news.rice.edu.
Follow Rice News and Media Relations on Twitter @RiceUNews.
Related materials:
Photo link: https://news-network.rice.edu/news/files/2021/05/96883881_l.jpg
Photo credit: 123rf.com
Located on a 300-acre forested campus in Houston, Rice University is consistently ranked among the nation's top 20 universities by U.S. News & World Report. Rice has highly respected schools of Architecture, Business, Continuing Studies, Engineering, Humanities, Music, Natural Sciences and Social Sciences and is home to the Baker Institute for Public Policy. With 3,978 undergraduates and 3,192 graduate students, Rice's undergraduate student-to-faculty ratio is just under 6-to-1. Its residential college system builds close-knit communities and lifelong friendships, just one reason why Rice is ranked No. 1 for lots of race/class interaction and No. 1 for quality of life by the Princeton Review. Rice is also rated as a best value among private universities by Kiplinger's Personal Finance.
If you would rather not receive future communications from RiceUniversity2, let us know by clicking here.
RiceUniversity2, Public Affairs - MS610 6100 Main Street, Houston, TX 77005-1827 United States