Hanszen College junior Syed Shams and Will Rice College junior Jim Zhang started the spring semester as lab partners in Advanced Experimental Biosciences. And as recently announced winners of Goldwater Scholarships for 2021-2022, they'll finish it as dual recipients of the nation's most prestigious undergraduate scholarship in the natural sciences, engineering and mathematics.
"I literally woke up to a text from Jim saying, 'Yo, dude, congratulations,'" Shams said of finding out the news March 26 from Zhang, who'd awakened that morning to check the Goldwater website for results. "And then I immediately called my mom and my dad."
Rice nominated Shams and Zhang, both majoring in biochemistry and cell biology, based on their academic merit and research aspirations. Along with 408 fellow Goldwater winners in the U.S. this year, the lab partners were selected from a pool of 1,256 students.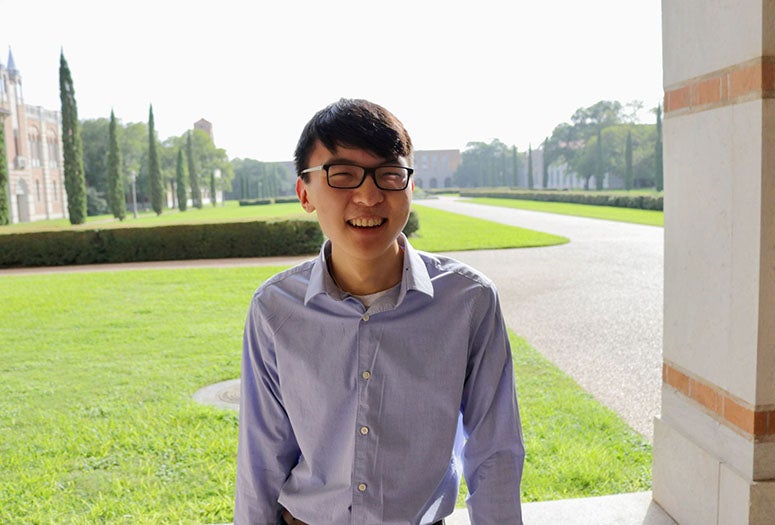 As young high school students, Shams and Zhang each already knew they wanted to pursue scientific research in college. It's what led them both to apply to Rice — Zhang from Houston's Westside High School and Shams from nearby Beaumont's Harmony Science Academy.
Rice's status as an elite research university may have been what attracted Zhang and Shams, but they also found its small size afforded the kind of opportunities that expand horizons and win Goldwaters — opportunities like working in labs their freshman year, much earlier than is typical at most top-tier research universities.
"When I came here, I immediately asked, 'OK, how soon can I get into research?'" Shams said. He joined the biophysics lab of Jason Hafner, professor of physics and astronomy and of chemistry — incidentally, the same lab in which fellow Goldwater winner Takuma Makihara '20 worked his freshman year, Shams noted.
Following his freshman year in the Hafner lab, Shams went to work in the synthetic biology lab of Michael Diehl, where he studied protein expression tuning and mammalian cell engineering.
"Dr. Diehl has been a fantastic mentor and his enthusiasm for fostering undergraduate research has been a boon," Shams said.
Zhang, who thought he might want to pursue academia, ended up in the laboratory of professor of biosciences Yizhi Jane Tao, whose research specializes in X-ray crystallography and other techniques to unveil the basic structures of viruses.
"I just fell in love with it — I mean I really loved it — and my goals haven't changed since then," said Zhang, who began his own research into the nematode virus Orsay, the only known virus to naturally infect the model organism C. elegans.
Zhang loved it so much, in fact, he applied his freshman year to an accelerated graduate program in the biochemistry department and was accepted. When Zhang graduates in 2022, he will have earned simultaneous bachelor's and master's degrees in biochemistry.
Unlike many biochem majors, however, neither he nor Shams are on the typical pre-med track: They both have their sights set on a Ph.D.
"I see the benefits of medicine and medical research — it's obviously important, because it literally saves lives — but there's just something very nice about seeing how life works," said Zhang. "I'm very much so leaning towards just the theoretical aspects of things."
When he isn't busy in the lab helping first-generation and low-income (FLI) students thrive at Rice as an FLI Ambassador in the Office of Student Success, Zhang pours his creative energy into baking in the Will Rice kitchen. This semester alone, he's made bagels from scratch — complete with lox, he said — as well as dozens of cookies and, most recently, a chocolate espresso cake that made him exceptionally proud.
"I guess serving others what I've made is a nice source of destressing," Zhang said.
Shams is double majoring in English, which he said he's found vital for obvious applications such as scientific writing and application essays, but which is also a genuine source of pleasure. In fact, he said, that's why biochemistry and English double majors are common at Rice.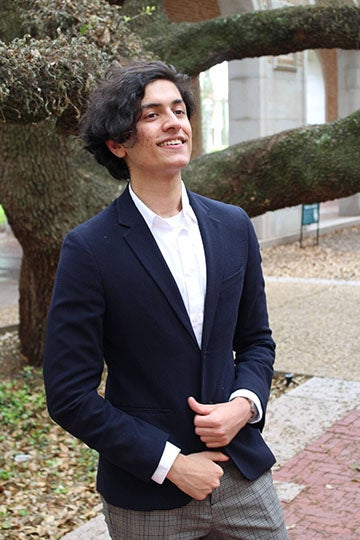 "A lot of us just enjoy literature, so it's a way to destress as well," Shams said. "I don't think I could do just biochem — I think I'd go crazy only doing that day in and day out."
Ever since taking a poetry class from former English professor Paul Otremba, who died in 2019, Shams has written poetry in lieu of journaling, a practice that's become an important part of his routine. And Shams credits Sarah Ellenzweig, associate professor of English with whom he took a class on British literature of the Enlightenment, for noticing his interest encouraging him to pursue the major.
During a year in which almost all of their coursework was conducted remotely, Zhang and Shams said it took extra effort to create relationships with faculty, something that's necessary when soliciting recommendations for scholarships such as the Goldwater. But they commended their professors for staying helpful and approachable even over Zoom, and Rice's Center for Civic Leadership (CCL) for offering info sessions and support along the way.
They offer some advice for future Owls pursuing the Goldwater: Attend office hours, even if they're virtual. Call your professors on the phone. Use your voice. Get to know them and get to know their lives. Having personal connections established in professional settings makes all the difference.
"Dr. Tao has been really great," Zhang said, noting that even "the head professor in charge of my lab, when I texted her about the Goldwater, was like, 'This looks good! You should try to do this!'"
For its undergraduate winners, the Goldwater is just the beginning of a bright career in research. Shams has known this since his freshman year, in fact, when his mother sent him a Rice News article about Rohan Palanki '19, who won the scholarship as a sophomore and is now an M.D./Ph.D. student at the University of Pennsylvania's Perelman School of Medicine.
"This is what you should be going for," Shams' mother told him.
Jessica Khalaf, associate director of the CCL, supports Rice students applying for the Goldwater Scholarship and helps students engage through a process of reflection that allows them to better articulate their values, motivations and goals within their applications.
Students interested in pursuing a scholarship like the Goldwater, Khalaf said, should consider their "fit" for the opportunity and engage in the advising process so that regardless of outcome, they have a better understanding of next steps and applicable opportunities as well as better understanding of themselves — which is just what Zhang and Shams did.
"Both Shams and Jim came into advising knowing they wanted to pursue a scholarship that supported their research careers," Khalaf said. "Through their dedication, they were able to articulate a personal narrative that complemented their research proposals within their Goldwater applications."
Zhang and Shams have both worked diligently within the sciences, demonstrating a clear passion for advancing their fields. Their enthusiasm shines through in new headshots taken after they heard they'd won the award: Jim with a bright smile, and Shams looking at a point beyond the camera, away and into the future.