HOUSTON – (Sept. 15, 2021) – The 2021 Annual Energy Summit at Rice University's Baker Institute for Public Policy will explore the critical issues affecting global energy markets, oil and gas, electricity, renewables and the environment in a virtual conference Sept. 29-30.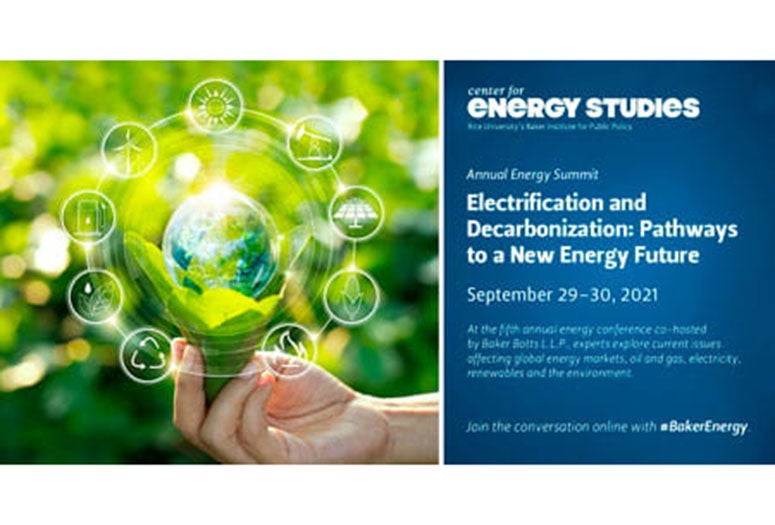 Co-hosted for the fifth consecutive year by the Baker Institute's Center for Energy Studies and Baker Botts LLP, this year's summit will feature four expert panels, keynote addresses by former Secretary of State and Baker Institute Honorary Chair James A. Baker III and Keisuke Sadamori, director of energy markets and security at the International Energy Agency, and armchair discussions with Stephen Trauber, vice chairman and global co-head of natural resources and clean energy transition at Citigroup Inc., and Suzanne Scott, Texas state director for The Nature Conservancy. Dong Kim, deputy director for the Department of Energy's Loan Programs Office, will also give brief keynote remarks.
What: The virtual Fifth Annual Energy Summit – "Electrification and Decarbonization: Pathways to a New Energy Future."
When:
Day 1: Wednesday, Sept. 29, 9 a.m.-1 p.m.
Day 2: Thursday, Sept. 30, 8:30 a.m.-1:30 p.m.
Who:
Opening remarks will be provided by Edward Djerejian, director of the Baker Institute; John Martin, managing partner at Baker Botts; and Ken Medlock, fellow in energy and resource economics and the senior director of the Center for Energy Studies.
Where: The conference is free to attend, but registration is required here.
Participants are encouraged to follow @CES_Baker_Inst on Twitter and join the conversation online with the hashtag #BakerEnergy.
To schedule an interview with one of the organizers or experts, contact Avery Franklin, media relations specialist at Rice, at averyrf@rice.edu or 713-348-6327.
-30-
Related materials:
Follow Rice News and Media Relations via Twitter @RiceUNews.
This news release can be found online at news.rice.edu.
Founded in 1993, Rice University's Baker Institute ranks as the No. 1 university-affiliated think tank in the world and the No. 1 energy think tank in the world. As a premier nonpartisan think tank, the institute conducts research on domestic and foreign policy issues with the goal of bridging the gap between the theory and practice of public policy. The institute's strong track record of achievement reflects the work of its endowed fellows, Rice University faculty scholars and staff, coupled with its outreach to the Rice student body through fellow-taught classes — including a public policy course — and student leadership and internship programs. Learn more about the institute at www.bakerinstitute.org or on the institute's blog, http://blog.bakerinstitute.org.