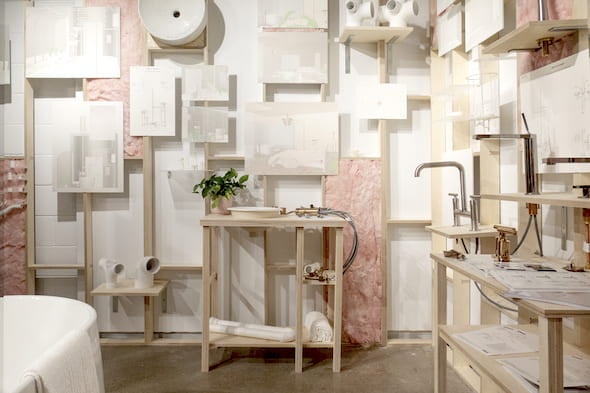 Can't air out your ideas with the world? Bring them home.
That's a perfect pandemic option for Liz Gálvez, a visiting critic at Rice Architecture whose ideas were honored this month with one of six annual prizes given by The Architectural League of New York to young architects. The theme of the competition was "Housekeeping."
"There's traditionally a collective exhibition for the six firms in New York City, followed by 20-minute lectures by each of the winners," Gálvez said. "This year, the League will continue its program in a remote format. It makes the collective nature of the exhibition more challenging, but opens up an opportunity for us to construct the exhibition at Rice."
Gálvez's exhibition, "Of Envelopes and Air," will fill Farish Gallery at Anderson Hall, opening on June 15, the day the League hosts her lecture and a Q&A via Zoom. The exhibition will also be presented on the Architectural League website.
"We continue to look for ways to engage in conversation," she said. "I am particularly excited about this year's prize lecture series."
Between now and then, she and Rice Architecture master's students Anna Cook, Yun Koo and Michelle Schneider will be busy planning and then building the exhibition, a walled structure to demonstrate the myriad ways air moves into and through a building envelope.
"We only have a month to execute the project, so we're working to make a succinct yet meaningful and clever installation," said Gálvez, who trades professionally as Office (e.g.). "The exhibition will focus on moments in which air transgresses the building envelope to show students and visitors about how air must work within the enclosure. There will be educational components to teach students, architects and nonarchitects about elements like plumbing vents and attic vents in playful ways."
"A Scattered Showroom," pictured above, was Gálvez's contribution to an exhibition at the University of Michigan in 2019 and exemplifies her thought process, exposing the guts of a typical bathroom most of us rarely have to think about.
"We're showcasing outside and inside air to foreground an important, if at times banal, part of our buildings that often goes unnoticed or undesigned, especially in an academic setting," Gálvez said. "Right now, building breathability and ventilation is a super important topic, especially for practicing architects and engineers, but they're not really something we immediately strive to tinker with in the academy."
The portfolio competition, established in 1981, is for architects and designers out of school for 10 years or less. This year's "Housekeeping" motif asked competitors "to contemplate how stay-at-home orders have prompted many of us to see our domestic settings anew, and to consider the various ways we 'keep house.'"
"This is a very significant and prestigious award for a young and upcoming designer, and I'm very pleased that we're able to support the building and exhibition of her proposal in the school," said interim Rice Architecture Dean John Casbarian, the Harry K. and Albert K. Smith Professor. "Liz has been a great asset to the school this past year, and I look forward to her continued contributions to the program."
Also among the winners this year is Tei Carpenter, a former Wortham Visiting Lecturer at Rice who now directs her own architecture and design studio, Agency-Agency, in New York.