Just a touch of déjà vu greets the few visitors who enter Anderson Hall these days. That's intentional.
The Rice Architecture building's high-ceilinged jury room is fitted with cloth panels and small inclines of faux turf. There's a cutout in the hanging panels, and projections shoot upward when it's dark enough to see them, with an accompanying mix of audio tracks that deliver a patchwork of weather reports.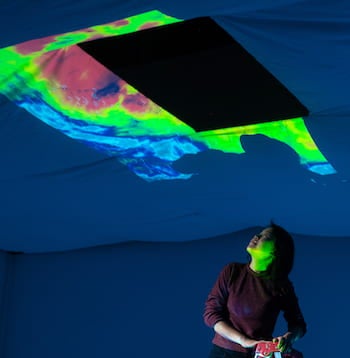 The art installation is designed by Amelyn Ng, a second-year Wortham Fellow recently featured here for her study of Houston's Fifth Ward during COVID-19.
Her "Screenspace" was intended to premiere before the pandemic's onset. It was originally imagined as an "ephemeral," one-time performance at the James Turrell Skyspace itself, until she learned it would not align with the artist's wishes for the Rice landmark.
No worries. It just happened that the jury room is nearly identical in size to Turrell's interior. Nearly a year later, there it is.
"Screenspace is a nod to Turrell, but I wouldn't say I'm pitting myself against the Skyspace," Ng said. "People collectively enjoy what Turrell's pavilion has. I think this is a kind of metonym for the total control that architects have on the environment, but now there's a pivotal shift where people are realizing that level of purity in relation to nature is not necessarily the only way to design."
Screenspace has multiple layers, from top to bottom: The gallery's ceiling, the sewn fabric, two "grass" berms and room lighting and projections that link the two. Instead of a Skyspace-like square, the overhead aperture is a rectangle with a 16-by-9 aspect ratio, the same as a modern television.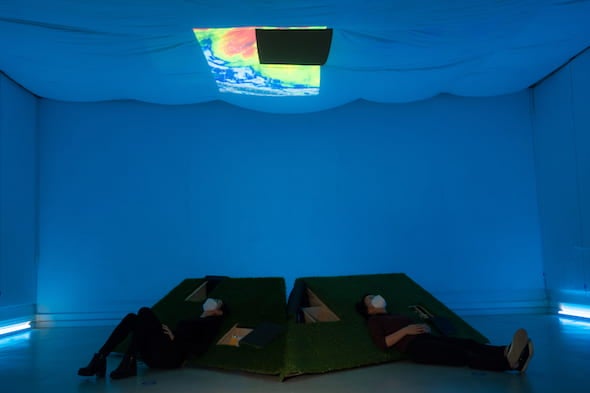 That too is intentional, because viewers are watching a series of TV weather broadcasts and sky images. Some of the broadcasts are repurposed from hurricane reports, with more ominous red-dominated radar images.
"When you see NOAA (National Oceanic and Atmospheric Administration) hurricane centers, they have multiple screens constantly fixed on the weather, and they're watching the sky, but through satellite images," she said. "I thought, what if we merge those two postures together: the experiential sense of always checking the weather during hurricane season, and the technological sense of always watching the Earth from above. It's a conflation of viewpoints."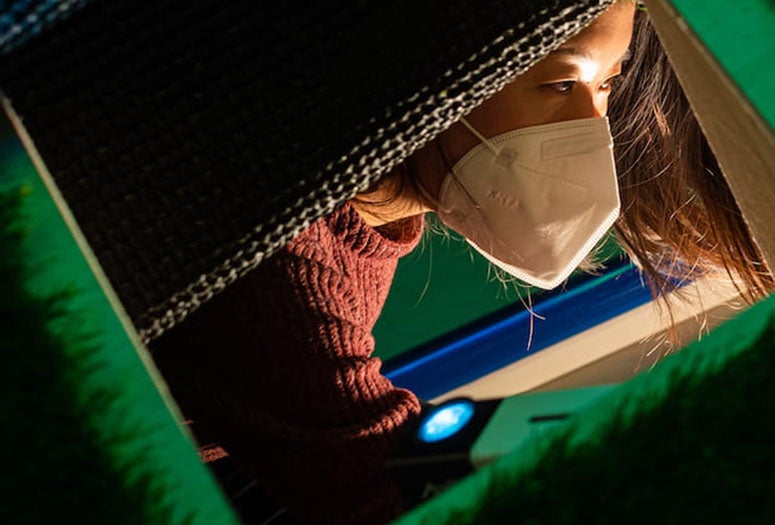 Ng's viewpoint took form during her visit to the Skyspace on her first day at Rice to experience the artist's "perfect sky, perfect nature."
"It's the same every sunset, every sunrise," she said. "It's his signature sky. But we have turbulent skies here in Houston, and I wondered if there was a way to shift the climatic gaze, to consider the sky a little differently, from a perspective of climate change."
The hanging fabric isn't as ideal for projections as a flat surface would be. "It acknowledges gravity," Ng said. "It's slightly baggy, a little like clouds, and we just leaned into it."
As fate would have it, only those invited by Ng will experience the installation, which she expects will come down well before the end of the spring semester. But for now, it's a relief to have it up and running -- and to have all that material out of her Anderson office.