Rice's Baker Institute for Public Policy has received a $4 million gift from the Huffington Foundation to endow a fellow in child health policy and advance the research of the institute's Child Health Policy Program.
Dr. Quianta Moore, who currently holds a fellowship in child health policy at the Baker Institute, has been named the first Huffington Fellow in Child Health Policy.
Moore has spent nearly a decade developing research-driven policies to advance the health of children, employing mixed methodologies -- including community-based participatory research and surveys -- to gain insight into the health needs of communities and to develop tailored health policy recommendations.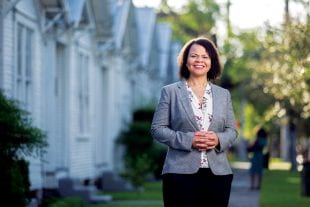 She received a bachelor's degree in sociology from Cornell University, a Juris Doctor from the University of Houston Law Center and a medical degree from Baylor College of Medicine.
"Child health policy and advancing children's health is a critical issue at the federal, state and local levels," said Baker Institute Director Edward Djerejian. "The Baker Institute is providing policymakers and the public with insightful, nonpartisan policy analysis and recommendations on how to approach this important issue. With the Huffington Foundation's generous support, the Child Heath Policy Program will expand its research and impact."
As part of the Baker Institute's Center for Health and Biosciences, the Child Health Policy Program conducts original research that investigates the root causes of adverse health outcomes in children, with a focus on identifying interventions and policy solutions. The program approaches research with a solution-oriented, multidisciplinary lens; research projects often examine the interactions between social structure, neighborhoods, families and children.
"The Huffington Foundation endowment will allow me to enhance our program's research that prioritizes data-driven decision-making, and that contributes to meaningful change for children and families in the communities in which they reside," Moore said.
The Huffington Foundation is a Houston-based foundation created to provide funding for Texas nonprofits, medical research institutions and academic institutions.