Catching a concert in Houston was a little different in the 1970s, and not only because the ticket prices were more affordable.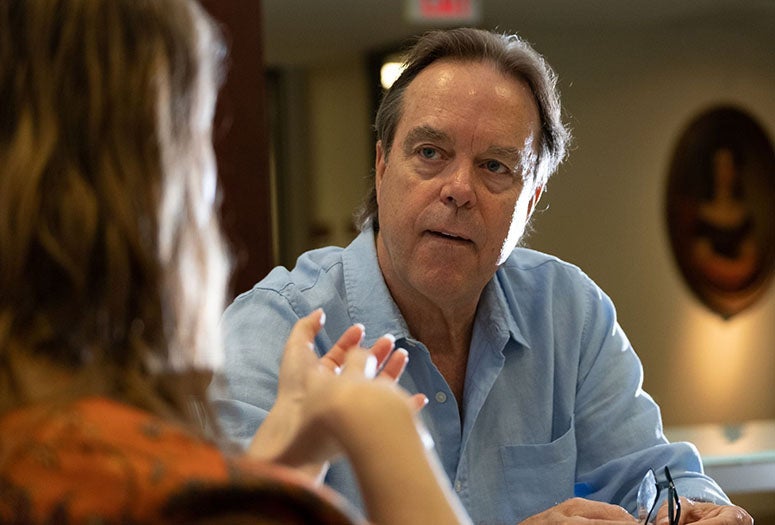 Back then, photographer Ralph Fales could show up to a venue, camera in hand, and simply request to shoot the show; he often asked if he could take the musicians' portraits too. Almost every venue said yes, and Fales was almost always invited backstage.
"It was a different time," said Fales, who moved away in the late 1970s to attend college, but not before amassing an impressive collection of images.
Fales' photography of Houston concerts and the famous musicians who performed here now comprises a new collection at the Woodson Research Center in Rice's Fondren Library. The donation of negatives and other images was made by Fales himself, who now lives and works in Santiago, Chile, and who wanted to do his part in helping preserve the Houston music scene from abroad.
Thanks in part to collection efforts from archivists like Norie Guthrie, the Woodson has become a home not only for research materials on Rice's own history, but for significant parts of Houston's history as well — especially its arts history.
Contemporary Arts Museum Houston donated its entire archive to the Woodson in 2017; the Houston Blues Museum followed suit in 2019. And since 2016, the Woodson has been home to the popular Houston Folk Music Archive, which is constantly expanding.
Fales' photography spans 1975 to 1978 and includes images from the Texas Opry House, La Bastille and Liberty Hall — all of which have since closed — as well as the Summit, now home to Lakewood Church.
"One of my regrets is not going to Anderson Fair, because I'm crazy now for Townes Van Zandt, and I never got to see him play," Fales said.
But the busy photographer captured many more images during a concert-packed three-year span: His portraits include everyone from Les Paul and Bob Marley to Arlo Guthrie and Tom Waits.
Late at night after each show, Fales would develop the film in the bathroom of his Montrose apartment. As technology advanced through the decades, he eventually sent them off to be digitized. It took Fales two months to gather the Houston-based images for donation to the Woodson, which Guthrie said will complement the existing research materials in its larger collection.
"This represents another side to these music venues," Guthrie said. "Many of our photographs focus on local musicians or we have very few interior shots, but Fales's work shows the national acts on stage and off.
"Having more interior photographs of these venues that reveal his access to these musicians provides more insight to how the local and national music scene worked in the 1970s," she said.
Once it's processed and archived, the Ralph Fales Collection will be available in its entirety for viewing at the Woodson Research Center.