When the word gets out that Wok on Sunset, the newest dining destination on campus, is serving dumplings for lunch, "you know you're going to be in for a busy day," said Tatiana Nguyen Asaad.
Together with head cook Andy Tat, Asaad is part of the culinary team that has been serving authentic Chinese, Vietnamese, Korean and other East and Southeast Asian dishes to great acclaim since Wok on Sunset opened inside Rice's North Servery last semester.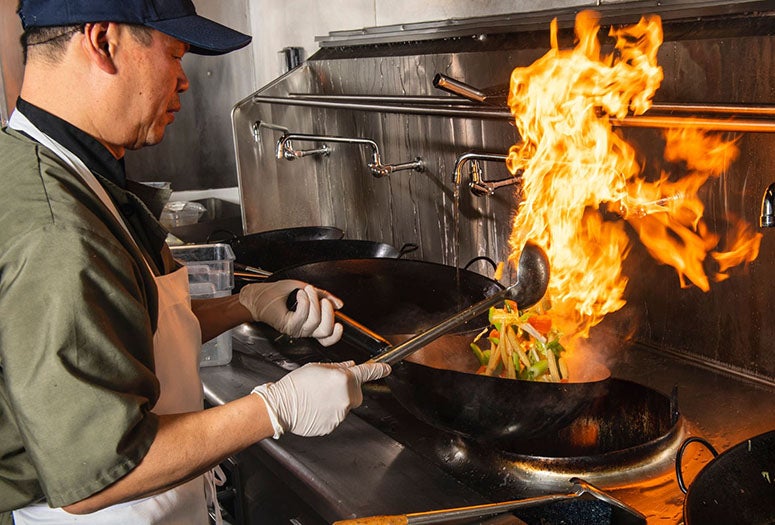 North Servery serves Jones, Brown and Martel Colleges, but in just a few short months, its Wok on Sunset station has become a draw for everyone across campus with a meal plan — even drawing the elusive graduate student crowd into the dining rooms of the North colleges.
On Jan. 24, Tat and Asaad had just finished serving their biggest meal to date: a Lunar New Year lunch menu of traditional favorites — including dozens and dozens of dumplings with a gingery dipping sauce.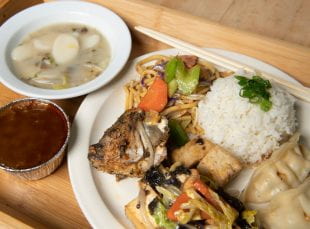 Whole steamed fish — the heads and tails intact, Tat said, to signify togetherness, abundance and long life — was the centerpiece of the lunch, but there were also thick, chewy wok-fired noodles with vegetables; tteokguk, a Korean soup with slices of rice cakes; and the Chinese steamed cake known as nian gao, covered with a shiny layer of caramelized brown sugar, for dessert.
And, of course, there were the staples Wok on Sunset serves every day: two kinds of rice, marinated tea eggs, two kinds of soups with five available toppings, a hearty vegetarian dish (tofu with shiitake and wood ear mushrooms that day).
And thanks to the battery of woks in the open kitchen, which Tat works with the precision and fiery showmanship of a glassblower, the lines move quickly even on days when they're long.
Being able to share his Chinese and Vietnamese heritage with Rice students through cooking, Tat said, has been an added bonus.
"I'm very fortunate," Tat said. "We're all valuable — every ethnicity has a different kind of uniqueness and their own great tastes, so that's why we introduced this here. This is what we needed: to bring in different cultures and bring the students even more choices."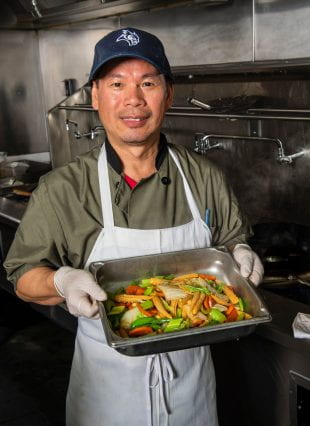 So far, he said, they haven't served anything the students don't like. If anything, Wok on Sunset is only growing more popular by the meal.
"There's nothing that isn't super popular, essentially," said Asaad, who grew up cooking Vietnamese dishes with her paternal grandmother.
Wok on Sunset's mapo tofu is one of her favorites, but she and Tat agreed that the Lunar New Year menu was "probably their best."
Wok on Sunset began as an action station in the larger North Servery, where Tat put out more Chinese-American dishes like lo mein, General Tso's chicken and fried rice. But soon, he said, he began introducing his own recipes to the servery team.
Before long, North Servery executive chef Martin de Santiago had given Tat his own kitchen, with far more room for experimentation and a rotating lineup of dishes. The response has proven the Rice community's hunger for the flavors of fish sauce and fiery Szechuan peppercorns.
"I think we're bringing the right thing to the university," Tat said of his team's work at Wok on Sunset. "We have great food here at Rice — all of the food is great — but this is an extra exclamation point."