HOUSTON – (Nov. 16, 2020) – The 2020 election is now one for the history books, and Rice University political scientists will discuss the results, President Donald Trump's reaction and the incoming Joe Biden administration's likely domestic and foreign policy in a Nov. 18 webinar.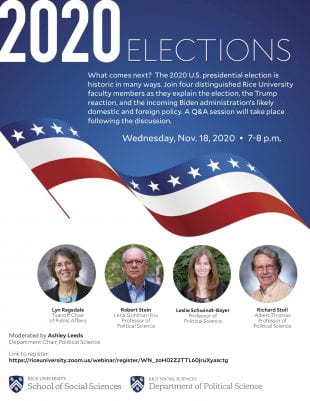 The event, hosted by Rice's School of Social Sciences and Department of Political Science, will take place from 7-8 p.m. via Zoom and will feature commentary from political scientists Lyn Ragsdale, the Radoslav A. Tsanoff Chair of Public Affairs; Robert Stein, the Lena Gohlman Fox Professor of Political Science; Leslie Schwindt-Bayer, a professor of political science; and Ric Stoll, the Albert Thomas Professor of Political Science. Their talks will be followed by a Q&A session moderated by Ashley Leeds, department chair and professor of political science.
"Our Rice community has been deeply engaged with this election, and we know that people have many questions about how we got to where we are and what we should expect to happen in the future," Leeds said. "Our faculty experts want to be as helpful as we can as our community members seek to understand this historic election and its effects."
Schwindt-Bayer will discuss the consequences of Trump's reaction to the election, reflecting on his allegations of fraud and his refusal to concede; she will focus particularly on what we can learn from the behavior of Latin American presidents in similar situations. Stoll will talk about the major foreign policy issues facing the Biden administration and how they will to compare to those of the Trump administration. Stein will focus on voting and polling, and Ragsdale will talk about expectations for the early days of the Biden presidency.
"This year, we witnessed another presidential election where national and state-level polling underpredicted President Trump's electoral support," Stein said. "While there were a host of possible new reasons why 2020 missed accurately predicting support for the presidential elections, none of them seem to be the same problems that plagued polling in 2016."
"This will be a study in opposites," Ragsdale said of comparing the Trump and Biden administrations. "Biden will portray himself as the unifier in contrast to Trump the divider. He will attempt to be bipartisan when Trump was hyperpartisan. Biden will be involved in policymaking when Trump left that to others."
The event is open to the public. To register, visit https://riceuniversity.zoom.us/webinar/register/WN_zoH02Z2TTL60jruXyasctg. Media interested in attending the event should RSVP to amym@rice.edu.
-30-
This news release can be found online at news.rice.edu.
Follow Rice News and Media Relations on Twitter @RiceUNews.
Photo link: https://cpb-us-e1.wpmucdn.com/news-network.rice.edu/dist/c/2/files/2020/11/Social-Sciences_Post-Election-Webinar.jpg
Photo credit: Rice University
Located on a 300-acre forested campus in Houston, Rice University is consistently ranked among the nation's top 20 universities by U.S. News & World Report. Rice has highly respected schools of Architecture, Business, Continuing Studies, Engineering, Humanities, Music, Natural Sciences and Social Sciences and is home to the Baker Institute for Public Policy. With 3,978 undergraduates and 3,192 graduate students, Rice's undergraduate student-to-faculty ratio is just under 6-to-1. Its residential college system builds close-knit communities and lifelong friendships, just one reason why Rice is ranked No. 1 for lots of race/class interaction and No. 1 for quality of life by the Princeton Review. Rice is also rated as a best value among private universities by Kiplinger's Personal Finance.