A team of Rice University undergraduates has won the inaugural MetroLab Student Cup pitch competition with timely research into voter safety that was ultimately employed amid the COVID-19 pandemic at polling places throughout the Houston area.
The Rice students' work helped election officials secure millions of additional dollars to help boost voter turnout in Harris County — the third-largest county in the nation, as Hanszen College junior Mason Reece pointed out in the team's final-round pitch broadcast live via Zoom Nov. 17.
The impact of the team's research was as impressive as its win: It was the only undergraduate entry in the civic research project competition. Every other team was composed of doctoral candidates from universities across the nation.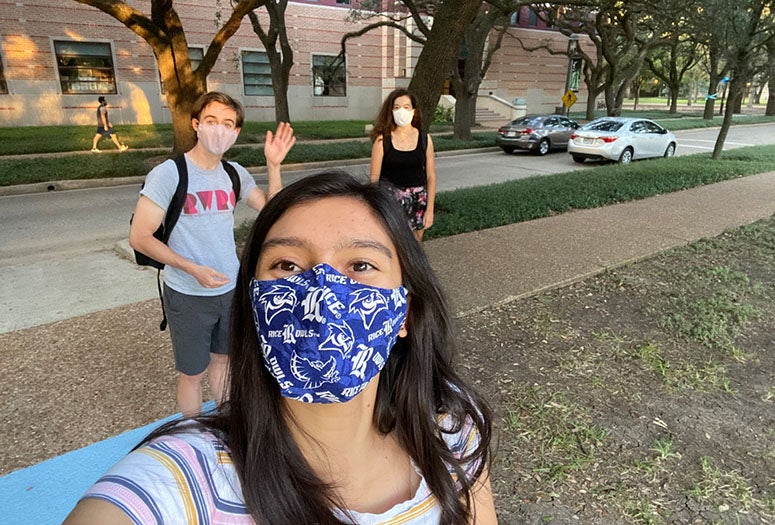 "Doing the research was the fun part, but this is the icing on the cake," said Wiess College senior Arisa Sadeghpour, who worked with Reece and McMurtry College senior Carolyn Daly on what was one of the first projects to come out of Rice's COVID-19 Research Fund.
The fund, which supports Rice faculty working on coronavirus-related projects, backed a proposal from Robert Stein, Philip Kortum, Claudia Ziegler Acemyan, Daniel Wallach and Elizabeth Vann. They asked voters and poll workers to identify steps Harris County could take to make voting in person safer amid the pandemic.
Daly, Reece and Sadeghpour were recruited to help with the project. They ended up working much of the year with the Harris County Clerk's Office to design surveys sent to a representative sample of 330,000 voters across the county ahead of Election Day.
The students gathered over 12,000 responses, which helped the clerk to secure an additional $12 million in funding to implement safety measures and address voter confusion that was uncovered by the surveys. The Harris County Clerk's Office was even able to use the Rice data in court cases to successfully defend its new voting initiatives.
"Harris County broke all kinds of turnout records this year, with 68% of eligible voters casting their ballot, slightly higher than the national average in an already record year," Reece told the judges during the final round of the competition. "That is especially impressive given Texas' historically low voter turnout and state-sanctioned voter suppression."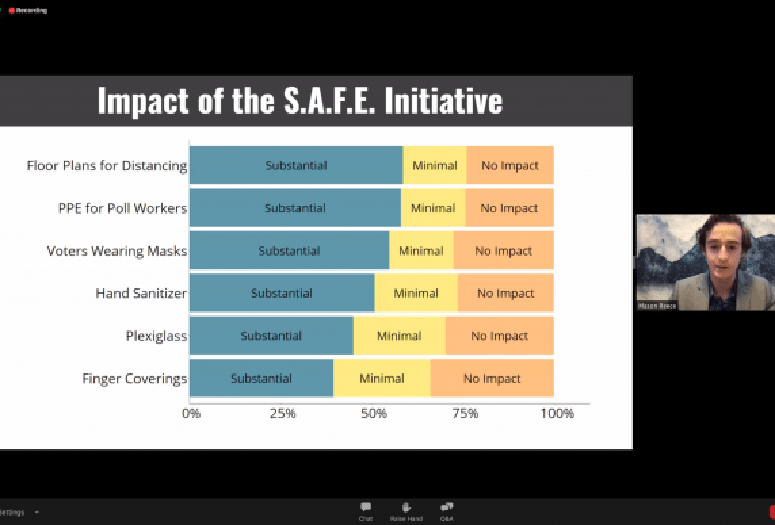 For this first-ever competition, MetroLab — an international peer network of academics and policymakers focused on civic research and innovation — invited students from its member schools to submit projects they completed in collaboration with community partners.
Projects focused on providing new analysis, policy or technical insights to difficult civic priorities and challenges, with 12 semifinalists presenting their pitches live via Zoom Sept. 25. In addition to Rice, three other teams moved on to the final round Nov. 17: the University of Miami, the University of Minnesota and the University of Washington.
After giving each team 7½ minutes to pitch and another 7½ minutes to answer questions, a panel of judges awarded Daly, Reece and Sadeghpour the top prize: $1,500 and a featured spot as MetroLab's Innovation of the Month in the magazine Government Technology.
"The MetroLab award recognizes the enormous and impactful work Arisa, Carolyn and Mason completed over the last six months," said Stein, the Lena Gohlman Fox Professor of Political Science. "Their research demonstrates how university-community collaborations can advance student learning and provide real benefits to the larger community. It was a pleasure to work with them on this project."
Daly said she enjoyed the chance Stein and the other Rice faculty gave them, as students, to participate in a project with such immediate and wide-ranging impact in the Houston area.
"Something that's really important to me is trying to look for ways to apply academic knowledge and do something that'll ultimately end up benefiting Houston," said Daly, who's studying social policy analysis and history. "Dr. Vann and Dr. Stein were also just awesome about giving us agency and letting us really shape the research project."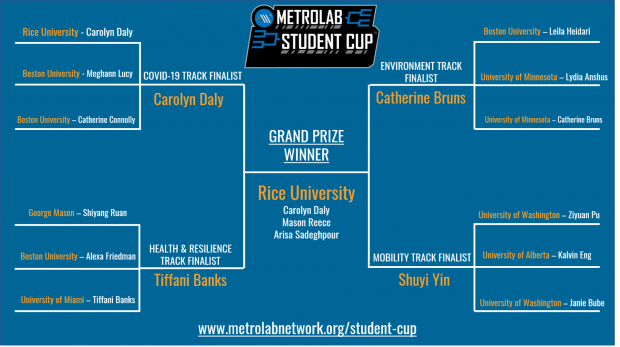 All of the students brought their own strengths and skill sets to the research project and competition. Daly, who is serving as McMurtry's president this year, is also in her third year of helping run the Houston Youth Voters Conference. Sadeghpour is studying computational and applied mathematics — knowledge that came in handy when the team used Qualtrics and R to analyze the surveys.
And Reece, who is majoring in social policy analysis and political science, served as this year's Election Day presiding judge for Harris County Precinct 361 — the polling location at Rice, where over 13,000 votes were cast during the early voting window ahead of Election Day.
"Election research is, like, the only thing I do," Reece said. "It's been my driving force for most of college — since my freshman year, I've been working with Dr. Stein and Dr. Vann on election research — but this has been the biggest and most complete project we've ever done."
Secure in their research and its applications, the Rice team wasn't nervous during the first round of the MetroLab competition in September. But the students admitted they were surprised to find they were the only undergraduates in that initial round.
"That was a little bit of a shock," Sadeghpour said.
They weren't the only ones who were shocked.
"The judges asked questions like, 'How does this relate to the work you're doing for your Ph.D.s?'" Daly said. "And we said, 'Oh, we're actually seniors and juniors in college.'"
Nevertheless, Reece said, they were not expecting to win the final round, "because of how inspiring and impressive the other teams were."
The cash prize is nice, but the win means more than that, he said.
"We're super excited to be able to share our research widely as the Innovation of the Month in the GovTech magazine," Reece said. "We are hopeful that it will help inspire counties to utilize informed research to facilitate their own effective elections around the U.S."