Even as the pandemic has kept the on-campus population this semester smaller than usual, Fondren Library's voter registration drive still signed up a record number of eligible voters.
By the end of its weeklong push on Oct. 5, Fondren Library's volunteers had registered 174 people to vote — just in time for early voting, which begins Oct. 13.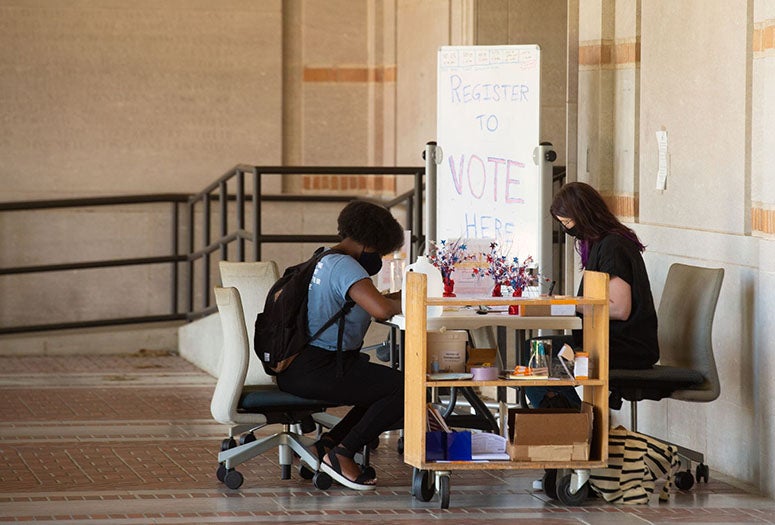 Organized by Fondren's Kelley Center for Government Information, Data and Geospatial Services, the first effort took place Sept. 17, Constitution Day.
"We framed it as our practice run," said Anna Xiong, the government information coordinator for Fondren, which has served as a congressionally designated U.S. Federal Depository Library since 1967.
The morning was drizzly as Xiong and Amanda Thomas, user experience and public services librarian at Fondren, set up two long tables under the portico outside Fondren. But they were undeterred; librarians rarely are.
"As government information coordinator of Kelley Center, I feel I have a responsibility," Xiong said. "It's an honor to serve the citizens, including the Rice community and the general public community, to give them timely, reliable information so they can be better engaged and they can participate."
They had planned for everything — Xiong set up hand sanitizer stations and created event site diagrams to ensure social distancing guidelines were upheld; Thomas brought plenty of one-time-use pens and made QR codes so people wouldn't have to take information sheets unless they wanted to — though they both still worried the weather and small campus population would make for a quiet day.
"I remember saying to Anna, and we agreed, that if we register one person today, that's one more voter — and that's great," Thomas said.
Yet that afternoon, the sun came out and students began trickling over. The duo registered seven people that first day and answered quite a few questions others posed about voting. Just as important, they'd learned a lot from that trial run for their big weeklong drive later in the month.
'A massive group effort'
Thomas and Xiong spearheaded the drive as part of what they called a "massive group effort" across campus that included the Center for Civic Leadership (CCL), Civic Duty Rice, Rice College Republicans, Rice Young Democrats, the Office of Public Affairs, Campus Events, Rice Athletics and others.
Many committees and departments across Fondren, including its information technology department, the User Experience Office, the Access Services department and the Kelley Center, along with other Rice student employees, Fondren Library Ambassadors and the Graduate Student Library Advisory Board also pitched in to help set up and break down events, spread the word on social media, create websites and graphics and more.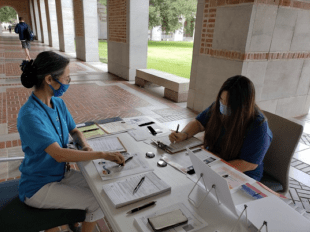 Three Rice student organizations also came together to host a National Voter Registration Day event at Fondren Sept. 21. Despite a move inside due to inclement weather and the second day of the event being canceled due to a tropical depression, they nevertheless registered 22 voters.
One former Rice faculty member even came out of retirement to help: David Tobin, who taught in the Jones Graduate School of Business, manned the table Oct. 5 and hand-delivered forms collected during the last two days of the events to the county clerk's office. Other Fondren staff — all trained as Harris County-certified Volunteer Deputy Voter Registrars — joined professors, staff and students at the table in the weeklong drive as offices across Rice helped Thomas and Xiong get the word out.
Day by day, their numbers grew: On the first day of their weeklong push, Sept. 28, they registered nine voters. On the second day, students were already waiting for the volunteers outside Fondren when they arrived to set up their table.
And on the final day, Oct. 5, they registered 66 people in only three hours — another record for the Fondren team.
"We were standing on the shoulders of giants," Xiong said.
'Passion is contagious'
Among many others, Xiong credited Elizabeth Vann, the CCL's director of programs and partnerships, with establishing the campuswide RICEngaged group in 2016 that provided support and connections for such events as voter registration drives.
Rice President David Leebron continually encouraged the Rice community to register, she said. Director of university relations Greg Marshall and vice provost and university librarian Sara Lowman provided timely guidance to keep the events in compliance with the university policies and CDC guidelines. And Sara Lowman supported her staff pitching in on multiple levels, whether helping with social media or sharing resources -- like the giant printers in Fondren's Digital Media Commons.
"That continuous administrative support from top to bottom, that's one of the key factors for success," Xiong said. "We were not alone. Passion is contagious."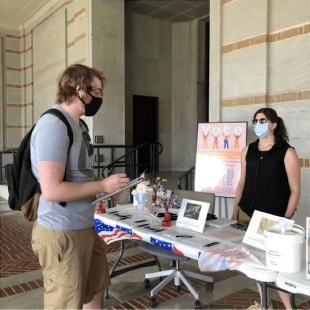 Among other accomplishments, Fondren's volunteers registered students and staff, answered questions for those new to voting in Harris County, those wanting to cast absentee votes and international students, helped to update addresses and hand-delivered completed registration forms not only for their own drive but also for others.
They also made sure voters had all the information they needed, from printed sample ballots — available for free upon request at the library's circulation desk — to what to do if you cannot reasonably attain one of the seven forms of voter ID accepted in the state of Texas (bottom line: you can still vote).
"With the pandemic, there are so many things that have changed around voting in the 2020 election," Thomas said. "And of course, everyone's very excited to hear about Rice Stadium being a polling location this year, and we were really happy to share that news."
And the assistance didn't end with Fondren's voter registration drive: The librarians emphasized they're always available to answer questions or help locate resources, whether it's a League of Women Voters guide or directions to the RiceVotes portal.
Xiong and Thomas are still answering questions about the voting process through fondrenvdvr@rice.edu as well as Fondren's FAQ page. Fondren Library has also set up 2020 voting and election information boards at each library entrance.
"As librarians, it's a natural fit to provide impartial, accurate information," Thomas said. "That's our wheelhouse. That's what we do."