U.S. Army Futures Command Lt. Gen. Thomas Todd III and U.S. Rep. Dan Crenshaw, R-Texas, joined Rice President David Leebron, Provost Reggie DesRoches and Army and Rice dignitaries for the Oct. 30 opening ceremony of the Rice University National Security Research Accelerator (RUNSRA) laboratories in Dell Butcher Hall.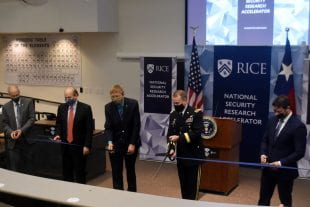 Due to COVID-19 social distancing guidelines, attendance was limited and the ceremony was webcast.
RUNSRA launched in 2019 with support from Army Futures Command and the Army Research Laboratory (ARL). RUNSRA and is led by executive director Walter Jones, a former executive director of the Office of Naval Research and former director of plans and programs at the Air Force Research Laboratory, who joined Rice in June.
Leebron welcomed the audience and said the Rice-Army partnership brings out the best at the university.
"We find we do our best work when we find the right collaborators," Leebron said. "To be able to work with the Army to develop the latest in technologies is a privilege."
DesRoches said the work already underway at RUNSRA is unique.
"The accelerator is the first-of-its-kind, collaborative research facility designed to deploy and develop new technologies for economic and national security," DesRoches said. "The facility includes space for visiting Army Research Lab and (Department of Defense) scientists. We see this as a new model for truly collaborative research that brings together research teams from across the country and across agencies to work on mission-critical technologies."
DesRoches said the Rice-ARL program that began last year in advanced materials and next-generation networks "includes a state-of-the-art diamond materials manufacturing and characterization capability and direct implementation to devices that will be deployed nationally for the next-generation networks."
"We are the only university in the world with a deployed software-defined network already in place," DesRoches said. "The materials we will discover here with our ARL partners will be rapidly prototyped into devices and deployed."
Crenshaw said innovative technology can save lives on the battlefield.
"As someone who has served in the military, I understand well the importance of giving our soldiers the tools they need to take the fight to the enemy and protect the homeland," he said. "And that's exactly what the Rice University National Security Research Accelerator will do."
Todd said scientific research and discovery are critical to achieving Army modernization goals.
"The accelerating pace of technology will continue to change our world," he said. "It will require us to re-examine how we compete and, if required, how we win on the future battlefield. And it will require us to develop new technologies that let us compete and win by expanding what is possible, which starts at a place like Rice University.
"I know that tremendous benefit will come from this research accelerator," Todd said. "And truly, it's meant to be what it says, an accelerator of technologies into the hands of soldiers."