Clemente Rodriguez, who has served on campus for nearly two decades while rising through the ranks of the Rice University Police Department, has been named the university's new chief of police.
Rodriguez will take command from James Tate, who has accepted a new position as chief of the George Washington University Police Department. Rodriguez has twice served as interim police chief.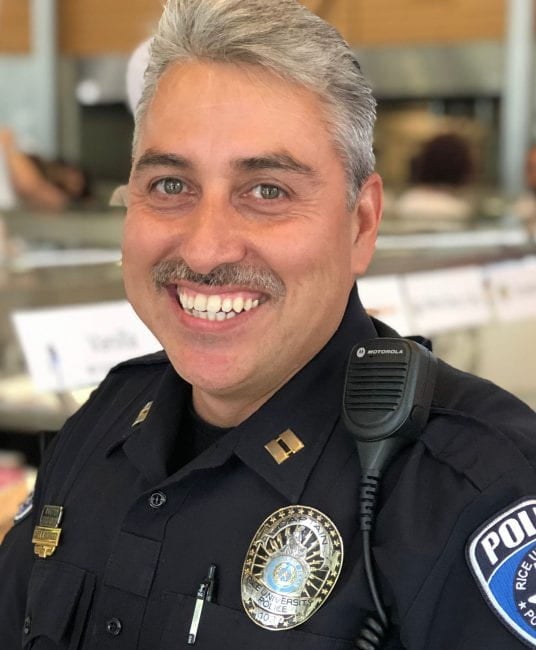 "He is an extraordinary leader and collaborator and a perfect fit for the community policing philosophy of Rice," Vice President for Administration Kevin Kirby said in an announcement Monday to the Rice community.
Rodriguez joined Rice as a police officer in 2001 and worked his way up from patrol duties to become captain in charge of patrol operations and support services. He has also served as a representative of the department in news media and in the Houston community.
"It is truly an honor, privilege and blessing to have the opportunity to lead the men and women of the Rice University Police Department," Rodriguez said. "It's especially exciting now, because we're looking forward to celebrating our 50th anniversary this year."
Rodriguez holds a master's degree in criminal justice from Sam Houston State University and a bachelor's degree in criminal justice from the University of Houston. He began his law enforcement career as a police officer in Deer Park and later served as a Harris County juvenile probation officer before joining RUPD.
He assumes command of a department with 61 employees responsible for campus safety and security as well as investigating crimes. It employs patrol officers, dispatchers, parking enforcement officers, security officers, locksmiths and administrative staff. Rice Emergency Medical Services is also under the police chief's administration.
As Kirby congratulated Rodriguez on his new post, he also offered praise for the departing chief.
"On behalf of the campus community, I'd like to thank James for his exemplary service and accomplishments in his nearly three years at Rice," Kirby said.
Tate's last day at Rice will be Wednesday and Rodriguez will assume the chief's duties on Thursday.
"The department has made significant strides over the last 50 years, and I hope to continue to build on our past success with new and innovative initiatives," Rodriguez said.