HOUSTON – (Oct. 29, 2020) – The future of the U.S. Supreme Court — both immediate and long-term — is the focus of a Rice University webinar Nov. 12 that's open to the public: "After RBG: American Democracy and the Future of the Supreme Court."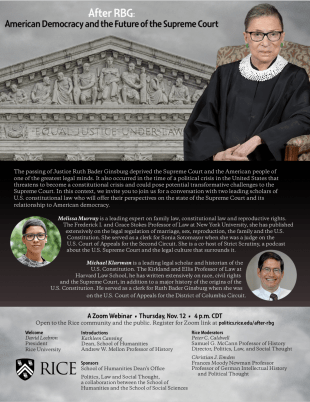 Whatever the outcome of the election, there is a high likelihood the Supreme Court will be involved. And now that Justice Amy Coney Barrett, President Donald Trump's conservative pick to replace the late Ruth Bader Ginsburg, has been sworn in, those nine justices — and the institution they represent — could be placed in an impossible position after Election Day.
What comes after Ginsburg? Should the aging institution continue to go unreformed? And is there a constitutional crisis on the horizon if Trump questions the outcome and legitimacy of the election?
The 4 p.m. webinar will bring two leading professors of constitutional law together with Rice history professors Peter Caldwell and Christian Emden in a conversation designed to help understand the constitutional implications of the current political crisis.
New York University School of Law professor Melissa Murray and Harvard Law School professor Michael Klarman will draw on their extensive experience with the Supreme Court during the webinar. Both scholars clerked for Supreme Court justices earlier in their careers: Murray for Sonia Sotomayor and Klarman for Ginsburg. Both have also authored lead articles in the Harvard Law Review's forthcoming special issue on the Supreme Court.
"Murray and Klarman are astute observers of the politics and history of the Supreme Court, and frequent commentators on the politics of the Supreme Court," Caldwell said.
Murray's work includes forays into the complex legal world of abortion rights, family law and the relationship between people's private lives and the law. She is also a co-host of "Strict Scrutiny," a podcast about the Supreme Court and the legal culture that surrounds it. Leading constitutional historian Klarman, in addition to publishing a recent book on the formation of the Constitution, has written extensively on civil rights law.
"The Supreme Court here in the U.S. is like an ancient institution in many ways," Caldwell said. "It's never been subjected to any serious reform."
And yet the institution faces an increasingly complex array of issues at the very heart of American democracy and society: who is able to vote, how those people vote, who creates voting districts and why and what the limits of presidential power should be — indeed, what happens if a president refuses to accept the outcome of a vote.
"The main goal of this event is to invite two notable legal scholars, both of whom have worked closely with members of the Supreme Court, to explain the legal and political ramifications of the current crisis," Caldwell said.
Rice President David Leebron will welcome Murray and Klarman to the webinar, which is sponsored by the School of Humanities Dean's Office and the Program in Politics, Law and Social Thought, and Dean of Humanities Kathleen Canning will introduce them. To register and submit questions in advance, visit politics.rice.edu/after-rbg.
-30-
This news release can be found online at news.rice.edu.
Follow Rice News and Media Relations on Twitter @RiceUNews.
Located on a 300-acre forested campus in Houston, Rice University is consistently ranked among the nation's top 20 universities by U.S. News & World Report. Rice has highly respected schools of Architecture, Business, Continuing Studies, Engineering, Humanities, Music, Natural Sciences and Social Sciences and is home to the Baker Institute for Public Policy. With 3,978 undergraduates and 3,192 graduate students, Rice's undergraduate student-to-faculty ratio is just under 6-to-1. Its residential college system builds close-knit communities and lifelong friendships, just one reason why Rice is ranked No. 1 for lots of race/class interaction and No. 1 for quality of life by the Princeton Review. Rice is also rated as a best value among private universities by Kiplinger's Personal Finance.