HOUSTON – (May 15, 2020) – High praise from NASA brought attention to two teams of Rice University students working to make settlements on the moon and Mars more practical.
The capstone teams based at the Brown School of Engineering's Oshman Engineering Design Kitchen have developed what NASA engineers consider vital to a settlement's success: a portable database of tools made for 3D printing on demand.
https://twitter.com/NASAexplores/status/1258818223392374784
While both teams had to leave campus in March and finish their projects from a distance, denying them the chance to fully test their work at the OEDK's maker space, they still completed them to a degree that captured the attention of NASA officials supporting them through the agency's ongoing eXploration Systems and Habitation (X-Hab) challenge.
Fulfilling their commitment to mentor the next generation, the teams took part in NASA-sponsored remote sessions with high school students to talk about their experience and the value of a science, technology, engineering and math (STEM) degree. NASA was delighted enough to tweet their pride in the Rice teams.
"We talked to sophomores, juniors and seniors who are interested in engineering about our experience in college, about minorities and engineering, why we picked engineering and what options are available to them," said Victoria Joshi, a senior mechanical engineering major.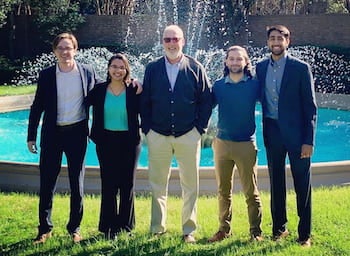 Her team, dubbed "Live Long and Printer," designed 3D-printable plans for tools that could be manufactured by off-planet adventurers as well as a digital repository to make the files easily accessible. Joining Joshi on the team were seniors Oliver Lopez, Colin Nyhus and Paraksh Vankawala, also mechanical engineering majors.
"We took this project on because we're going to explore beyond the moon and go further to Mars and other planets," said Vankawala, whose goal is to join the astronaut corps. "As we do that, communication is the big concern. It can take nearly 45 minutes to get a message to Mars.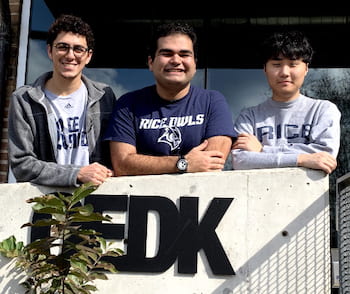 "So our objective is to give astronauts an opportunity to resolve emergency situations on their own, with a 3D printer on board," he said. "If they need a new part or a tool, they can make it on the spot without the need to talk to anyone back on Earth."
While "Live Long and Printer" focused on everyday tools like strong-but-lightweight wrenches made in gyroid patterns that use minimal material, their partner team, "Space Stuff," had a slightly different focus, creating a database and populating it with simple medical devices like a tooth elevator suitable for 3D printing in microgravity. Sang Bum Lee and Nicolas Terrazas are both mechanical engineering majors and Chad Fisher is a bioengineering major. All are seniors.
Both teams were advised by Sabia Abidi, a Rice lecturer in bioengineering, Matthew Wettergreen, an associate teaching professor at the OEDK, Jimmy Wu, senior research director of the Center for Space Medicine at Baylor College of Medicine, and Michael Fiske, the teams' NASA mentor and an engineer at the agency's Marshall Space Flight Center.
"The opportunities afforded by the X-Hab program benefit not only the university students, but NASA as well," said Fiske, who added the teams "gained invaluable experience in topology optimization for additively manufactured parts as well as database design and applications for the International Space Station (ISS), a win-win situation!"

Joshi noted the ISS is already printing parts. "They have a database, but it's missing a lot of information, such as part drawings, part names, dimensions and information like how you would post-process these and use filaments other than plastic," she said. "So part of our job is to create a larger, more robust database that's easy to fill in with new projects and is still maintained, searchable and usable, even if it has hundreds of parts."
"It's all about making it very easy to use because astronauts aren't going to have time to train to use a database," Vankawala said. "They have other priorities. We're also giving them the opportunity to design the parts they want and add those into the database."
The "Space Stuff" team put much of its effort into the functionality of its database, especially its simplified interface.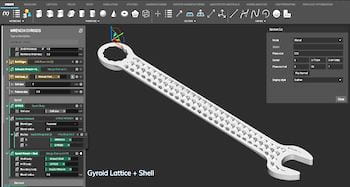 "Though we were both tasked with creating a database, theirs was created in Microsoft Access and ours is in two parts," Fisher said. "We have a back-end SQL database and on the front we built a Windows Visual Studio user interface. By using two programs, we were able to focus more on the user experience with a high level of customization that might not be available in one program."
"The most satisfying part of the experience for me," Abidi said, "was to watch the teams exploit their unique strengths, take ownership and create two different but competitive solutions to a real-world problem."
Though COVID-19 curtailed their time on campus, both teams completed and presented their projects to X-Hab and were invited to participate in the online teaching opportunity alongside NASA aerospace engineer Tracie Prater. "The Rice students went above and beyond in sharing their work and I know that they influenced some high school students to pursue engineering," Prater said.
Joshi was happy to spread the word. She said she treasured her time working with NASA and, like Vankawala, will eventually apply to the astronaut corps. "I've always been really interested in space exploration and NASA, and part of the reason I picked Rice was for that NASA connection and hopefully to intern there," she said. "And that sort of happened because of this project."
-30-
Follow Rice News and Media Relations via Twitter @RiceUNews.
Related materials:
Oshman Engineering Design Kitchen: http://oedk.rice.edu
George R. Brown School of Engineering: https://engineering.rice.edu
Images for download:
https://news-network.rice.edu/news/files/2020/05/0518_NASA-1-WEB.jpg
Team Live Long and Printer, from left: Colin Nyhus, Victoria Joshi, NASA project sponsor Mike Fiske, Oliver Lopez and Paraksh Vankawala. (Credit: Photo by Sabia Abidi/Rice University)
https://news-network.rice.edu/news/files/2020/05/0518_NASA-2-WEB.jpg
The Space Stuff team, from left: Nicolas Terrazas, Chad Fisher and Sang Bum Lee. (Credit: Rice University)
https://news-network.rice.edu/news/files/2020/05/0518_NASA-3-WEB.jpg
Various 3D wrenches printed at Rice's Oshman Engineering Design Kitchen use little material but retain sufficient strength to be used in space. Two Rice senior capstone design teams worked with NASA to develop tools and database platforms for 3D printing devices in space or on Mars or the moon. (Credit: Live Long and Printer/Rice University)
https://news-network.rice.edu/news/files/2020/05/0518_NASA-4-WEB.jpg
An entry in a database developed by Rice University students for 3D printing in space shows a wrench with a modified gyroid internal lattice and a solid shell exterior. (Credit: Live Long and Printer/Rice University)
Located on a 300-acre forested campus in Houston, Rice University is consistently ranked among the nation's top 20 universities by U.S. News & World Report. Rice has highly respected schools of Architecture, Business, Continuing Studies, Engineering, Humanities, Music, Natural Sciences and Social Sciences and is home to the Baker Institute for Public Policy. With 3,962 undergraduates and 3,027 graduate students, Rice's undergraduate student-to-faculty ratio is just under 6-to-1. Its residential college system builds close-knit communities and lifelong friendships, just one reason why Rice is ranked No. 1 for lots of race/class interaction and No. 4 for quality of life by the Princeton Review. Rice is also rated as a best value among private universities by Kiplinger's Personal Finance.