The Hertz Fellowship is as prestigious as it is selective: Only 16 fellows each year are admitted to the program, which funds five years of graduate research and offers lifelong professional support through the Fannie and John Hertz Foundation.
This year, three Rice students are among the 2020 cohort of Hertz fellows. Yakub Grzesik '20 and Constantine Tzouanas '19 both had distinguished undergraduate careers at Rice, while incoming graduate student Isaac Metcalf, who just graduated from the Massachusetts Institute of Technology (MIT) with degrees in physics and materials science, will join Rice's Mohite Research Group this fall.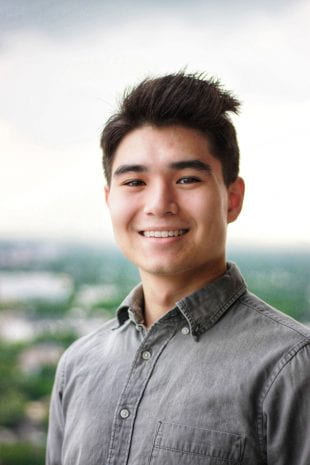 Although he felt well prepared for the infamously rigorous Hertz interviews, Grzesik said he nevertheless expected a rejection. When he got the good news from the Hertz Foundation a few weeks before graduating that his Ph.D. studies would be fully funded, he was "absolutely shocked and unsure how to process it."
Grzesik, Tzouanas and Metcalf will join a community of 1,200 Hertz fellows who have received the award since 1963. The Hertz Fellowship supports the research of Ph.D. students who demonstrate the greatest potential to tackle the most urgent problems facing society, and this year's round of awards will fund researchers whose goals range from creating a carbon-neutral future to developing drugs more quickly, cheaply and effectively.
Metcalf hopes to push the nation and the world toward less dependence on fossil fuels, through research on increasing the efficiency and stability of two-dimensional perovskite photovoltaics.
Grzesik, who performed undergraduate research in the nanophotonics lab of Palash Bharadwaj, Rice's Texas Instruments Assistant Professor of Electrical and Computer Engineering, will be pursuing his Ph.D. in electrical engineering and applied physics at Stanford University. He credits a formative experience as a freshman at Rice with pointing him in this direction: the Nakatani RIES Fellowship in Japan during the summer of 2017.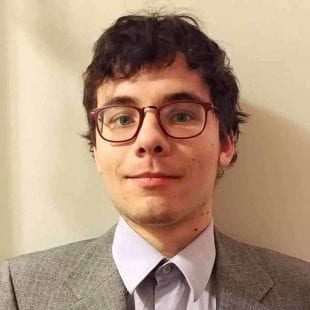 "I think that the support I received from upperclassmen and faculty to cultivate a research interest during my first semester at Rice really enabled me to find and fully benefit from the summer experience," said Grzesik, who became close friends with the two other Rice students in his Nakatani cohort. All three — Grzesik, Savannah Cofer '20 and Alex Hwang '20 — would go on to become Goldwater Scholars the following year.
"It's honestly amazing to me that I've been able to get support from both students and faculty," said Grzesik, who graduated this year with dual bachelor's degrees in electrical engineering and mathematics. "And I can definitely trace each opportunity and fun memory I've had at Rice to different conversations starting from O-Week."
Tzouanas, who was also a Goldwater Scholar while an undergraduate at Rice, received a significant Graduate Research Fellowship from the National Science Foundation last year for his work in bioengineering. Now, he said, he feels even more freedom to continue pursuing his dual-campus degree in the Harvard-MIT Health Sciences and Technology program.
"With the Hertz Fellowship fully funding my Ph.D. at MIT and Harvard, I'm looking forward to the intellectual flexibility to pursue interesting research leads and impactful findings wherever they take me," Tzouanas said.
"In the course of a day, I can take rigorous engineering classes at MIT, then cross the Charles River for medical classes at Harvard Medical School with the M.D. students," he said. "Likewise, I've enjoyed conducting some really exciting research in lab, including projects on understanding how individual cells in a complex tissue contribute to healthy and diseased states, as well as bioinformatics approaches to understand the regulatory mechanisms of the virus behind COVID-19."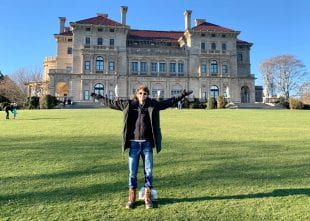 Back home in Houston following the outbreak of the pandemic, Tzouanas was playing Monopoly with his parents when he found out he'd be a Hertz fellow — the second in his family, as it happens, after sister Stephanie Tzouanas '14 won six years ago.
"It was relatively late on a weeknight evening, so I restrained the celebrations to buying the last of the light blue properties that I needed to complete my monopoly, which worked out well for the rest of the game," Tzouanas said.
Like Grzesik, he credits his time at Rice for molding him into a researcher and leader.
"Whether it's online video calls and game nights with friends or email conversations with professors and mentors, I really value the Rice community from my undergrad experience," Tzouanas said. "On a less serious note, I do miss some of Houston's food and restaurants, from chicken-and-waffle breakfast sandwich day at South Servery to Breakfast Klub and Tex-Mex trips with friends."
A plate of celebratory enchiladas may be on the menu before he heads back to Boston in the fall.
Hear from Rice's new class of Hertz Fellows about their future plans in a series of live Zoom Q&A sessions this week. Jakob Grzesik and Isaac Metcalf will speak June 3 from 11 a.m.–noon; Constantine Tzouanas will speak June 4 from 2–3 p.m. Visit https://www.hertzfoundation.org/event/2020-hertz-fellows-qa/ to register for the Zoom sessions or for more information.