Physicist slated to step into role Jan. 1 after 19 years on Rice's faculty
HOUSTON – (Dec. 1, 2020) – Rice University has named physicist Thomas Killian dean of the Wiess School of Natural Sciences, effective Jan. 1.
Killian, who joined Rice in 2001, will succeed Interim Dean Janet Braam, who was appointed July 1 when former Dean Peter Rossky stepped down to focus on research.
"I am humbled and inspired by this opportunity to lead the talented and dedicated faculty, students and staff in Natural Sciences at Rice," said Killian, a professor of physics and astronomy who has served as associate dean for strategic planning since 2017. "The Wiess School is in a great position to expand the impact and visibility of its research programs and prepare the next generation of leaders."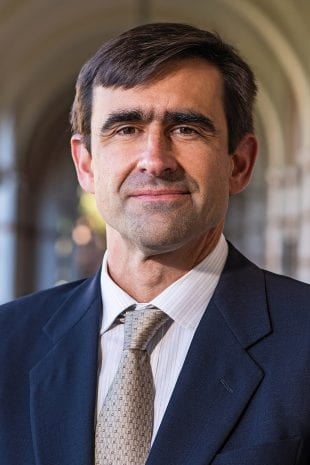 Provost Reginald DesRoches said he is delighted to have Killian as dean.
"Tom brings a wealth of experience to the position," he said. "He has the temperament and vision to take the School of Natural Sciences to new heights of excellence."
Killian has served in many leadership roles at Rice, including deputy speaker of the Faculty Senate, chair of the Department of Physics and Astronomy, and Rice faculty liaison and advisor to the Houston Midtown innovation district. He has led multiple long-range planning processes, improved student and faculty mentoring and support structures, and increased resources supporting the core educational and research missions of Physics and Astronomy and the Wiess School.
He earned his doctorate in atomic physics from the Massachusetts Institute of Technology for studies of ultracold atomic gases and joined Rice after completing a National Research Council Postdoctoral Fellowship at the National Institute of Standards and Technology, where he worked in the emerging field of ultracold neutral plasmas. He holds a bachelor's degree in physics from Harvard University and a master's degree in physical chemistry from Cambridge University.
At Rice, Killian leads an experimental research group exploring ultracold atomic and plasma physics, with the goal of understanding the properties of matter at temperatures as low as a billionth of a degree above absolute zero. Under these exotic conditions, matter behaves in fundamentally different ways, providing insight into the basic laws of nature and laying the foundation for emerging technological advances in timekeeping, navigation and quantum computing.
In 2008, with collaborators at Rice and the University of Texas MD Anderson Cancer Center, Killian co-founded nano3D Biosciences (now called ChemoSen3D) to commercialize bioprinting and 3D cell-culturing technology for basic research, drug discovery and personalized medicine. The business, which sold nonclinical products to an international biotechnology company, now focuses exclusively on development of clinical applications of its core technology.
"Working with partners across the university and in the wider community, we can address profound challenges of our time and big questions about the universe and our place in it," Killian said. "Scientific advances and an appreciation of science have never been more important for society than they are today."
Rice President David Leebron said this is an exciting time for the natural sciences. "We see every day both the possibility of discovering new fundamental knowledge and the impact that can have on our ability to solve problems and create new possibilities," he said.
"Having worked with Tom Killian in several different contexts at Rice, including both faculty and departmental leadership, I am thrilled and unsurprised that he has emerged from a national search as our choice for the next dean of the Wiess School of Natural Sciences. He is an extraordinary scientist and leader."
Killian is a Fellow of the American Physical Society, and a recipient of the David and Lucille Packard Foundation Science and Engineering Fellowship and the Alfred P. Sloan Research Fellowship. He has served on numerous professional society administrative and advisory committees, including the executive committee of the Division of Atomic, Molecular and Optical Physics of the American Physical Society and the advisory panel for the 2016 U.S. Department of Energy report "Plasma: at the Frontier of Scientific Discovery."
-30-
High-resolution IMAGES are available for download at:
https://news-network.rice.edu/news/files/2020/12/1201_DEAN-Killian8506-lg.jpg
CAPTION: Thomas Killian (Photo by Jeff Fitlow/Rice University)
This release can be found online at news.rice.edu.
Follow Rice News and Media Relations via Twitter @RiceUNews.
Located on a 300-acre forested campus in Houston, Rice University is consistently ranked among the nation's top 20 universities by U.S. News & World Report. Rice has highly respected schools of Architecture, Business, Continuing Studies, Engineering, Humanities, Music, Natural Sciences and Social Sciences and is home to the Baker Institute for Public Policy. With 3,978 undergraduates and 3,192 graduate students, Rice's undergraduate student-to-faculty ratio is just under 6-to-1. Its residential college system builds close-knit communities and lifelong friendships, just one reason why Rice is ranked No. 1 for lots of race/class interaction and No. 1 for quality of life by the Princeton Review. Rice is also rated as a best value among private universities by Kiplinger's Personal Finance.