Climate change remains the issue of highest concern to young voters, according to polls. At Rice, that concern is translating to a surge in demand for environmental studies classes, regardless of students' majors.
Rice's Center for Environmental Studies (CES), which houses the popular environmental studies minor, is responding with equal vigor.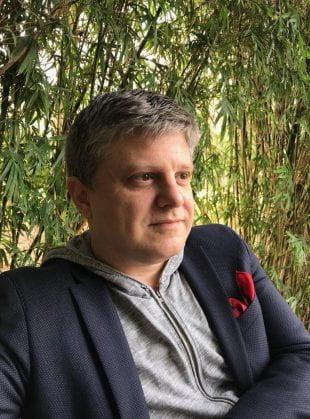 In addition to a lecture series this semester — Planet Now! Conversations in Environmental Studies — that is bringing in such voices as the "How to Save a Planet" podcast co-host Ayana Elizabeth Johnson, CES is increasing the size of current classes, adding new undergraduate classes and a new graduate seminar in environmental humanities in the spring, and implementing a $1 million grant from the Mellon Foundation, working with the Humanities Research Center to deploy the funds for everything from faculty research grants to potential graduate certificate programs.
Students increasingly enter their intro-level environmental studies courses with an understanding that Earth's climate will be the seminal matter for their generation to tackle, said Joseph Campana, CES director and Alan Dugald McKillop Professor of English. A survey of the 76 students in his current intro course revealed such reasons for enrolling as "I can't imagine a subject that needs more attention right now," he said.
This semester, in fact, most ENST courses are packed.
"I mean, it is full.com," said Richard Johnson, director of the Administrative Center for Sustainability and Energy Management and professor in the practice of environmental studies in sociology. "The environmental justice class is at its enrollment cap; the sci-fi and environment class is heavily subscribed."
And, of course, Intro to Environmental Studies is waitlisted once again. That's no surprise, said Campana, who co-teaches the course along with a broad team of Ph.D. candidates from three departments: anthropology, religion and history.
Enrollment in the intro course, the gateway to the minor, has more than tripled over the last three fall semesters, from 22 students to 48 last year to 76 this year — and they're students from an increasingly diverse array of majors, now more than 20.
The class gives a broad introduction to the many things people encounter when they think about the environment, climate and ecology. Rice's environmental sciences major, for instance, includes foundational coursework in mathematics, physics, chemistry and biology.
"Our job is to consider questions from the point of view of humanities, social sciences, art and architecture," Campana said.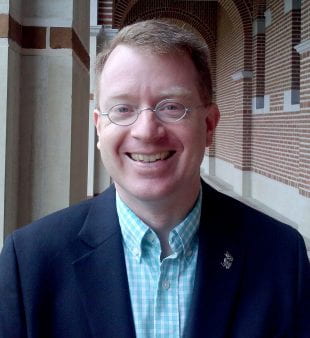 Johnson said he often tells students, "If environmental challenges were just natural science challenges or just engineering challenges we would have solved a lot of this a long time ago. But they're cultural, they're economic, they're social, they're religious — it really touches every single discipline."
This is the great strength of the minor and the CES itself, which is jointly housed in the schools of Architecture and Humanities and also works closely with the Environmental Science program in the School of Natural Sciences.
Appealing to students from a broad range of majors was the intent of the minor from its inception. And it's a strength CES is playing to by incorporating faculty from across all three schools in its classes and lecture series.
"One in every 5 faculty members at Rice is identified as working with environmental issues in some way in what they do," Johnson said. "If we weren't approaching this in a collaborative and interdisciplinary manner, we would not be doing our jobs."
This year, two new environmental justice courses are being added — one taught by Gisela Heffes, associate professor of Latin American literature and culture, and one in the spring by incoming postdoctoral student Sophie Sapp Moore, who studies political and socioecological transformation in the postcolonial Caribbean.
A new environmental course in the Department of Religion is being organized, as is one titled Cultures and Medias of Environmental Health. Campana will be teaching a new graduate seminar, and Johnson will be co-teaching a course aimed at students early in their academic careers, Sustainable Futures, with Larry Toups, who recently retired from NASA after years spent working on the International Space Station and Mars mission designs.
"When you're in extreme environments, environmental issues tend to be in their sharpest relief," Johnson said. "There's a lot to be learned from how NASA personnel go about designing for, especially, the lengthier missions and how that thinking has either led directly to or has influenced the development of environmental and, particularly, climate change solutions here on terrestrial planet Earth."
This semester, the Planet Now! online lecture series speaks directly to the questions posed in the CES courses.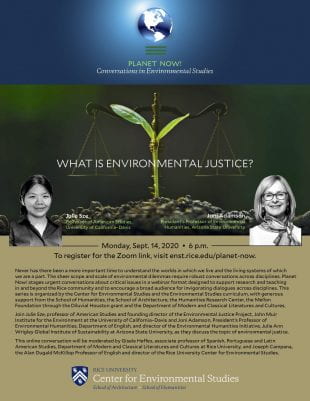 Heffes will moderate a discussion on "What Is Environmental Justice?" Sept. 14 with Environmental Justice Project founding director Julie Sze and Joni Adamson, director of the Environmental Humanities Initiative at Arizona State University's Julie Ann Wrigley Global Institute of Sustainability.
On Sept. 28, Ladd Keith, assistant professor of planning and sustainable built environments assistant professor of planning and sustainable built environments in the College of Architecture, Planning, and Landscape Architecture at the University of Arizona, will speak on "Sustainable Design, Resilient Cities: The Inequities of Urban Heat" in a discussion co-moderated by Johnson and Rice School of Architecture lecturer Rives Taylor.
Keith's research on urban heat island effects underscores the need for more discussion of the intersection between economic disparity and adverse climate and health effects, Johnson said.
"There are all these micro climates in a city, and when you map them, you find that it's almost always hotter in neighborhoods that have been historically disenfranchised — sometimes by even 10 to 15 degrees," he said. "So if you go into a city like Houston, San Antonio, Phoenix, Tucson, and you add 10 or 15 degrees on an already hot day, you start talking about real health effects: deaths that occur much more frequently that aren't recorded as heat-related deaths."
These ideas will also be explored in an Oct. 12 "What Is Climate Justice Now?" talk by Ayana Elizabeth Johnson, the CES's inaugural Walter Isle Speaker. In addition to co-hosting "How to Save a Planet," the founder and CEO of Ocean Collectiv and founder of Urban Ocean Lab also gave a popular TED talk on the coral reef crisis and recently wrote a widely cited op-ed for the Washington Post urging people to understand the connections between racial inequality and the climate crisis. Campana will moderate the online discussion.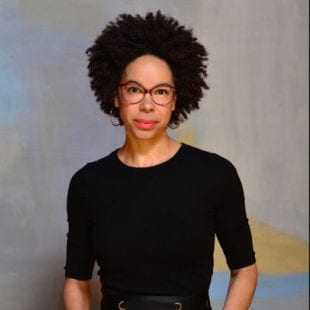 "She's someone who is very much thinking about how questions about climate justice and environmental justice are linked up to so many other social justice issues, to so many other complicated crises and intensities we're experiencing right now," Campana said. "She's someone who reaches across disciplines with ease, which honors the very founding of the ENST program in 2002 by Paul Harcombe, a professor in Ecology and Evolutionary Biology, and Walter Isle, a professor of English."
Disciplines are crucial, Campana said, for producing intense, focused knowledge and research. But just as vital is conversation across disciplines.
"As Richard said — easy or hard — there is no one solution; there is not going to be one thing that one discipline can just give us and, magically, everything is fine," he said. "We have to work together."
Driven in large part by youth activism and interest, there's the sense, Campana said, that this is a time in which people are recognizing on a large scale that everyone must pull in the same direction to solve the global issues looming.
"It's a kind of 'we are all in this and we're all needed' sort of moment on the planet, and so there's no way that we can avoid reflecting that — nor should we try — in all of the work that we do," he said. "We're trying to make sure that's the principle of our classes and activities because that also realistically reflects where we are and who we are."
This semester in the Planet Now! lecture series, all of which are open to the entire Rice community and the public:
Speakers:
Julie Sze, professor of American studies and founding director of the Environmental Justice Project at the John Muir Institute of the Environment; University of California, Davis
Joni Adamson, President's Professor of Environmental Humanities and director of the Environmental Humanities Initiative, Julie Ann Wrigley Global Institute of Sustainability, Arizona State University
Moderators:
Gisela Heffes, associate professor of Spanish, Portuguese and Latin American Studies, Modern and Classical Literatures and Cultures
Joseph Campana, Alan Dugald McKillop Professor of English and director of the Center for Environmental Studies
Speaker:
Ladd Keith, assistant professor of planning and sustainable built environments in the College of Architecture, Planning, and Landscape Architecture at the University of Arizona
Moderators:
Rives Taylor, lecturer, School of Architecture, Rice University
Richard Johnson, co-director of environmental studies minor; director of the Administrative Center for Sustainability and Energy Management; professor in the practice of environmental studies; adjunct lecturer, Department of Civil and Environmental Engineering, Rice University
Inaugural Walter Isle Speaker:
Ayana Elizabeth Johnson, founder and CEO of Ocean Collectiv and founder of Urban Ocean Lab
Moderator:
Campana
Speaker:
TBA
Moderator:
Rick Wilson, Herbert S. Autrey Professor professor of statistics and psychology
Speakers:
Jennifer French, professor of Spanish, Williams College
Cajetan Iheka, associate professor of English, Yale University
Moderators:
Gisela Heffes, associate professor of Spanish, Portuguese and Latin American Studies, Modern and Classical Literatures and Cultures
Joseph Campana, Alan Dugald McKillop Professor of English and director of the Center for Environmental Studies
Speakers:
Sophie Sapp-Moore, Mellon Postdoc, Humanities Research Center, School of Humanities, Rice University
Jacqueline Couti, the Laurence H. Favrot Associate Professor, Department of Modern and Classical Literatures and Cultures, Rice University
Moderators:
Gisela Heffes, associate professor of Spanish, Portuguese and Latin American Studies, Modern and Classical Literatures and Cultures
Joseph Campana, Alan Dugald McKillop Professor of English and director of the Center for Environmental Studies