Last week, a group of Rice students and young alumni set out to raise money in the Rice community for four local organizations fighting anti-black violence: Black Lives Matter Houston, Texas Organizing Project, Indivisible Houston and Pure Justice. The goal was $2,500 in 24 hours.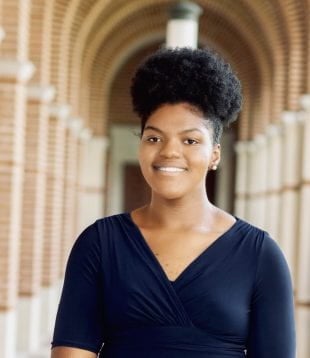 They raised $93,362, and were quickly spotlighted in the Houston Chronicle for their efforts.
"Sheer awe," is how Summar McGee '20 described her reaction to the final result on the GoFundMe page June 1.
McGee co-organized the fundraiser with fellow alumna Sonia Torres Rodríguez '19 through Rice for Black Life, a new organization founded May 28 by McGee and a coalition of 45 Rice students and community members.
Rice for Black Life was created in response to the death of George Floyd, McGee told the Rice Thresher: "We are affirming black people, we are for black people and we are led by black people. That's unequivocally what it is."
Rice for Black Life counts among its initial members Martel College junior Kendall Vining, the newly elected Student Association internal vice president, and Wiess College senior Zubaidat Agboola, who has worked extensively with the African and African American Studies minor steering committee.
Its founders hope that Rice for Black Life will encourage the broader Rice community to support black activism and invest — both figuratively and literally — in issues supporting black justice.
"Our work today will help provide direct support to black folks, financially aid protestors, pay off bails and promote advocacy to dismantle the carceral state, including legislation to end debtors' prison, hold police accountable and reform the bail system," McGee wrote at the conclusion of the fundraiser.
McGee promised to share details on how each of the four organizations would use their donations.
"In the future, we aim to lift up black issues and demands on Rice's campus," said McGee, who noted that students from five other universities — including Cornell University — had already contacted Rice for Black Life about setting up similar models at their own schools.
"We will redirect the time, energy and financial resources of the Rice community towards direct and mutual aid campaigns, and we will assist other students and alumni at their own universities," McGee said.