Noor Elsonbaty, a graduate of the CoachRICE program at Rice's Doerr Institute for New Leaders, has made university history in earning his International Coaching Federation (ICF) Associate Certified Coach (ACC) credential.
"This is a big accomplishment for any person interested in coaching and is exciting news for our entire team as he is the first Rice student, undergraduate or graduate, that we are aware of to achieve this while a student at Rice," said Tom Kolditz, director and founder of the Doerr Institute.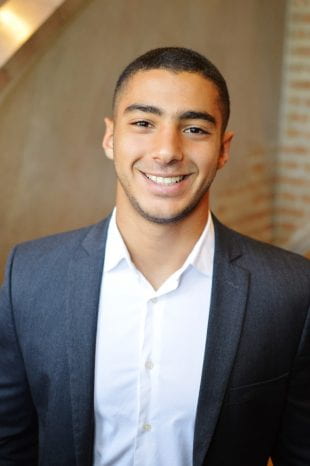 ICF credential-holders are elite coaches who provide accountability to clients and the coaching profession as a whole, according to the ICF. The ACC credential requires over 100 hours of coaching practice for completion.
Elsonbaty joined the CoachRICE program to prepare for potentially becoming the director of I-PREP, the International Preparation and Regulation Education Program at Rice. The Will Rice College senior, a native of Alexandria, Egypt, said "the different cultural paradigms related to leadership" inspired him to check it out.
"My main motivation was that I wanted to leave CoachRICE with a strong and robust framework to be able to lead and coach international students from different backgrounds when they are coming to Rice," Elsonbaty said.
In their first CoachRICE session together, Elsonbaty's coach asked him: "What is your leadership style?" According to Elsonbaty, he thought there was just one effective style: authoritative and aggressive. CoachRICE "opened his eyes," he said.
"I just thought the pieces fell into the right place," he said. "I thought, 'I have this wonderful opportunity to learn this amazing framework to lead and coach people and I can really make a difference here.'"
He didn't end up taking on the leadership role with I-PREP, but he continued with the CoachRICE program. It's "so valuable to have at such an early stage," he said.
As Elsonbaty went through CoachRICE, he was surprised to learn that anyone can coach with the right tools and right mindset — it's not about age. "I'm not solving their problem. I'm helping them solve their own problem," he said.
The program has a required number of coaching hours, which Elsonbaty fulfilled during summer internships. "A lot of my clients would bring up situations that I have never gone through, often very sensitive or family related," he said. "And I'm 23 and I'm sitting across the table and I obviously could not relate, but at the same time I had the tools to be able to lead them from behind, and I think that is what coaching is all about."
Elsonbaty will graduate this semester with a degree in computer science and plans to use his new ICF accredidation when he moves to New York. A software company has already reached out to him for help identifying software problems, thanks to his seemingly unrelated skill sets.
"Computer science is more about IQ than EQ (emotional intelligence)," he said. "Being able to introduce that point of view and ask questions to help people through their thought processes about technical topics using my coaching framework has been the most interesting thing."