Rice health economist Vivian Ho has been elected to the National Academy of Medicine (NAM), which is considered one of the highest honors in the fields of health and medicine and recognizes individuals who have demonstrated outstanding professional achievement and commitment to service.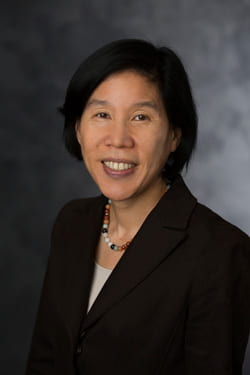 Ho was recognized "for her scholarly work in providing insights on how economic factors and government regulations interact to influence the cost and quality of health care," according to NAM's citation of her accomplishments. "Her work has shaped policy on state Certificate of Need regulations, hospital antitrust and freestanding emergency departments."
Ho is the James A. Baker III Institute Chair in Health Economics, professor of economics at Rice and director of the Baker Institute's Center for Health and Biosciences. She is also professor of medicine at Baylor College of Medicine.
"Throughout my career, studies conducted by NAM have influenced my thinking on all aspects of health and health care," Ho said. "I am excited to join this vibrant group of scholars who are dedicated to advancing science that delivers improved health and well-being for everyone."
NAM announced all 100 new members today in conjunction with its annual meeting.
"Vivian is an internationally recognized leader in the economics of health care," said Rice Provost Reginald DesRoches. "I am pleased to see her important work and lifelong contributions acknowledged by the National Academy of Medicine."
Ho's research is widely published in economics, medical and health services journals. It has been funded by the National Institutes of Health (NIH), the Agency for Healthcare Research and Quality, and the American Cancer Society.
Ho has served on the Board of Scientific Counselors for the National Center for Health Statistics, as well as on the NIH Health Services, Outcomes and Delivery study section. She is also a founding board member of the American Society of Health Economists and a board member for Community Health Choice. Ho received her bachelor's degree in economics from Harvard University, a graduate diploma in economics from The Australian National University and a Ph.D. in economics from Stanford University.
Ho joins two current members of the Rice faculty in the academy: Antonio Mikos and Lydia Kavraki.
"This distinguished and diverse class of new members is a truly exceptional group of scholars and leaders whose expertise in science, medicine, health and policy will be integral to helping the NAM address today's most pressing health challenges and inform the future of health and health care for the benefit of everyone around the globe," said National Academy of Medicine President Victor J. Dzau. "It is my privilege to welcome these esteemed individuals to the National Academy of Medicine."
New members are elected by current members through a process that recognizes individuals who have made major contributions to the advancement of the medical sciences, health care and public health. A diversity of talent among NAM's membership is assured by its Articles of Organization, which stipulate that at least one-quarter of the membership is selected from fields outside the health professions — for example, from such fields as law, engineering, social sciences and the humanities.
Established originally as the Institute of Medicine in 1970 by the National Academy of Sciences, the National Academy of Medicine addresses critical issues in health, science, medicine and related policy and inspires positive actions across sectors. NAM works alongside the National Academy of Sciences and National Academy of Engineering to provide independent, objective analysis and advice to the nation and conduct other activities to solve complex problems and inform public policy decisions.
The National Academies of Sciences, Engineering and Medicine encourage education and research, recognize outstanding contributions to knowledge and increase public understanding of science, technology, engineering, mathematics and medicine. With their election, NAM members make a commitment to volunteer their service in National Academies activities.