Themes of resilience, compassion and, yes, unconventional wisdom underscored the virtual commencement ceremonies broadcast May 16 in honor of Rice University's Class of 2020.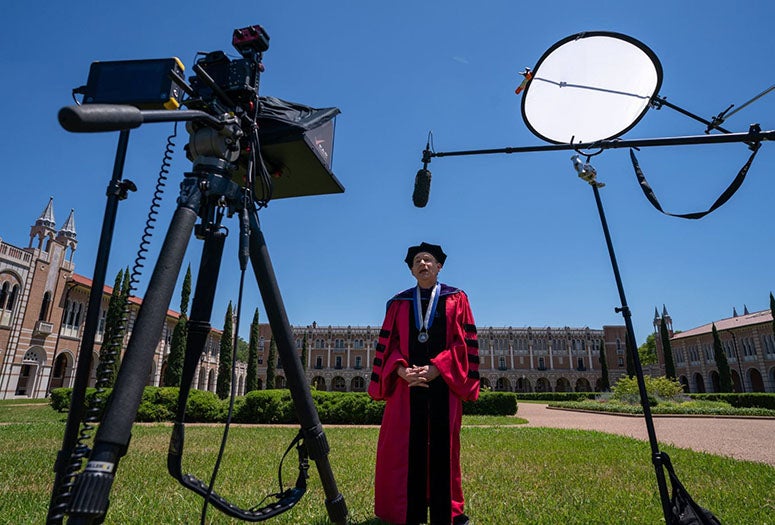 Graduating students were recognized with retrospectives of their Rice experience and celebrated in cameos by Rice alumni including former Houston Mayor Annise Parker '78, Saint Arnold Brewing Co. founder Brock Wagner '87 and classical ensemble Dover Quartet.
It was a class once again bound by uncontrollable events — a class of students that came together in the aftermath of Hurricane Harvey in 2017 to support each other and their fellow Houstonians as the city recovered from the most destructive storm in its history.
"Through this uncertainty we united," said Shree Kale '20. Before the coronavirus forced a worldwide shutdown, Kale had originally planned to give a much different speech at Rice's 107th commencement as this year's student-selected class representative.
"As I wrote this speech, I was uncertain of what the Class of 2020's future held," Kale said. "We found out we were going to have a commencement but we didn't know when, and while this is not what was expected it is still one that will hopefully provide a sense of celebration and commemoration."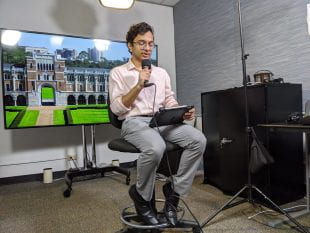 Rice's commencement planning committee quickly pivoted last month when it became clear the COVID-19 pandemic made traditional commencement ceremonies impossible. Instead of the planned in-person ceremonies, the committee worked day and night to produce a trio of videos: one each for undergraduates, advanced degree candidates and doctoral candidates.
Commencement goes virtual for the first time
With Lovett Hall and a quiet Academic Quad as a backdrop, Rice President David Leebron welcomed viewers to the undergraduate video ceremony, noting that "these commencement exercises are different than the 106 that preceded them; for the first time they are virtual."
And although there is tremendous sadness in this fact, Leebron said, there are also silver linings: "This was the first year I didn't have to worry about the weather," he said. Graduates could wear whatever they liked and no one had to arrive on campus early to find a parking space.
And there are still more silver linings ahead, he said.
"Today in this most challenging of times, in the midst of the worst economic downturn in 90 years, the sense of opportunity might seem constrained — but it is not," Leebron said. "The excellence of you, our graduating students, is what gives us all hope for the future."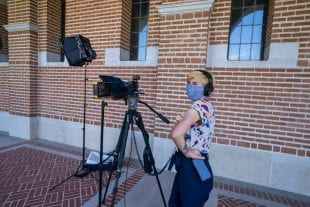 College magisters in full academic regalia read the names of their graduating seniors. Speeches and greetings from special guests taped from afar played between college segments. And hours of footage from the Class of 2020's four-year journey were knitted together to form a unique time capsule.
A look back at O-Week 2016 showed the move-in crews, shaving cream battles and giant water slides that welcomed the incoming class to campus, as well as many familiar freshmen faces who would soon go on to make their own marks at Rice — including outgoing Student Association President Grace Wickerson '20.
"My time at Rice has taught me that there's never a problem that can't be addressed," said Wickerson, who encouraged the Class of 2020 to continue working together to create a better and more just world.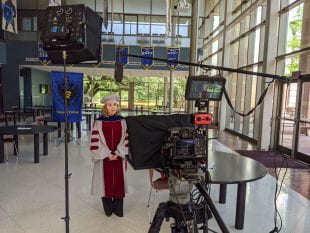 "How we emerge from this crisis will be a showcase of our character, and I think our ability to meaningfully connect with each other will be crucial to our success," Wickerson said. "While we may all be isolated right now, hunkering down in our respective living places all over the globe, we should realize that COVID-19 is a call to action to remind ourselves of our collective humanities."
A 'mind-blowing' moment in history
In the weeks leading up to commencement, Rice videographer Brandon Martin wore his homemade Rice Owls bandana-mask every day he visited campus to shoot a new batch of socially distanced footage for the commencement videos. A long boom microphone helped him capture audio from afar within each college commons; Martin gave quick crash courses on reading from teleprompters for the deans and magisters more accustomed to speaking from lecterns.
The work often kept Martin occupied from 9 a.m. until midnight scheduling segments with various faculty and alumni, shooting, editing, finding old b-roll, taping new b-roll, creating transitions and coordinating with the production team at VideoEnvy to finalize each commencement video. But it never felt like work, he said.
"I'm a parent, and if you have to take something away from your kids, you want to do your best to give them something better," Martin said. "That was what motivated me to do this."
Among Martin's favorite aspects of the videos, he said, were the photos and graduate recognition slides: There were over 2,000 of them, compiled by Terry Graham, manager of learning spaces; Brian Gibson in the Dean of Undergraduates office; Kim Gonzales Hohlt in the graduate studies office; and the team Registrar's Office.
And then there were the quotes submitted by Rice students. Those quotes can be heard at the end of each ceremony as the traditional grand fireworks display lights up the sky over Lovett Hall.
"When we got to the advanced degree recipients, I had tears in my eyes," Martin said. "It gave me the chills."
To be a part of such a historic commencement, he said, has been "mind-blowing." Creating something that both marks a major moment in history and also captures the soul and spirit of Rice was a challenge.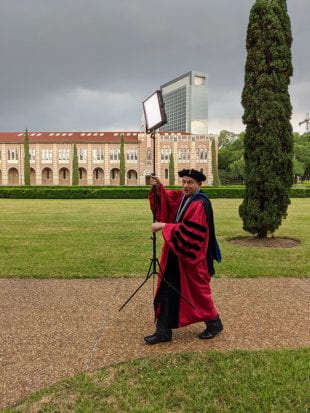 "That's something that I'll always think about," Martin said. "Working at Rice, for me, is just such a joy."
Cynthia Wilson, Rice's deputy secretary to the Board of Trustees, has been part of the commencement planning committee for the last 17 years; members meet weekly beginning in January and count the hours until that hopefully sunny day in May. "Electric" is the word Wilson uses to describe the feeling in the air at commencement.
Every year, Wilson trails the procession into the grassy quad by about 30 yards. Then, she sits at the base of Willy's statue and watches the months of planning pay off.
"I watch all the ceremonies — the undergrad that night and the next morning — and I get teary-eyed every year, at all of the ceremonies, even the (advanced degrees) and the doctoral ceremony," Wilson said. "And the same thing happened with the videos."
View all of Rice's 107th commencement ceremony videos at commencement.rice.edu, at youtube.com/riceuniversity or at facebook.com/riceuniversity.