With over 13,000 votes cast at Rice Stadium before Election Day this year, Rice University won Houston's first Mayor's Early Vote College Challenge.
Mayor Sylvester Turner visited the campus on Election Day to present Rice student leaders with an award outside the stadium as voters continued to cast their ballots on the concourse inside. Polls at the stadium were open through 7 p.m. on Election Day.
Turner was joined by Harris County Clerk Chris Hollins and student leaders from the University of Houston and Texas Southern University, who competed against Rice in the friendly contest. Together, the trio of Houston universities were responsible for 21,431 early votes cast across their three campuses.
"This election is like none other, and this generation has responded like no other," Turner said. "This means if you make voting accessible, if you put polling locations where the voters are, people will respond."
"We need good solid leaders to step forward like the student leaders at the University of Houston, Texas Southern and Rice," he said. "They are not only the leaders of the future but the leaders of right now."
Rice undergraduates led by Hanszen College junior Mason Reece — the official Election Judge for Rice's precinct — were responsible for staffing the polls through Nov. 3, while student athletes were responsible for offering to host the polling location at the stadium. It marked the first time in history Rice has hosted an early voting location.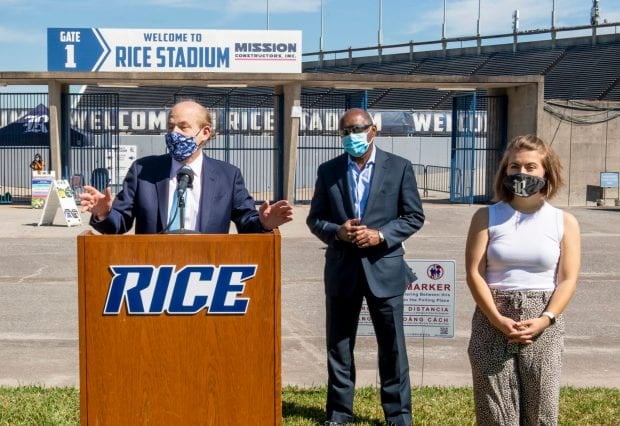 "Rice Athletics is more than just sports," said Hanszen College senior Jacob Doddridge, an economics major and football player. "It's about advocacy, equity and empowerment."
Reese emphasized the critical importance of opening polling locations in places like college campuses, where dozens of Rice students volunteered to serve their local community.
"It's really important for self-efficacy to have people that look like you serving you," said Reece, a double major in political science and social policy analysis.
"There's also the benefit that as students, we're familiar with the obscure parts of the election codes that affect us the most — like out-of-state voter IDs — and how to process those appropriately, and we're also quick and adept at adapting to the voter technology that runs our elections," he said.
Student Association President Anna Margaret Clyburn, a history and French studies major, accepted the Texas-shaped award from Turner.
"Looking back, it could not have happened without support from faculty, students, staff members and community members like y'all, and just Houston in general and these other campuses," Clyburn said. Efforts across campus ranged from the daily support provided by the Center for Civic Leadership to the achievement of JP Abercrumbie, associate athletic director and Chief Diversity, Equity and Inclusion Officer, who ensured every Rice football player was registered to vote.
"I want to thank Mayor Turner and everyone here today for making that a reality," she said. "I also want to emphasize how critical students have been as part of this whole process. I have been so impressed by their energy and their effort."