HOUSTON – (April 10, 2020) – Plans are in place for summer school at Rice University in response to the ongoing COVID-19 crisis, according to administration officials.
Rice will offer for-credit summer classes at a significant discount not only to registered undergraduate students but also to the general public.
To view classes as they are added to the roster this week and next, see the website at https://registrar.rice.edu/facstaff/summer_sessions_info.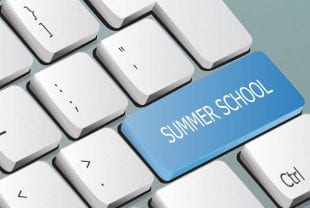 Summer will be the first semester at Rice in which all courses will be online from the beginning; current semester courses shifted to online in March, at the conclusion of spring break.
To make it happen, the university is asking schools and their faculty to offer a variety of the university's high-caliber courses across many disciplines.
In that light, President David Leebron asked deans and department chairs to "consider adding summer offerings that will be strategic and in high demand."
Caroline Levander, Rice's vice president for global and digital strategy, said the university's recent experience in putting nearly 2,000 spring courses online within 10 days gives it momentum as it develops a roster of online courses to begin in May.
"We will build as balanced and compelling a catalog as possible," said Levander, who is also the Carlson Professor in the Humanities and a professor of English. "Each course is going to go through a careful process of design and development to ensure optimal learning outcomes for students." Students can expect courses in business, humanities, social sciences, natural sciences and engineering to be offered in the six summer sessions.
The university will also welcome summer school students who are not currently enrolled at Rice, including current rising junior and senior high school students. For the summer, for-credit courses usually offered at $1,000 per credit hour will be available to members of the general public who are admitted and register as visiting students for $500 per credit hour. Courses are typically three credit hours.
The university will offer a 50% discount for the third course (after six credit hours).
This discount allows Rice to support the Houston community and those living in the region during a difficult time, a policy in line with the university's Vision for the Second Century, Second Decade.
"We recognize the Houston and Texas communities are suffering right now," Leebron said. "Lives have been disrupted. Families now aren't able to do what they had planned to do, and college-age students will have had other opportunities canceled. So we're trying to help the broader community continue to learn at a challenging time."
Current undergraduate students at Rice, including those in the class of 2020, may take summer school classes at a reduced fee of $250 per credit hour. Students who receive need-based aid are eligible for a 50% discount on the $250 fee for nine credit hours of summer school during their time at Rice.
"We recognize that Rice students have experienced a lot of disruption and disappointment in their summer plans as well, so this is one way we can support them," Dean for Undergraduates Bridget Gorman said.
-30-
Follow Rice News and Media Relations via Twitter @RiceUNews.
Image for download:
https://news-network.rice.edu/news/files/2020/04/0413_SUMMER-1-web.jpg
Plans are in place for summer school at Rice University in response to the ongoing COVID-19 crisis, according to administration officials.
Located on a 300-acre forested campus in Houston, Rice University is consistently ranked among the nation's top 20 universities by U.S. News & World Report. Rice has highly respected schools of Architecture, Business, Continuing Studies, Engineering, Humanities, Music, Natural Sciences and Social Sciences and is home to the Baker Institute for Public Policy. With 3,962 undergraduates and 3,027 graduate students, Rice's undergraduate student-to-faculty ratio is just under 6-to-1. Its residential college system builds close-knit communities and lifelong friendships, just one reason why Rice is ranked No. 1 for lots of race/class interaction and No. 4 for quality of life by the Princeton Review. Rice is also rated as a best value among private universities by Kiplinger's Personal Finance.