HOUSTON – (April 3, 2020) – The plans for Rice University's ApolloBVM, an open-source emergency ventilator design that could help patients in treatment for COVID-19, are now online and freely available to everyone in the world.
The project first developed by students as a senior design project in 2019 has been brought up to medical grade by Rice engineers and one student, with the help of Texas Medical Center doctors. The device costs less than $300 in parts and can squeeze a common bag valve mask for hours on end.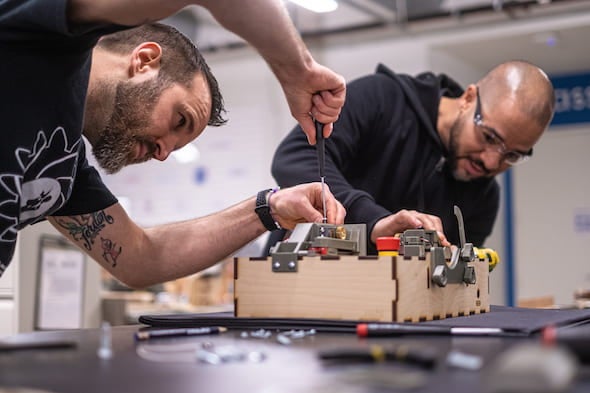 Visitors to the ApolloBVM website will be asked to register before they can download the do-it-yourself plans so they can be kept up to date as the project progresses.
With the novel coronavirus gaining steam and a shortage of ventilators not only in the United States but around the world, ApolloBVM could help COVID-19 patients who are less-critically ill while they await availability of a standard hospital ventilator.
"This is going to make a difference in hospitals that run out of ventilators," said Dr. Rohith Malya, adviser to the Rice engineering team. "Those that have relationships with a production facility that can quickly produce them should seek FDA emergency use authorization. We're working locally to get that done.
"I want to emphasize that this is for use only when there is no ventilator available," he said. "We don't intend for this to be the primary device. We are still working towards the exact clinical use scenario as the situation demands it, nationally and globally."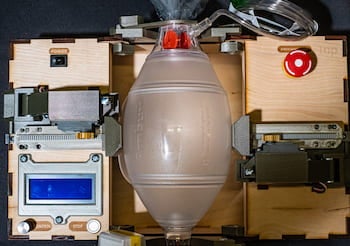 Malya is an assistant professor of emergency medicine at Baylor College of Medicine, an adjunct assistant professor of bioengineering at Rice and associate of the Rice 360° Institute for Global Health.
Rice announced the team's completion of a new prototype on March 27, and interest from clinicians, engineers, manufacturers and do-it-yourselfers was immediate. More than 500 people from more than 50 countries have requested information about the project through the ApolloBVM website.
At the same time, more than a quarter-million people have now viewed the original "Take A Breather" and the current ApolloBVM videos on YouTube.
In lab tests with an artificial lung this week, the latest prototype delivered nonstop air for 24 hours, until the device was turned off.
"We have been working long hours, but if we are able to make at least one COVID-19 patient more comfortable, it will be all worth it," said Amy Kavalewitz, executive director of Rice' Oshman Engineering Design Kitchen, where prototypes are being built using the facility's 3D printers and laser cutters.
The next steps are testing with human patients and manufacturing. Tests with a Texas Medical Center partner are imminent, according to the team.
Rice is also working with manufacturers seeking to ramp up production of a hospital-grade device as soon as possible to address current needs.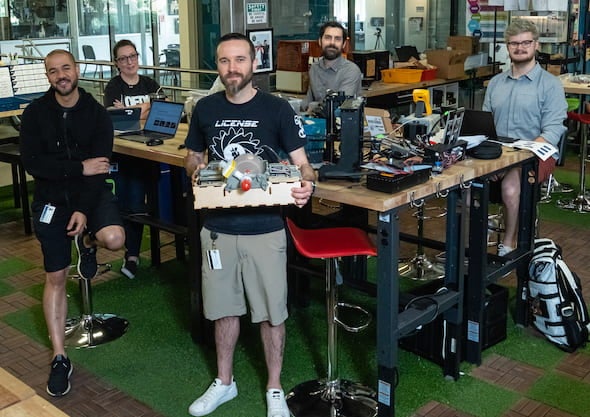 -30-
Visit the ApolloBVM website at http://oedk.rice.edu/apollobvm.
Follow Rice News and Media Relations via Twitter @RiceUNews.
Images for download:
https://news-network.rice.edu/news/files/2020/04/0406_VENTILATOR-1-WEB.jpg
Danny Blacker, left, and Fernando Cruz, staffers at Rice University's Oshman Engineering Design Kitchen, assemble a prototype of the ApolloBVM bag valve mask automation device. (Credit: Jeff Fitlow/Rice University)
https://news-network.rice.edu/news/files/2020/04/0406_VENTILATOR-2-WEB.jpg
Rice University has released open-source plans for ApolloBVM, a bag valve mask automation device meant for emergency use when patients, including those with COVID-19, need assistance to breathe. (Credit: Jeff Fitlow/Rice University)
https://news-network.rice.edu/news/files/2020/04/0406_VENTILATOR-3-WEB.jpg
Members of the Rice University team developing the ApolloBVM bag valve mask automation device, from left: Rice staffer Fernando Cruz, project director Amy Kavalewitz, project engineer Danny Blacker, associate teaching professor Matthew Wettergreen, and senior Thomas Herring. (Credit: Jeff Fitlow/Rice University)
Related materials:
Student invention gives patients the breath of life: http://news.rice.edu/2019/05/01/student-invention-gives-patients-the-breath-of-life-2/
Ventilator costing less than $300 developed by Rice University and Metric Technologies:http://news.rice.edu/2020/03/27/ventilator-costing-less-than-300-developed-by-rice-university-and-metric-technologies-2/
Oshman Engineering Design Kitchen: http://oedk.rice.edu
George R. Brown School of Engineering: https://engineering.rice.edu
Located on a 300-acre forested campus in Houston, Rice University is consistently ranked among the nation's top 20 universities by U.S. News & World Report. Rice has highly respected schools of Architecture, Business, Continuing Studies, Engineering, Humanities, Music, Natural Sciences and Social Sciences and is home to the Baker Institute for Public Policy. With 3,962 undergraduates and 3,027 graduate students, Rice's undergraduate student-to-faculty ratio is just under 6-to-1. Its residential college system builds close-knit communities and lifelong friendships, just one reason why Rice is ranked No. 1 for lots of race/class interaction and No. 4 for quality of life by the Princeton Review. Rice is also rated as a best value among private universities by Kiplinger's Personal Finance.