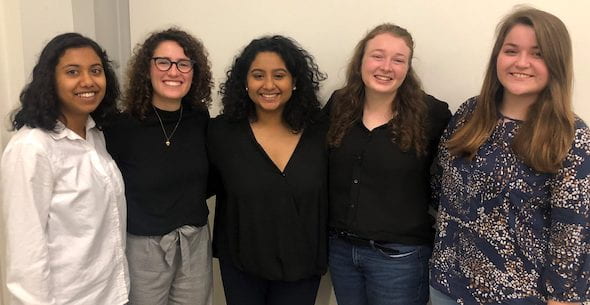 A team of Rice University engineering students won the grand prize in the student design showcase at the Design of Medical Devices Conference for an invention to simplify treatment of late-stage cervical cancer, especially in low-resource settings.
The "At Your Cervix" team — recent alumni Elisa Arango, Susannah Dittmar, Krithika Kumar, Sanika Rane and rising senior Lauren Payne — developed its novel brachytherapy applicator at the Brown School of Engineering's Oshman Engineering Design Kitchen over the past year. They were advised by Andrea Gobin, director of invention education at the Rice 360˚ Institute for Global Health.
Their video entry for the annual conference at the University of Minnesota — held virtually this year due to the COVID-19 pandemic — was judged the best of 11 participants. Their presentation was judged by a panel of medical professionals.
The team's device, the Universally Friendly Obturator (UFO), helps guide needles that carry radiation seeds directly to the tumor spanning up to nine centimeters. Without the device, physicians would place needles through tissue and risk puncturing blood vessels, nerves and vital organs. The UFO not only circumvents these risks and complications but also provides opportunities to reach tumor regions that were previously inaccessible.
The team worked in collaboration with Baylor College of Medicine, the Harris County Health System and Rice 360˚. Baylor described the project in depth in a February blog.
The team also was awarded second prize in the Rice 360˚ Undergraduate Global Health Technologies Design Competition.