HOUSTON – (Nov. 20, 2020) – Rice University's Rice Space Institute (RSI) and the Consulate General of Canada in Dallas have signed a memorandum of understanding to collaborate on science and technology related to the space industry.
The agreement will facilitate Canada's participation in the already strong connections between Rice, NASA and its international partners, and the burgeoning commercial space industry.
The agreement signed in a virtual event Nov. 20 sets up annual meetings between RSI and Canada's space administrators and industries to discuss potential collaborations that include robotics, life sciences, artificial intelligence, space vehicles and communications.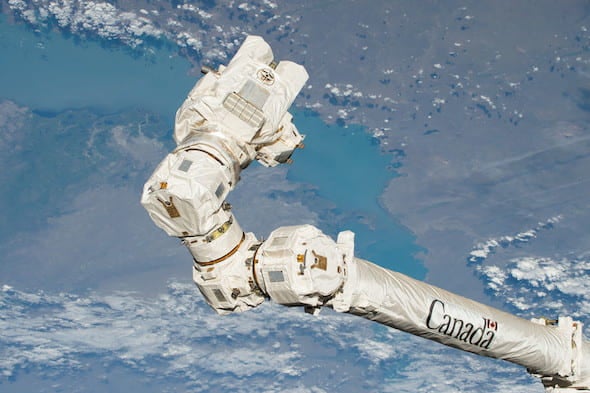 "The Canadian Space Agency (CSA) has a long and storied partnership with NASA," said RSI Director David Alexander OBE, a Rice professor of physics and astronomy. "CSA is a major player in human spaceflight with Johnson Space Center and partners around the world.
"What's different about this agreement is that with the rapid growth of commercial space worldwide and the strength of the aerospace industry in Houston, it presents a new pathway for potential interactions between Canadian science and industry and commercial entities not just in the Houston region but around the world," he said. "It's a nice, complementary aspect to our connection with NASA."
RSI's involvement with the Houston Spaceport and NASA's upcoming partnership with the Rice-backed Ion innovation hub encouraged the connection as well, Alexander said.
"The success of the spaceport project at Ellington Field has raised the bar," he said. "And the ability to get our academic research together with industry partners gives us a potential conduit for these interactions."
"This MOU with the Rice Space Institute comes at an exciting time in human space exploration," said Rachel McCormick, the Consul General of Canada in Dallas and Canada's official representative in the U.S. South Central region. "In 2019, the Government of Canada announced an investment of $1.9 billion over 24 years for the next generation of smart, AI-powered space robotics for the U.S.-led Lunar Gateway program. We are also providing $150 million over five years for the Lunar Exploration Accelerator Program (LEAP). LEAP will fund the development and demonstration of lunar science and technologies in fields that include AI, robotics and health.
"The Canada-U.S. partnership in space goes back many decades," she said. "Canada's first satellite, Alouette 1, was launched in 1962 from Vandenberg Air Force Base in California, and this partnership between Canada and the U.S. has only grown stronger since. Canada is a principal partner in the International Space Station program, and the Canadian Astronaut Corps resides and trains side by side with American astronauts at NASA's Johnson Space Center."
Among those training at NASA is Canadian astronaut Jeremy Hanson, a speaker at this week's signing who joined the corps in 2009. In fact, it was at an event with Hansen that the idea for the RSI-Canada partnership came to fruition.
"I was invited to a dinner for the graduating astronaut class with two Canadians (Jenni Sidey-Gibbons and Joshua Kutryk) in January of this year, with Jeremy and Consul General McCormick as the key speakers," Alexander recalled. "The conversations grew from there and it was clear from the outset that this agreement would be a good way to bring the right people together with the right focus."
"Rice University is a world-renowned institution and we are appreciative of the opportunity to establish this formal relationship with the Rice Space Institute," McCormick said. "It is yet another means by which to deepen the Canada-U.S. space partnership. We're looking forward to working with Dr. Alexander and his team in identifying opportunities to bring together the best and brightest from Canadian and U.S. industry, research and academia. There are challenges to overcome as we continue to go deeper into space and collectively we'll find the right solutions."
-30-
Follow Rice News and Media Relations via Twitter @RiceUNews.
Related materials:
Canadian Space Agency: https://www.asc-csa.gc.ca/eng/Default.asp
Rice Space Institute: https://rsi.rice.edu
Global Affairs Canada HQ: https://www.international.gc.ca
Image for download:
https://news-network.rice.edu/news/files/2020/11/11-23_RSI-1-WEB.jpg
The CanadArm2, a robotic manipulator, has been an essential component of the International Space Station since it was launched in 2001. The successor to the CanadArm that flew on the space shuttle is used to manipulate payloads, including satellites, docking capsules and astronauts. (Credit: NASA)
Located on a 300-acre forested campus in Houston, Rice University is consistently ranked among the nation's top 20 universities by U.S. News & World Report. Rice has highly respected schools of Architecture, Business, Continuing Studies, Engineering, Humanities, Music, Natural Sciences and Social Sciences and is home to the Baker Institute for Public Policy. With 3,978 undergraduates and 3,192 graduate students, Rice's undergraduate student-to-faculty ratio is just under 6-to-1. Its residential college system builds close-knit communities and lifelong friendships, just one reason why Rice is ranked No. 1 for lots of race/class interaction and No. 1 for quality of life by the Princeton Review. Rice is also rated as a best value among private universities by Kiplinger's Personal Finance.