HOUSTON – (Aug. 3, 2020) – Joe Biden, the presumptive Democratic presidential nominee, is expected to announce his choice for vice president this week. Paul Brace, the Clarence L. Carter Professor of Political Science, is available to discuss the decision.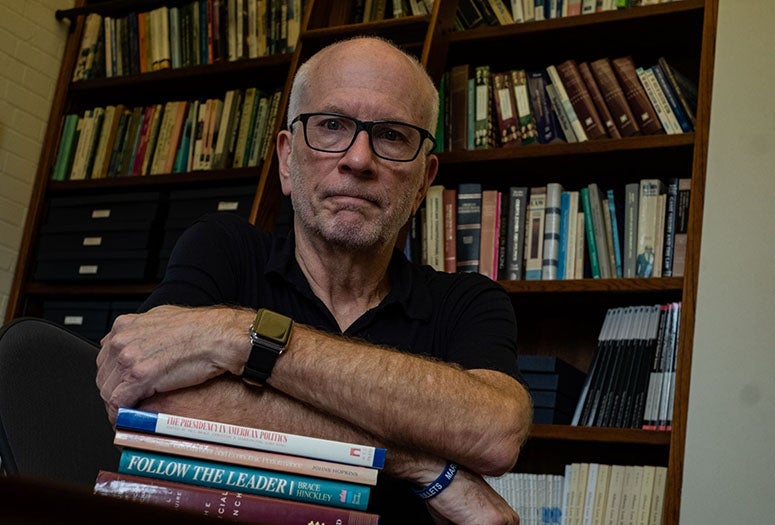 The selection process has been secret, but there have been signals, Brace said.
"Biden has committed to selecting a woman for his running mate," he said. "Urban protests about biased policing and criminal justice stimulated by the death of George Floyd strongly suggest Biden will choose a woman of color. Recent public opinion polling (from June 25-29 by USA Today and Suffolk University) indicate voters believe this as well, with 72% of Democrats indicating it was 'important' for Biden to pick a woman of color. Biden has also indicated he will seek someone he feels with whom he feels 'simpatico.'"
While a vice presidential choice is always newsworthy, Brace said Biden's pick this year is particularly important because Biden, at age 77, could become the oldest American ever inaugurated as president.
"She needs to be prepared to be president of the United States on day one," Brace said. "Moreover, his inclination to select a woman running mate, the third in history, is particularly significant as the prospect of a woman on a winning ticket has never been higher."
Among the potential choices, Sen. Kamala Harris of California tops most polls and pundit discussions, Brace said. She is the child of parents who emigrated from India and Jamaica. In addition to her Senate experience, she is a seasoned former prosecutor who campaigned for the presidency earlier this year. While she ran short of funds, her performance as a candidate was impressive, Brace said. And despite zinging Biden about his record on school busing during a debate, Brace noted that the two are purportedly friendly and capable of working together.
No candidate ticks all the boxes, Brace said.
"As California is a given for the Democrats, Harris offers no electoral pickup via a home state advantage," he said.
Two African American women from Georgia, where polling shows a closer race than expected, might improve Biden's performance in the Electoral College: Stacey Abrams, who many Democrats feel was cheated out of the Georgia governorship in 2018, and Atlanta Mayor Keisha Lance Bottoms, an early supporter of Biden. Rep. Val Demings of Florida, with impressive credentials as the former Orlando chief of police, could help Biden put Trump on the defense in a state he must win, Brace said.
But while each of these candidates have pluses, none have Harris' combination of national profile and campaign experience, he said.
Executive branch experience could advance the prospects of Susan Rice, a career civil servant with expertise in foreign policy, Brace said. Rice has had a strong working relationship with Biden but has no campaign experience.
New Mexico Gov. Michelle Lujan Grisham, the U.S.'s first Latina Democratic governor, offers Biden an opportunity to improve his prospects with the Latino vote — including in Texas, a must-win state for Trump that recent polling has shown to be a close race — and add executive experience to his ticket. A former U.S. representative, she led the Congressional Hispanic Caucus during the Trump administration's family separation controversy, speaking out against inhumane treatment of migrants.
Brace said other potential picks include Michigan Gov. Gretchen Whitmer, who could boost Biden in her critical toss-up state; Sen. Elizabeth Warren of Massachusetts, a former presidential candidate who could solidify the support of the progressive wing of the Democratic party, many of whom sat out the 2016 election; Sen. Tammy Baldwin of Wisconsin who, like Whitmer, could cause trouble for Trump in a toss-up state; and Sen. Tammy Duckworth of Illinois, a Thai American with impressive credentials as a moderate with a distinguished military background and the distinction of being the first woman to give birth while serving in the Senate.
To set up an interview with Brace, contact him directly at 832-628-5285.
-30-
This news release can be found online at news.rice.edu.
Follow Rice News and Media Relations on Twitter @RiceUNews.
Photo link: https://news-network.rice.edu/news/files/2019/02/190204_-Brace_fitlow_029-1exe76e.jpg
Photo credit: Jeff Fitlow/Rice University
Located on a 300-acre forested campus in Houston, Rice University is consistently ranked among the nation's top 20 universities by U.S. News & World Report. Rice has highly respected schools of Architecture, Business, Continuing Studies, Engineering, Humanities, Music, Natural Sciences and Social Sciences and is home to the Baker Institute for Public Policy. With 3,962 undergraduates and 3,027 graduate students, Rice's undergraduate student-to-faculty ratio is just under 6-to-1. Its residential college system builds close-knit communities and lifelong friendships, just one reason why Rice is ranked No. 1 for lots of race/class interaction and No. 4 for quality of life by the Princeton Review. Rice is also rated as a best value among private universities by Kiplinger's Personal Finance.
If you would rather not receive future communications from RiceUniversity2, let us know by clicking here.
RiceUniversity2, Public Affairs - MS610 6100 Main Street, Houston, TX 77005-1827 United States