HOUSTON – (Oct. 2, 2020) – With the announcement that President Donald Trump has tested positive for COVID-19 and is showing mild symptoms, Rice University political scientist Paul Brace is available to discuss what it means for the election a month away.
Brace, the Clarence L. Carter Professor of Political Science at Rice, notes there are few knowns and many unknowns about the situation.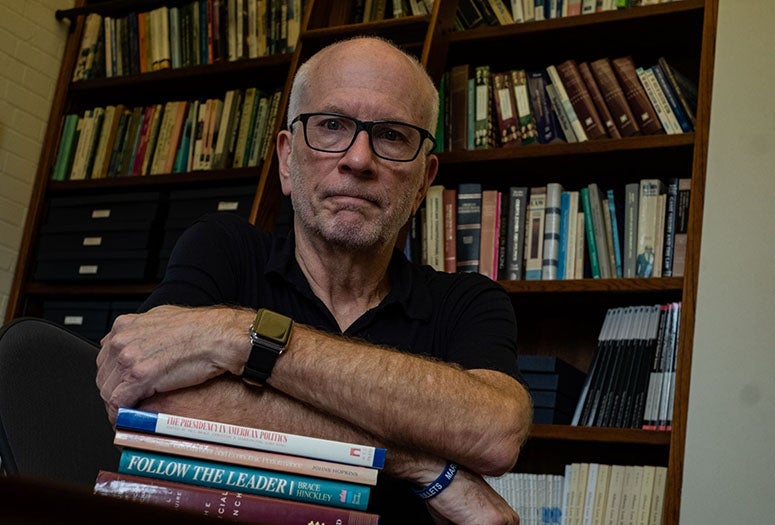 "First, we know that there are no treatments that can slow the progression of the virus, and only few extreme treatments to limit its severity," Brace says. "Second, President Trump is 74, and we know this places him in higher risk categories. Third, the president is substantially overweight, another factor that raises his risk."
Brace outlines several potential consequences.
"First, the president will be unable to travel or campaign in his conventional manner for the near term, or possibly longer," he says. "With typical quarantines lasting 14 days, and only 30 days until Election Day, this will unarguably influence the election campaign. Even with a quick recovery, it is impossible to see how this doesn't alter the election calculus. Trump thrived on live gatherings and his campaign schedule seemed devoted to using personal appearances to raise his dimming electoral prospects, even against the warnings of many medical experts."
The impact will be large but impossible to gauge with any precision, Brace says.
"Moreover, there is a substantial risk that the president might resume travel and appearances if obvious symptoms are minor," he says. "This could be dangerous for the president and the public. It could fuel the mistaken belief that the president has returned to full health and that COVID-19 is a minor ailment, reinforcing dangerous and uniformed approaches to the virus too often observed in the public at large."
In terms of governance, Brace notes that the White House says Trump's illness will not interfere with normal operations.
"However, there's little that can be done medically to curb the pace or severity of the virus, and it is reasonable to be concerned the president may be unable to fulfill his duties if the virus' progression is as severe as often observed, particularly in his age category," he says.
Brace says the president's capacity raises a host of questions for which there are no answers at this point.
"There are established crisis protocols for emergencies, but there are many wrinkles in this situation," he said. "Notably, the president's capacity to govern might gradually deteriorate and gradually recover, raising the prospect of some very delicate medical judgments that will need to be rendered. Next, while Vice President (Mike) Pence is obviously in play via the 25th Amendment, at this moment it is not clear he too hasn't been exposed to the virus.
"The 20th Amendment indicates Congress would select who would act as president if both the president and vice president are out of play, but imposing a succession plan in the midst of an election, or in what many see could be the waning days of an administration, seem to be additional challenges that the Constitution does not obviously anticipate," Brace concludes.
Brace is widely published, primarily in the areas of U.S. politics and judicial decision-making. He comments regularly on presidential politics, the judiciary and the U.S. government. For more information on Brace, visit http://www.ruf.rice.edu/~pbrace. To schedule an interview, contact him directly at 832-628-5285.
-30-
This news release can be found online at news.rice.edu.
Follow Rice News and Media Relations on Twitter @RiceUNews.
Photo link: https://cpb-us-e1.wpmucdn.com/news-network.rice.edu/dist/c/2/files/2019/01/brace-1uyteya.gif
Photo credit: Jeff Fitlow/Rice University
Located on a 300-acre forested campus in Houston, Rice University is consistently ranked among the nation's top 20 universities by U.S. News & World Report. Rice has highly respected schools of Architecture, Business, Continuing Studies, Engineering, Humanities, Music, Natural Sciences and Social Sciences and is home to the Baker Institute for Public Policy. With 3,978 undergraduates and 3,192 graduate students, Rice's undergraduate student-to-faculty ratio is just under 6-to-1. Its residential college system builds close-knit communities and lifelong friendships, just one reason why Rice is ranked No. 1 for lots of race/class interaction and No. 1 for quality of life by the Princeton Review. Rice is also rated as a best value among private universities by Kiplinger's Personal Finance.