How should universities confront and redress histories of racism on campus? When and where should monuments go, and what lessons can history offer now and in the future?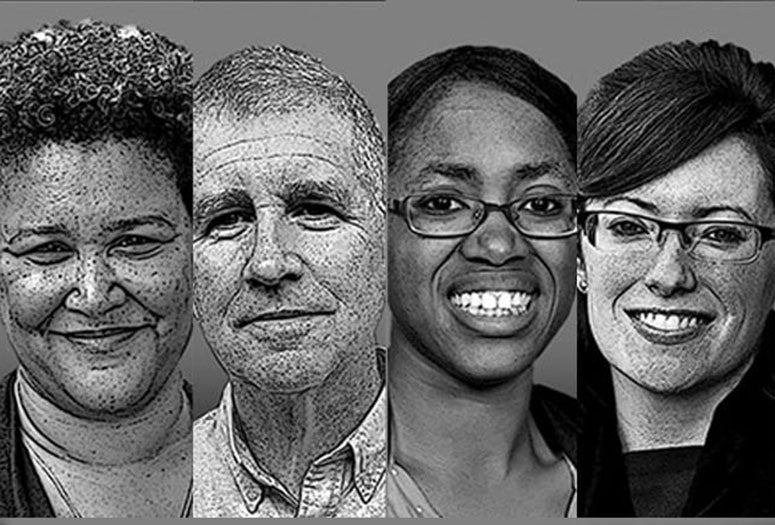 These questions were addressed in a July 6 virtual panel discussion with four of the country's leading historians: Leslie Harris of Northwestern University, James Campbell of Stanford University, Hilary Green of the University of Alabama and Anne Twitty of the University of Mississippi. The event was sponsored and organized by Rice's Task Force on Slavery, Segregation and Racial Injustice and hosted by the Office of the President.
Alex Byrd, an associate professor of history, associate dean of humanities at Rice and co-chair of the task force, introduced the historians. Caleb McDaniel, the Mary Gibbs Jones Professor of Humanities, professor and chair of Rice's Department of History and co-chair of the task force, moderated the discussion.
"Today's webinar on movements, monuments and racism on campus depends very much on two ideas: the urgency of historical questioning for our lives in the present and the transforming power of the university," Byrd said.
A major focus of the discussion was the debate over controversial monuments. Harris said that in most cases, removing Confederate statues from public places is not only a recognition that they memorialize traitors who fought against the U.S., but also an acknowledgement that the monuments were erected to instill fear in Black Americans and their allies.
"These things were being built in the early 20th century, and were props in an assertion of white supremacy," Campbell added.
But Harris said the subject becomes more complicated when considering the histories of figures such as Thomas Jefferson and Woodrow Wilson. Recognizing the complicated history of noteworthy people — documenting the good things they did along with the bad — is challenging, she said.
"Is there a way to honor what they did to create the nation, but also to recognize they did not go far enough?" she asked.
Harris brought up Princeton University's decision last month to remove Wilson's name from what is now the Princeton School of Public and International Affairs. The move followed several years of debate over the issue and a 2016 vote to keep the name.
"Nothing changed in Woodrow Wilson's history between that process and this one," she said. "I have to say, 'Why now?'" She said she was concerned such decisions may stem from fear amid the current unrest rather than anti-racist motives.
"I hope that those people who are advocating transformations to the memorial landscape are talking about thinking about more than that," Campbell said, referencing the importance of addressing issues such as voter suppression.
"Those are the types of issues we really need to be focusing on," he said. "I worry that we have become so preoccupied with symbols — groups turn out, topple the thing and go home. To me, that's not the ending of the work, that's the beginning of the work."
The historians shared that students across their campuses have offered more substantive and far-reaching visions than just a focus on monuments. Harris said the discussions at Northwestern have centered on curriculum, a more robust understanding of international affairs and increased diversity among faculty. Twitty said students at Mississippi are concerned with increasing the number of minority faculty members as well as making the campus more welcoming to Blacks and other minority students.
"One of the moves we're seeing now is an attempt, I think, by those in power to try to buy off student movements by taking down statues, and acting as though the fulfillment of that one demand, which in some ways is by far and away the easiest demand to satisfy, then absolves them of any further efforts in that vein," Twitty said.
The scholars agreed it's important these decisions — from removing monuments to tackling other matters that directly impact students and faculty — are addressed as part of a transparent conversation with many stakeholders.
"Once you initiate this conversation, it's not just suddenly going to be over when you want it to be over," Twitty said. "It's not going to suddenly be over when you take the name off a building or when you relocate a statue. Because (these things) are inextricably connected to these broader demands for justice."
Green talked about the Hallowed Grounds Project at Alabama, which she founded five years ago. It includes an alternate university tour to detail the history of slavery on campus.
"I started this work because of a Black male student in January 2015," she said. "He said, 'Well, Dr. Green, slavery didn't exist here.'"
Green recalled the university's narrative on slavery on campus was one of silence, complicity and forgetfulness. Her archival campaign pushed for the names of the enslaved to be marked in the places they worked. The walking tour that started in her class has now been taken by almost 5,000 people, she said.
Asked by McDaniel for advice Rice's task force can use, Harris mentioned a series of community dialogues she set up to explore the history of race at Emory University. The series of frank discussions allowed people to get on the same page, she said, and eventually became programs for both the university community and the public.
"Our institutions are often a huge part of our communities," she said. "When we change, we don't only change these institutions and for the students. We ripple out into these communities."
Harris said the programming efforts provided an opportunity to understand the institution, broaden education on racial issues, create change and bring the lessons learned into the greater community.
Byrd noted the Rice event was "just the beginning" of the conversation, and said the weeks to come will bring more chances to participate in the task force's work.
For more information on the task force, visit https://taskforce.rice.edu/.