Lyn Ragsdale, a popular political science professor who devoted a decade of her distinguished career to serving as Rice's first female Dean of Social Sciences, died suddenly Dec. 13 at her home in Houston. The Radoslav A. Tsanoff Professor of Public Affairs and Professor of Political Science was 66 years old.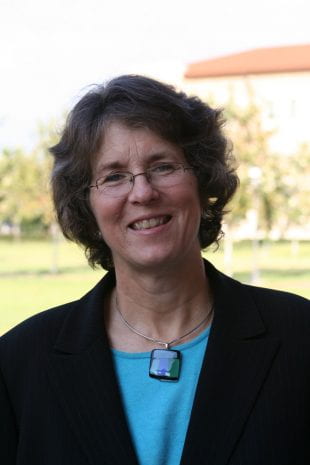 An author and well-known scholar on American politics, the presidency and electoral behavior, Ragsdale is remembered by her colleagues and students as a passionate educator, researcher, administrator and mentor.
"When Lyn arrived at Rice to become dean of Social Sciences, I had never before had a woman as my chair, dean, provost or president," said Ashley Leeds, chair of Rice's Department of Political Science, for whom Ragsdale became an invaluable source of support. "I learned so much about academic leadership from Lyn; she was a role model for me."
Ragsdale was born in Milwaukee, Wisconsin, and grew up in Tempe, Arizona, where her childhood routine of reading the daily papers and watching the nightly news led her to earn a bachelor of science degree from Arizona State University in 1974. The first of her family to attend college, Ragsdale went on to obtain her master of arts in 1978 and her Ph.D. in political science in 1982, both from the University of Wisconsin, Madison.
Ragsdale's prolific career in political science education began in 1983 when she joined the faculty at the University of Arizona, Tucson, later serving as director of its Survey Research Center from 1988 to 1991.
"As students, we would just fill pages and pages of notes when she talked," said professor of political science Leslie Schwindt-Bayer, who was a graduate student at University of Arizona during Ragsdale's time there and would later work side-by-side at Rice with her former teacher. "She ran an amazing American politics core course and her historical knowledge of the American politics field was second to none."
"I've modeled my graduate courses on her approach for years, though I doubt I come close to being as successful at it as she was," said Schwindt-Bayer, who said Ragsdale taught her how to write research papers. "Her ability to help students revise and reshape their writing was invaluable."
During this time, Rice was already pursuing Ragsdale for its own political science department, recalled Rick Wilson, the Herbert S. Autrey Professor of Political Science.
"Lyn Ragsdale was meant for Rice," Wilson said. Although she turned them down in the late 1980s, she eventually "relented and became the dean of Social Sciences in 2006. She was a pleasure to work with while I was chair of the department," Wilson said.
Immediately prior to her time at Rice, Ragsdale served as the head of the Political Science Department at the University of Illinois, Chicago from 2001 to 2006. Rice finally hired Ragsdale away in 2006 and her 10-year tenure as dean of Social Sciences is regarded as a period of great growth and energy for the school.
"Lyn's tenure as dean significantly expanded the School of Social Sciences' academic and research programs and fostered significant connections between the university and the larger Houston community," said Robert Stein, the Lena Gohlman Fox Professor of Political Science.  "She will be remembered as an exceptional academic leader, scholar and teacher."
Susan McIntosh, Herbert S. Autrey Professor of Anthropology and interim Dean of Social Sciences, noted that Ragsdale was also a mentor to many faculty, especially women, and was generous with her support and time.
"Lyn's understanding of internal dynamics on campus was especially helpful to me as I stepped into the role of interim dean in 2019," McIntosh said. "I, along with many other faculty, am enduringly grateful for her kindness and generosity as a mentor."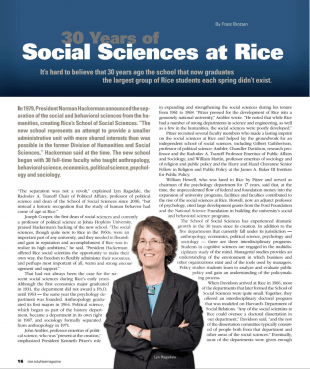 Ragsdale stepped down as dean in 2016 to return to teaching, researching and writing. At the time of her death, she was working on her latest book, "Shattered: Donald Trump and the American Presidency," and was active in the Rice community, participating in a Nov. 18 webinar with Stein, Schwindt-Bayer and Ric Stoll on the 2020 election. She just wrapped up a busy semester spent teaching two popular courses, including Intro to American Politics.
"Lyn cared deeply about her teaching and was continually working to provide students with the best learning experience possible," Leeds said.
"Her undergraduate courses were always filled and enjoyed," Wilson said. "She leaves a hole in the department that will be difficult to fill."
Ragsdale was the past president of the Western Political Science Association and, in 2019, received its Betty Moulds Award for Contribution to the Profession. She also served as the editor of the Political Research Quarterly and was a member of the editorial boards of numerous other academic journals.
In 1993, she published her first book, "Presidential Politics," and her award-winning 1996 reference text "Vital Statistics on the Presidency" has been published in four editions.
Ragsdale was a beloved wife, mother and sister and is remembered by her family as an adventurous traveler, fabulous cook and patron of the arts. In 1988, she married Jerrold "Jerry" Rusk, a fellow professor of political science at Rice, with whom she would later co-author the book "The American Nonvoter" in 2017.  Their son Matthew was born in 1993 and shared his mother's passion for ballet, eventually becoming a professional dancer with the St. Louis Ballet. Ragsdale attended every one of his performances.
In lieu of flowers, donations may be made to the St. Louis Ballet. A celebration of life will be held once it is safe to gather in person, with a tentative date of Jan. 8, 2022. Those interested in additional information about the celebration are asked to email Tracy Ragsdale.